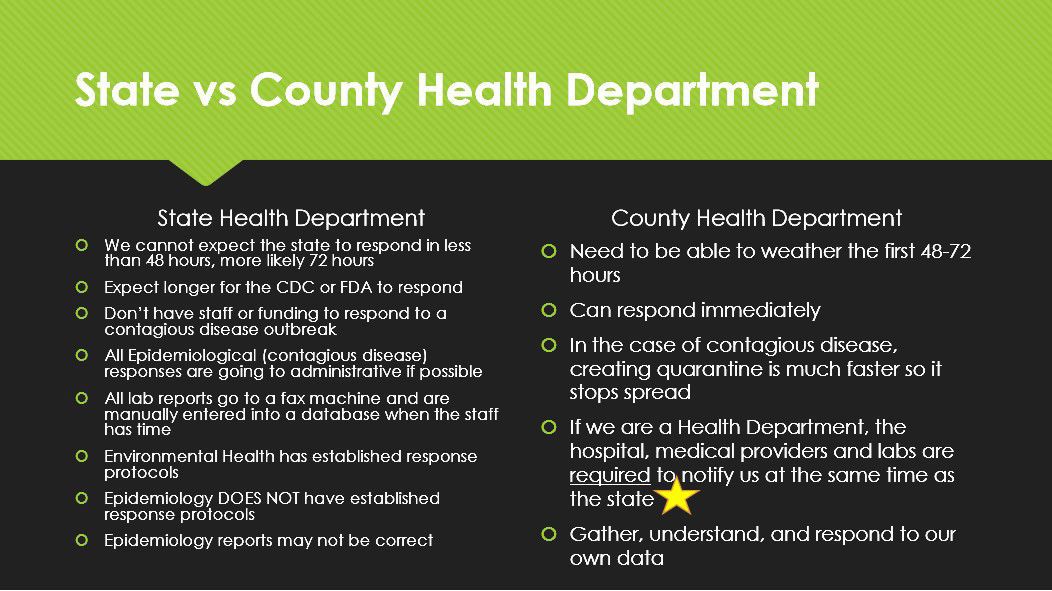 ELKO – Plans will be developed for creating an Elko County Health Department that supporters said would boost response times for a health crisis, such as the salmonella outbreak in Elko last March, but final action to set up the department will be up to the Elko County Board of Commissioners.
"The state is our health department," said Abby Wheeler, Elko County's transit coordinator who has been working on the project.
She said the Nevada Department of Health and Human Services is required to respond to any disease outbreak, and the county could be billed for costs that go beyond a certain threshold, but the state's response time is slower.
The county already has a health board that is made up of the five commissioners plus Elko County Health Officer Dr. Bryce Putnam and Sheriff Aitor Narvaiza.
Wheeler told the board on Nov. 6 the state wants the county to have its own health department.
She said such a department doesn't have to be a "brick and mortar building" and doesn't have to provide clinical services and flu shots but could "respond immediately and quarantine faster" in case of a spreading disease.
The Elko County Board of Health voted to go ahead with preparing the plans, but County Commission Chairman Rex Steninger cautioned he was reluctantly approving the motion because of concerns that the county can't afford to establish a health department.
"I can't vote for something that I don't fully understand, and I think could be cost prohibitive," he said before later agreeing to support the study "as long as you understand I have great reservations."
Commissioner Delmo Andreozzi, who went on a fact-finding visit to the state health department in the summer, felt it was "prudent" to share the preliminary work on a plan for a county department because "we certainly didn't want staff to invest all the time and energy if there is no appetite for the board to move forward."
The motion to proceed with the health department plan passed with no dissent. Narvaiza and Commissioner Demar Dahl were absent.
Putnam said the plan will give the health board a budget to look at to "prove to you it does pencil out."
Wheeler said funding is possible if the county takes over the state health department's inspections, including those of eating establishments, kitchens for schools and jails, campgrounds and pools. The county would collect the inspection fees.
Wheeler presented a preliminary estimate of $421,809 in annual expenses, $438,327 in revenues and a profit of $16,518. She said that doesn't include the $144,000 the county paid to the health department for the year.
Pros and cons
Factors that favor a county health department over the state include: Elko County can't expect the state to respond in less than 48 hours, more likely 72 hours; the U.S. Centers for Disease Control or Federal Drug Administration would take longer to respond; the state doesn't have the staff or funding to respond to a contagious disease outbreak; and epidemiological (contagious disease) responses would be administrative, if possible.
A county department could respond immediately, quarantine much faster to stop the spread of a disease, and can gather and respond to the county's own data.
Residents with septic tanks could benefit from a better response from a county health department. Andreozzi said sometimes people with septic tanks are surprised when they try to sell their homes and learn the septic system has never been approved by the state.
Factors against a county department include the need for additional staffing, facility space, and possible additional expenses.
Currently, the state health department has three people based in Elko who spend much of their time on inspections in Elko, Lander, Eureka and White Pine counties.
The plan expected to be completed by next July would also look at creating a health district rather than a department. A district would be regional, with its own governing board and be established through a legislative committee and governor's approval.
Amanda Osborne, director of human resources and social services for the county, said staff favored a county health department rather than a district.
Health assessment
The proposal to form a county health department came out of work on the Elko County Health Improvement Plan (CHIP) that the health board also approved at the Nov. 6 meeting. CHIP is an action plan based on a community health needs assessment completed in late 2017. Health providers and health and social services agencies are part of the CHIP process.
Wheeler said there are two CHIP goals that can be worked on now. They are suicide prevention and helping recruit more medical-care providers to Elko County.
The Zero Suicide organization is helping the county gain traction on suicide prevention, she said, reporting there have been 20 suicides in the county this year to date and 1,249 suicide-related calls.
Putnam said substance and alcohol abuse should be added to the suicide-prevention efforts.
Toward boosting recruitment efforts, Dr. Fred Fricke of Frontier Nevada Healthcare Group said one way would be to support the group's planned event next year that will bring in medical providers from five counties to Elko for seminars, recruitment and socializing.
"Let's get behind the August event," he said.
The health care providers organization held a similar event this year that drew 120 people from five counties, but Fricke said the 2020 event at the Western Folklife Center will be bigger and include education sessions and family tours of Elko and Lamoille Canyon.
Fricke also said Frontier Nevada Healthcare Group put together a Northeast Nevada Healthcare Providers Directory that is available on the Elko County website under a link on the health board page.
Get local news delivered to your inbox!
Subscribe to our Daily Headlines newsletter.