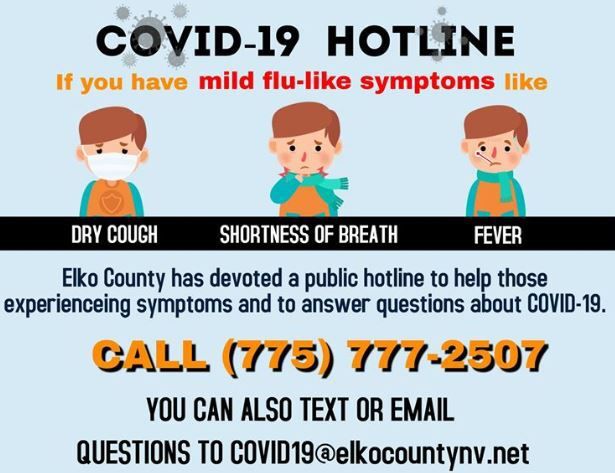 ELKO – Necessity is the mother of invention, so the old saying goes.
Innovations in health care management are an example of this saying, as the coronavirus quarantine and social distancing guidelines between doctor and patient have limited in-person visits and treatment.
Despite the fears of spreading the virus, rural Nevadans are able to still receive one-on-one care and a possible diagnosis of COVID-19 thanks to a dedicated hotline initiated in Elko County that currently serves five counties.
Residents who reach out with their fears of being exposed to the coronavirus, who have questions about symptoms, or are seeking medical advice can call or email the COVID-19 hotline with their concerns.
The hotline went live on March 26 in Elko County. Since then, it has expanded to Eureka, Lander, Humboldt, and White Pine counties with Pershing County looking to join.
The 12-hour telephone Hotline provides answers about the new strain of coronavirus and diagnoses patients over the phone, and has an email address for those wishing to contact staff electronically by email or text.
"The goal of the hotline is to assist people who are experiencing symptoms consistent with COVID-10, such as fever, cough and shortness of breath," said Elko County Public Health Officer Dr. Bryce Putnam.
Staffed by University of Nevada, Reno medical students, the hotline operates between 7 a.m. and 7 p.m. Monday through Friday. Residents may call 775-777-2507 or email COVID19@elkocountynv.net with questions.
Putnam told Elko County Commissioners on April 1 that the Hotline was developed for a few reasons.
Primarily, it was to preserve the small number of test kits available in the county when the pandemic began and prevent the transmission of the virus in clinics, doctors' offices, or the emergency room, he said.
"We needed those tests for health care providers and those people with severe [symptoms] and need to go into hospital care," Putnam explained.
Creating a specific resource for information was another critical factor, he said. "How do we get information to people that need it? And how do we mitigate some of the other issues going on in the county?"
Reducing calls to 911 and to county offices was another reason for developing the Hotline, Putnam explained.
"People were rightfully concerned with a myriad of questions," he said. "The main goal of the hotline is to take care of our community while not overwhelming the health care system."
Putnam credited task force member and Elko County Mobility Manager Abby Wheeler with the idea of establishing the hotline and organizing it in five days.
"The work she did was nothing short of phenomenal," he said.
The majority of calls have been from patients between 30-39 years of age. Approximately 35 percent of the calls have resulted in presumed positive diagnosis.
At last report there were 43 presumed positive cases, 77 presumed negative cases have been diagnosed with 13 presumed positive cases resolved in the five counties.
Since the pandemic started, Putnam said one of the frequently asked questions is what does "presumed positive" mean?
"If [a caller's] symptoms are consistent with COVID-19, the [med students] will tell them that they need to be quarantined and we will say they have been presumed positive," Putnam explained.
The opposite of presumed positive is presumed negative, meaning the symptoms are not consistent with the new coronavirus.
"We don't have enough tests to test everybody, so if you're presumed positive, and there is no cure, the best way to get over this is to stay home. If you're presumed positive, you stay at home and get better."
"I have heard nothing but gratitude for this service," Putnam said. "Each patient has been so thankful to have actual doctors answering their questions."
Medical students called into action
The heart of the Hotline lies with enthusiastic medical students. Since the hotline went live, students who needed a rural rotation signed up first, with other med students volunteering for shifts. Nearly 30 students maintain the hotline.
"They are full of energy, knowledge and profound willingness to help people in need," Putnam said, adding they have "impressed" him with their engagement of the patients and "excellent clinical judgment.
"With each call, they are helping their patients, rural communities and slowing the spread of this virus," he explained. "Without their service, this hotline wouldn't exist."
Clinton Kolseth, UNR Med fourth-year student, is one of the volunteers staffing the Elko County hotline. He said the experience on the hotline solidified the philosophy of patient education for his medical career.
"I have learned that simple education on preventing COVID-19 infection has brought many patients peace of mind, and I plan to emphasize prevention in my [future] career in internal medicine," Kolseth said.
More than 40 UNR med and physician assistant students have volunteered for multiple duties, according to UNR School of Medicine. They have also assisted at various locations on- and off-campus in Washoe County with health screenings, drive-through testing, elderly check-in, school food distribution, and the county's health district triage line.
"It's incredibly inspiring," said Lisa Calvo, M.D., interim associate dean for medical education, who is coordinating student volunteer efforts. "We have a number of students who said, 'Let me know what I can do.' And they're working side-by-side with our community health care partners and making huge contributions to help northern Nevada flatten the curve against the coronavirus."
"I can't thank these doctors enough for what they have done for rural Nevada. Stepping up in a time of need shows character, and I am encouraged for the future of healthcare," Putnam said.
Being a good neighbor Since Elko County went online with the Hotline, Eureka, Humboldt, Lander, and White Pine counties were added to its service area, and Pershing County could be next.
Sharing a valuable resource at a time like this with other rural counties was always in mind, Putnam said.
"If we have something, we're going to help other people."
So far, the neighboring counties have been "extremely pleased."
"We are all so isolated in many ways. To encompass all of the northern counties made sense as we are all in this together," Putnam said.
Idaho and Utah are also implementing hotlines. Putnam said he is looking forward to the end of the pandemic to reach out to those areas and possibly create "the ideal system" with best practices in place.
"We also want to have this hotline in place for future problems that may not be related to public health," he added.
Elko County Commissioners praised and thanked the task force members who have coordinated the crisis through multiple county entities and managed public awareness through social media and other media outlets.
Commissioner Delmo Andreozzi has been working closely with the emergency operations center, observing the task force's response to the coronavirus pandemic.
"It's really something to see because I have a unique perspective," Andreozzi said. "I'm not necessarily down in the weeds, but I get to watch what these guys are doing. We are very blessed to have the caliber of people doing what they're doing for the benefit of the community. They are working around the clock and long hours."