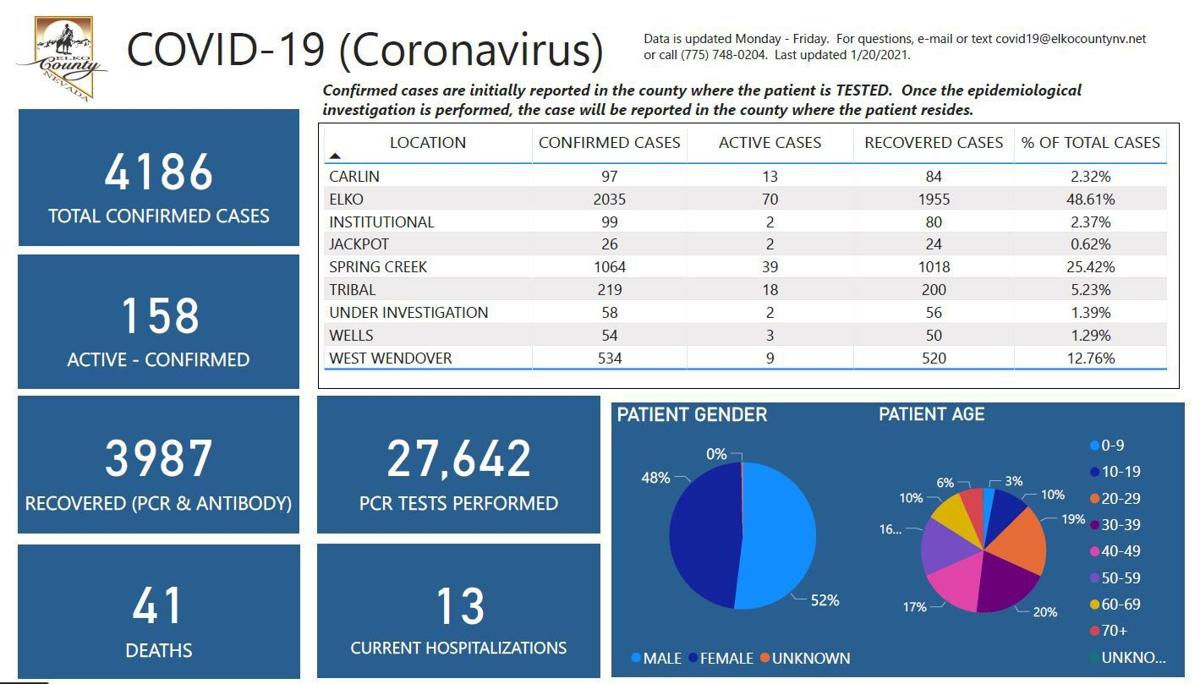 ELKO – Active coronavirus cases in Elko County plunged to 158, which is about half as many as Jan. 1 and one-quarter the number in early December.
The news came as vaccinations were set to begin for ages 70 and over Friday morning at the Elko Senior Center. For information on signing up call 738-3030.
Smith's also announced it would begin vaccinating Elko County residents 70 and older. Visit www.smithsfoodanddrug.com to schedule an appointment.
Thirteen patients are currently hospitalized in Elko County and the number of COVID-related deaths remains at 41.
The number of new cases of COVID-19 is down statewide, however a new record of 71 deaths was reported Wednesday, surpassing the prior highest single-day death toll set Saturday.
State COVID-19 response director Caleb Cage said the deaths were people who contracted the virus in mid-December, suggesting that reverberations from holiday gatherings could still be forthcoming.
"This is the highest increase in deaths that we've seen and a stark reminder of how deadly this virus is," he said.
Since the start of the pandemic, more than 63% of those who have died in Nevada have been age 70 or older, which also the state's current cutoff for vaccine eligibility.
The U.S. Centers for Disease Control reported Wednesday that the federal government has allocated 276,775 doses for Nevada — less per capita than all but three states.
Nevada has administered fewer than 42% of those doses, a shortcoming state officials attribute largely to unpredictable delivery of doses and communication breakdowns among federal agencies.
There have been no reports in Nevada of the new COVID variant that has spread to 20 states and has health experts concerned because of its higher transmission rate.
Elko County's 14-day test-positivity rate now stands at 11.5%, which is much lower than the statewide rate of 20.8%.