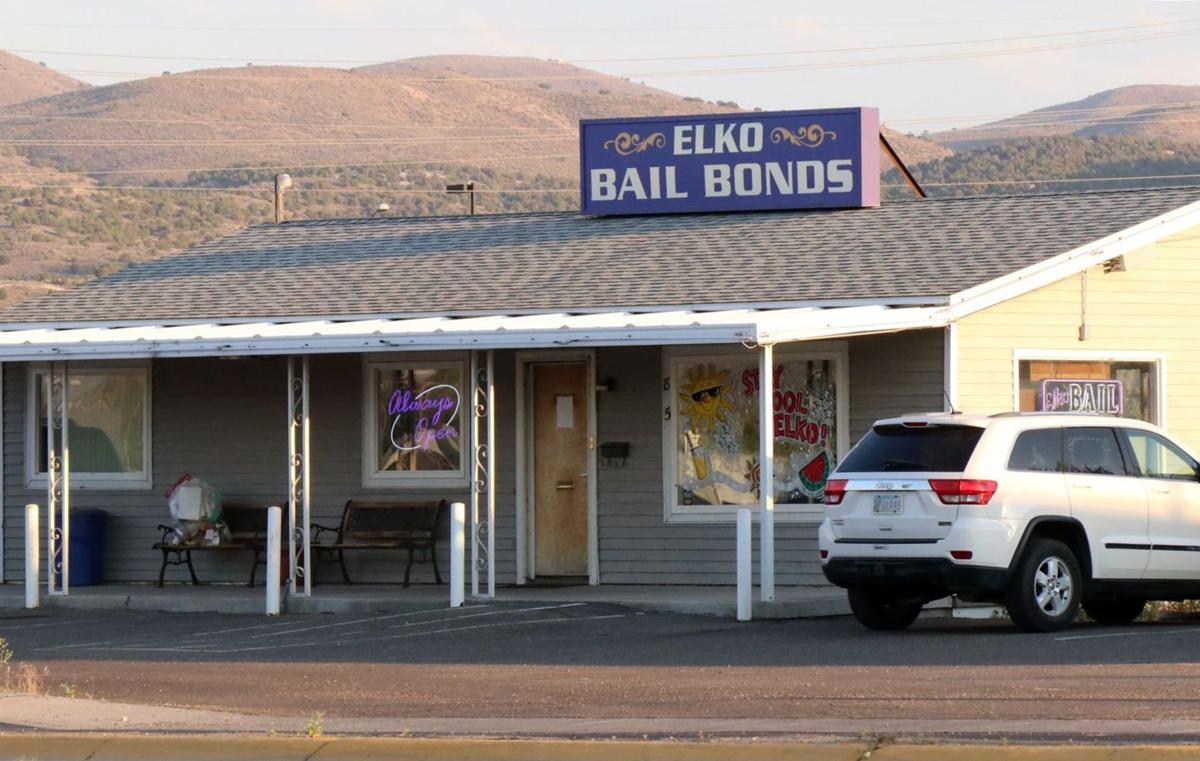 ELKO – Elko County's legal system and law enforcement are preparing for the impact of new criminal justice reform laws that some have described as overwhelming and "a disaster."
Elko Justice Courts will be expanding to seven-day-a-week hearings to accommodate a bail reform bill. At the same time, law enforcement is bracing for changes in how nonviolent misdemeanor crimes must be handled under another law passed this year.
How the changes will affect public safety is still unknown, said Lt. Michael Palhegyi of the Elko Police Department, other than it will add more steps to an already taxed law enforcement and legal system in Elko County.
"It's going to overwhelm the system," Palhegyi said. "Every time the Legislature in Carson City come up with something that adds an extra layer in the interest of protecting the defendant, it puts an extra burden on the system."
The bail reform bill (AB 424) takes effect in July 2022, and AB 440 will be enacted in 2023. 
AB 424 has its roots in the State vs. Valdez-Jimenez, a 2019 Nevada Supreme Court ruling that requires lower courts to hold prompt, individualized bail hearings.
During those hearings, the state must show cause for the defendant to remain in custody until trial, using their background and history of missed court appearances, among other clear and convincing evidence. It also requires the hearings to be held within 48 hours of an arrest.
Opponents of the bill expressed doubts that defendants would keep their court date, while supporters applauded the bill preventing the accused from being held in jail for weeks or months before a court appearance.
In 2019, a version of AB 424 was introduced in the Legislature but failed to pass. At the time, supporters, including bill sponsor Assemblyman Ozzie Fumo, D-Las Vegas, said the legislation was intended to force judges to look at other conditions of release, with cash bail as the last alternative.
Other proponents of bail reform include the American Civil Liberties Union of Nevada, the Culinary Union, the Mass Liberation Project, and Americans for Prosperity. The organizations pointed to the low-income status of many offenders faced with bails set at thousands of dollars, saying the system has a disproportionate impact on the poor. They said cash bail meant holding someone in custody before they were convicted of a crime.
During this year's legislative session, Senate Majority Leader Nicole Cannizaro, D-Las Vegas, voted in favor of the reform, explaining it would bring the state closer to following the Valdez-Jimenez ruling. It also "strikes a balance in protecting the community and providing some additional safeguards," she said.
Elko's two justices of the peace expect the new law to make it more challenging for both attorneys and the courts to keep arrestees incarcerated, some of whom do not appear in court at all if released on their own recognizance.
"There have been a lot of changes taking effect ... making it more difficult to arrest people and more difficult to keep them in custody after they've been arrested," said Department A Judge Randall Soderquist.
Soderquist testified against AB 424 in Carson City on May 12, telling members of the Senate Judiciary Committee that he saw the bill's 48-hour timeframe negatively impacting Elko County.
"It makes it worse for everyone, including defendants," Soderquist said. While other public defenders supported the bill during their testimony, Soderquist told the committee Elko County Public Defender Matthew Pennell stood in opposition.
"His quote for me to pass on to you is that 'it will be a disaster,'" Soderquist said.
Pennell's opposition is based on a limited staff and growing caseload in the Public Defender's office. Adding another hearing to the public defenders' calendars could reduce the time spent for trials, he said.
Soderquist and Department B Judge Elias Goicoechea shared their concerns regarding the new law's impact on the community.
"It's been very challenging," Goicoechea said.
The justices of the peace who represent the municipal courts and Elko Township said they are aware of the community's feelings toward a "revolving door" of repeat offenders.
"We are ethically obligated to the law as it is, not as we may wish it were. There are certainly a lot of laws that have made things challenging for us and law enforcement," Soderquist said of their stance on the legislation. "But the hard reality is that regardless of how we may feel personally about specific laws, we have to adhere to them."
According to Palhegyi, the Elko Police Department shares the same concerns.
"I understand the public's frustration because it's frustrating for us as well to see the same people over and over again, but they are entitled to bail," he said.
Palhegyi said the new law would "get the clock ticking a little faster than before" with the 48-hour stipulation. He noted that AB 424 would add more pressure on the Elko District Attorney's office, Public Defenders and the Justice Courts, which added domestic violence jury trials last year.
One of the duties of a police officer is to attend court to testify at hearings, which takes time away from patrol duty during their shift. "It's part of the job, and [bail hearings are] going to potentially add an extra layer" of time for some officers, he added.
For everyone involved, it also means balancing the law with public safety.
"Obviously, we want the justice system to be as fair as possible," Palhegyi explained, "but we also want to protect the public and make sure the people that need to be in jail are in jail."
In Elko's courts, the pretrial law could add substantial time to the caseload, the judges said, estimating that each case would vary depending on the individual's criminal history.
An eight-question Pretrial Risk Assessment, developed by the Nevada Supreme Court, provides the courts and legal counsel information on risk to the community or chances of failure to appear in court based on a point system.
Victims can appeal for an offender to remain in custody if they are present for the bail hearing. "They have a constitutional right to do that," Soderquist said. "They can exercise their right to be heard and ask the judge to take that into consideration on setting bail."
Implementing the law for rural courts, particularly Elko County, may not be as easy as it will be for urban courts.
A report from the Nevada Judges of Limited Jurisdiction listed an assessment of each county's adaptability to the law, noting some concerns regarding Elko County.
"Adding new requirements to rural courts without resources to have a pretrial services department will be a significant fiscal hardship and/or be setting people up for failure," the report stated.
Courts in Clark, Washoe and Carson City counties are staffed to conduct pretrial services. In Elko County, the judges are in the early stages of forming that auxiliary branch of the court, using existing resources and reallocating them to manage bail hearings.
"The way these laws are crafted, the Legislators assume everyone has a pretrial services department as fully staffed and equipped as Las Vegas and Reno," Soderquist explained.
Tahoe Township Justice Court Judge Richard Glasson testified against AB 424 on May 12. He addressed the rural courts' lack of staffing compared with urban counterparts who have the "luxury of assigning one of my judges to night warrant duty or weekend 'bail hearing' calendars. It is just me."
Additionally, a financial impact statement submitted by Elko County Assistant County Manager Cash Minor estimated the cost of pretrial hearings to run more than $1 million a year. That would cover eight more employees -- including five deputy district attorneys, two legal secretaries and an office assistant -- plus their equipment.
Bail reform – history and consequence
Calls for bail reform started a few years ago, with proponents advocating for pretrial releases in several states. Since 2018, Alaska, California, Georgia, New Jersey and New York State have adopted laws eliminating cash bails.
Vermont's law set a $200 cap for various misdemeanor crimes, mandating judges to consider the defendant's income if they set bail. Washington D.C. was the first to eliminate cash bails in 1992.
Dennis Justin of Aallie's Bail Bonds in Fallon called Nevada's bail reform "a sad travesty. Plus, it takes away your presumption of innocence. Nobody wants to give up any of their constitutional rights, and they seem to be wanting to take some on every time we turn around."
In the bail bonds business for four decades, Justin said the reforms have "failed miserably" in states that have enacted new laws.
Without the incentive of bail, criminals are less likely to return for a court appearance, he explained. "It's a private enterprise and way of doing business and making people perform because there's an incentive to perform, and that's what's been working for 300 to 400 years now."
"The performance a bondsman gives is that the defendant appears or they demand the money from him," Justin said, adding that an offender's promise to appear in court to judges and legal counsel are empty without the financial accountability of bail. "The government employee doesn't lose anything. He has no vested interest in seeing a performance."
Justin said he believed the state would overturn the law in a few years once lawmakers "see how badly it failed. It will go back. I've been doing this for 40 years, and it's failed miserably every time."
But for now, the future looks bleak, he said.
"It's a sad situation for Nevada, and it's sad for our country that they keep pushing the program," Justin added.
Palhegyi observed that the criminal reform laws are based on a "perception that they are trying to protect people from being victimized by the system."
But "that's a very, very tiny percentage of actual prosecution that occurs," Palhegyi said. "Most of the people who go to jail, there's a reason for it. They made poor decisions that result in the situation they are in. It's not this pervasive amount of injustice occurring in the courts or law enforcement in the state. But for whatever reason, they're trying to change the rules and make it harder to hold people accountable."
Another law, AB 440, was also passed by the Legislature that orders law enforcement to issue citations to first-time nonviolent misdemeanor offenders.
Citations for traffic, vessel or wildlife misdemeanors that would be "punishable as misdemeanors that do not constitute repeat offenses, crimes of violence or certain prohibited offenses" are to be cited unless it's a repeat offense, according to the bill.
If "the violation constitutes a repeat offense or a prohibited offense," then law enforcement must bring the individual before the courts. The law also stipulates that the citation may not be issued if the violation ceases and if the property or another person is not in imminent danger.
"Most nonviolent misdemeanors aren't going to be held at all," Palhegyi said. "It will just be citations."
Palhegyi said others states with similar laws are seeing businesses close and leave urban areas because owners are tired of witnessing crimes such as petty larceny take place without legal recourse.
Mostly, the judges see drug cases, and they foresee "a massive shift in the law" since Nevada voters legalized marijuana in 2016. They see the Legislature trending toward a "wholesale change" regarding controlled substances such as cocaine, heroin and methamphetamines.
Goicoechea and Soderquist have observed that the new law will impact time, personnel, and budget, but that the bill's intent, despite their personal and professional opinions, is to underscore the citizen's right to a fair trial.
"Everyone is presumed innocent until they are found guilty, pretty much everyone can agree on that," Soderquist said," but what is hard is that many of us get used to that presumption of innocence is now equating to limiting the ability to keep people in custody prior to their conviction."
Goicoechea and Soderquist understand that citizens may have questions and wonder why the judicial system is releasing more people without bail.
As elected representatives who swore an oath to uphold the State of Nevada and Elko County laws, the judges explained they take their oaths seriously despite what is being handed down from Legislators in Carson City.
"We are legally, ethically, and morally obligated to those laws regardless of everything else," they stated.
Although Elko County is now the second Constitutional county in the state, it will not impact the court's rulings.
"The things that are challenging us the most right now are things where individuals' constitutional rights are given a very high precedence, sometimes even over public safety," Soderquist said. "Because people have the Constitutional right to be innocent until proven guilty, and they have the Constitutional right to be safe and secure in their houses against unreasonable search and seizure."
The decisions the judges make on the bench are growing more complex, Goicoechea added. However, it boils down to the information the judges receive in the bail hearing to decide whether to incarcerate a defendant until their hearing or release them.
"If the state doesn't have the information to present to prove beyond clear and convincing, and the defense attorney argues there is not enough evidence to hold in custody, the decisions can be brutal," Goicoechea explained.
Despite the developments, both judges and law enforcement said they remain committed to serving the public.
"I think we're both very thankful to be where we are at. We're grateful that we've been entrusted by the public with this position, and we're committed to doing the very best we can," Soderquist said.
"We didn't ask for this. It is something that has been put into law by Legislators," Goicoechea added. "And as Randall said, we have to follow the law that's given to us. That's the only thing we can do."
Those beliefs are echoed by the Elko police, whose officers are bound by the same legal, ethical and moral standards when they swore an oath to uphold the laws of the state of Nevada.
"As law enforcement, we play by the rules that we have to play by. They passed the laws and to the best of our ability to keep people safe by working within the boundaries that we are forced to play by," Palhegyi said.
However, Palhegyi believes the law-abiding public will not be happy with AB440 if they are the victim of a nonviolent crime and the suspect will not be held in custody. "I'm pretty sure that's going to upset some people in the state and rightfully so."
Palhegyi said for those wishing to do something about the laws handed down from Carson City, "the only thing you can do is fight back at the ballot box. If you don't like the decisions made by our Legislators, then vote different ones in. I don't know what else to say."
"There have been a lot of changes taking effect ... making it more difficult to arrest people and more difficult to keep them in custody after they've been arrested."

-- Justice of the Peace Randall Soderquist