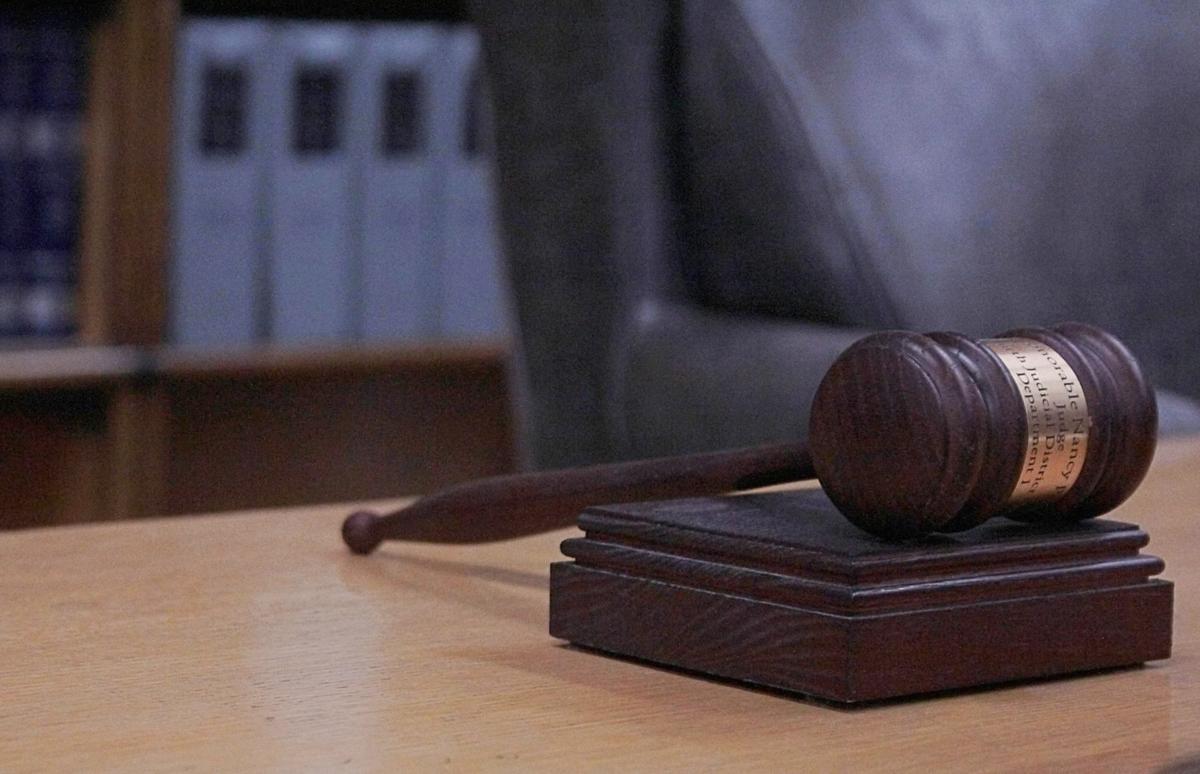 ELKO – On a single Monday in December, both departments of the Elko District Court processed 33 cases that involved criminal, civil, guardianship and probate matters, and conducted a three-hour session of Adult Drug Court.
For the rest of the week, Departments I and II had 18 more cases scheduled between them, including a criminal jury trial that was expected to wrap up by the end of the week.
If it did, Department I court staff was prepared to insert another hearing or two into the calendar.
The balancing act to keep cases moving through the district courts is a normal part of the workweek for judges Al Kacin and Nancy Porter, as they may each see as many as 35 cases on a week without a jury trial, and up to 25 if one is scheduled.
They recently approached the Elko County Commissioners to seek support for a third district judge whom they say could allow for quicker processing of cases and deliver timely judicial services to the community.
"We are trying to provide a better service to the public," Porter said. "People have to wait too long … It is about getting people into court so that they can get their matters decided as quickly as possible."
Supported by the Nevada Supreme Court, Assembly Bill 43 – if passed – would add one more district judge to Elko's Fourth Judicial District, one district judge to Washoe County, and 15 district and family court judges to Clark County's court system.
The county's third judge would be elected in 2020 and be sworn into office on Jan. 1, 2021.
Courts throughout the state, including the Nevada Supreme Court, the Court of Appeals, and locally in the Elko Justice Court, are currently feeling the weight of additional cases to their benches, with some pointing to an increase in the state's population.
The trend is also affecting district court, said Kacin and Porter in an interview with the Elko Daily Free Press. Since being appointed to their respective benches in 2011 by Gov. Brian Sandoval, they said they have each watched their caseloads grow in seven years and pondered when, not if, a third district judge would be needed.
One contributing factor is Elko County's population explosion over 30 years, increasing by 119 percent, Porter said. It was 1988 when the district court's second department was added to the courthouse.
Drug use, including methamphetamine and heroin use, has "come about as a major problem since the late 1980s," Kacin added.
"The problems of the community have become more acute, too," Kacin said, with both courts seeing more drug cases each year.
"Our first three or four years here, I would see one or two heroin cases a year," Porter said. "Now I am seeing three or four a week."
Although there have been signs pointing toward a third judge, they said they have been trying to work through the issues. One way was to keep a fluid calendar, squeezing in hearings around jury trials and maintaining enough cases on the docket in case a jury trial went off the calendar.
Other ways included assigning temporary protective orders for domestic violence to the justice court, and employing Family Court Master Andrew Mierins to oversee child support and juvenile cases.
However, with the implementation of a second department in the justice court in 2017, and the Elko District Attorney's office working to reduce a backlog of pending cases, the district court is feeling the pinch even more, and Kacin and Porter say now is the time to bring a third district judge aboard.
"We weren't ready to do it until now," Porter said. "It has just gotten to that point."
Kacin said he has observed a "bottleneck" occurring as more gross misdemeanor and felony cases are processed in justice court and bound over to the district courts.
"It would be like putting in a two-lane highway where a one-lane highway was before, and the district courts bottleneck down to another one-lane highway," Kacin said.
A high volume of drug-related cases, more self-represented litigants in family law cases, the rising complexity of civil and criminal cases, and reviewing search warrants for electronic devices are contributing to the bottleneck, they said.
It is also becoming tougher to find "substantial time" to review, research and study cases to "produce a quality decision," Kacin and Porter said.
"With all the hours we spend in court, if we have something complicated to decide, it limits the time we have to do the research and write the orders," Porter explained.
Outside of court, each judge is required by state law to sit on various committees and must complete training for specialty courts on top of keeping up with their growing caseloads.
But Kacin and Porter said they knew what they were getting into when they applied for the vacancies left by Judges Mike Memeo and Andrew Puccinelli in 2011.
"We were willing to do [this] when we signed up," Kacin said.
A typical work week includes long days in the office and additional hours at home studying case files, but the judges said it is just part of their job.
"Neither one of us is allergic to hard work," Porter said.
Calling themselves the "Jack and Jill of all trades" in their courtrooms for the multi-tasking they do in a week, or even a day, Kacin and Porter said six years later they still enjoy their jobs, challenges and all.
"It does keep the job interesting," Porter added. "But the real focus [for us] is the service the public needs."
The idea for a third district judge was presented to the district judges about three years ago by Nevada Supreme Court Justice James W. Hardesty, Porter said.
Hardesty's continued support for the new judge involved a trip to Elko in late October when he visited each of the County Commissioners individually along with Kacin to discuss the situation.
Elko County Commissioner Rex Steninger said he agreed with Hardesty's recommendation, saying that he was "convinced it is needed, but we still need to find a way to pay for it."
Funding for staff and renovations has been one of the significant issues to arise since Kacin and Porter approached the Elko County Commissioners in December to put forth their argument for the third district judge.
According to assistant county manager Cash Minor at the Dec. 5 commissioner's meeting, costs to staff the position are estimated at $400,000 to $450,000. At that meeting, County Clerk Kris Jakeman told commissioners her office would need to hire another employee to accommodate the new bench.
Additionally, Steninger said the new judge's courtroom and chambers would have to be fit somewhere within the main courthouse building, as security from the Elko County Sheriff's Department could not split to cover two buildings.
"We have to keep it under the same roof," he said, adding that it costs $300,000 to employ three deputies who provide security to the single entrance and exit at the main courthouse building.
Support has also come from the Elko County Bar Association, the Nevada District Judges Association, and the North Central Regional Judicial Council, Porter said.
If legislators recognize support from the commissioners in Carson City this spring, it could ensure the creation of the third department, Kacin added.
However, the potential third bench has been criticized by four Elko County employees who stated in letters to the commission that they were not in favor of the new department, questioning the commissioners as to how the county could justify hiring new employees when current staff has not received a cost of living raise since 2012.
In response, both judges said they were in favor of raises for the Elko County employees and were aware of the costs that would arise from adding staff, offices, chambers and a courtroom.
"I understand their concerns," Porter said. "I want the employees to get their raises [because] we cannot keep quality employees if they are not adequately compensated. Our staff is some of those employees who haven't had those raises."
"But we're considering the needs of the public," Porter continued, "the entire county needs another judge."
Kacin said for him and Porter it was their duty to put forth the need for a third district judge as judicial officers.
"We have an ethical responsibility that if we see a problem like this, we are supposed to come to our funding authority with the issue," Kacin said. "So, I think this is an ethical problem for us if we don't do something."
About $250,000 in fees collected in district court from convicted criminal defendants will go toward the construction and remodeling expenses, and the justice court will equally match it out of fees it collects from defendants.
"We want to help defray the cost of facilities to the county so that we can make this work," Kacin said.
Adding more staff to relieve the "bottleneck," such as additional court masters for routine hearings and motions, is not a solution, as it would be another expense to the county, Porter said, whereas the judge will be paid for by the state.
The county commissioners are ultimately the ones who will have to make those funding decisions, Porter said.
"I am hopeful the county commission can figure out a way to get the raises to the county employees and allow for a third judge," she said.
Efficient handling of cases and quality decision making are the ultimate reasons for bringing in a third judge, said Kacin.
"I see that it can improve the quality of justice," Kacin explained. "The more time you have to deliberate, consider and research, [the more] you have a chance to make a better quality decision."
It benefits everybody who is involved in a litigation, they said, as well as defendants booked in the Elko County Jail who unable to bail out and are awaiting a hearing.
Among them are probation violation defendants. Kacin said that usually those defendants are incarcerated until their hearing, and they may have to wait as long as 30 days, which is "not the way it's supposed to be."
"They are sitting in jail … and so the taxpayers are paying to house them until we can get to them," Porter said. "It's the same with people waiting for arraignments, trials or sentencings. If they can't bail out, they are waiting until we can get to them."
It also won't alleviate the time Kacin and Porter spend in their courtrooms or studying in their chambers if the Legislature approves the third department.
"We are still going to be here all day, working," Porter said, "and people will get their matters heard quicker, and we will have more opportunity to consider our decisions."
For the judges, a third bench may allow them more time to devote to their specialty courts. Porter oversees the probate court, while Kacin makes rulings in juvenile and child welfare cases, in addition to presiding over Adult Drug Court.
Although the court calendars remain crowded, both judges said they feel their responsibility to their constituents and those who come before them in their courtrooms, especially now with the passing of the victim's rights law, Marsy's Law, in November.
"If someone is involved in some type of litigation, it is probably the most important thing happening in their lives right then," Porter explained. "And right now, they have to wait too long to get it resolved."
"Some judge said recently that the most important case is the one you are working on right then, and it certainly is to the people whose case that is," she said.
Sign up for our Crime & Courts newsletter
Get the latest in local public safety news with this weekly email.