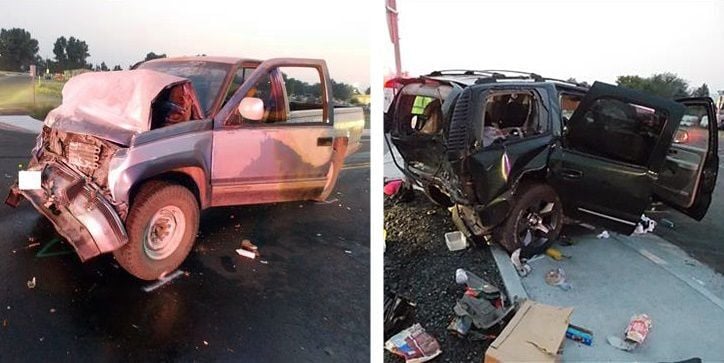 CARLIN – A 6-year-old girl was killed and four other people injured when their SUV was struck from behind by a fast-moving pickup in the middle of Carlin on Aug. 27.
The Carlin Police Department has submitted an initial report on the vehicular homicide to the Elko District Attorney's Office, but no one has been charged pending receipt of blood reports and other evidence, according to Chief Kevin McKinney.
Police were called at about 2:30 a.m. to the scene of the crash at 12th and Chestnut streets, where they found a Chevy Tahoe with heavy rear-end damage and a Chevy pickup with heavy front-end damage.
"The vehicles at the scene had damage consistent with a crash at highway speeds," stated a police report.
As the officer approached the scene he reported seeing a man get out of the driver's side door of the pickup and begin walking, then running away. He was wearing a number 11 red and blue jersey and red basketball shorts. The man refused to follow orders to stop, then fell in a ditch next to the stop sign at 12th and Bush streets.
The officer said he did not pursue the apparent driver because he heard children screaming inside the Tahoe. Inside the vehicle, the male driver was unconscious and a female passenger was holding a child. In the second row of seats a man was trying to help a small girl with a severe head injury and a boy who was pinned and screaming in pain.
The officer was unable to open the locked doors to free the people inside the Tahoe.
Carlin Volunteer Ambulance arrived and began extricating the passengers. They included the 6-year-old girl, a 5-year-old girl, a 10-year-old boy, their mother and father.
Due to the severity of the accident, personnel from Elko Fire, Elko Ambulance, the Nevada Highway Patrol, the Elko County Sheriff's Office and the Elko Police Department assisted in the response, the extrication of vehicle passengers, the treatment and transport of those who were injured, and the initial investigation.
Less than half an hour after the accident was reported, police were called to residence where a 22-year-old naked man covered in scrapes and blood was requesting an ambulance. Clothing that matched the apparent driver was lying on the floor, and the man smelled of alcohol, police stated.
Blood was collected from both drivers to test their blood-alcohol level. Police also collected surveillance video that showed the Tahoe being struck from behind by the pickup, which was traveling at a high rate of speed.
McKinney said Carlin police are awaiting lab and autopsy results from Washoe County, as well as the Nevada Highway Patrol's reconstruction of the crash scene.