ELKO – A man who fired several shots at a Nevada Department of Transportation employee on June 16 may have been involved in a Northern California homicide shortly before the incident.
Officers responding to the shooting on State Route 278 north of Eureka, Nevada fired 16 rounds at the suspect, identified as Zachery Isaiah Minissale, 34, of Nevada City, California, and he died from a single gunshot wound.
Nevada Highway Patrol Capt. Eddie Bowers reported details of the incident in a YouTube video but did not speculate as to why the initial shooting occurred.
The NDOT employee was struck by several shots fired by the driver of a Dodge Ram van in a construction zone shortly before 10 a.m., according to an earlier release from NHP. The employee has since been released from the hospital in stable condition.
The van fled south toward Eureka as NHP trooper Eric Candee and Eureka County Undersheriff Tyler Thomas traveled north from Eureka to the scene. Eureka County Sheriff Jesse Watts set up tire spikes that disabled the vehicle.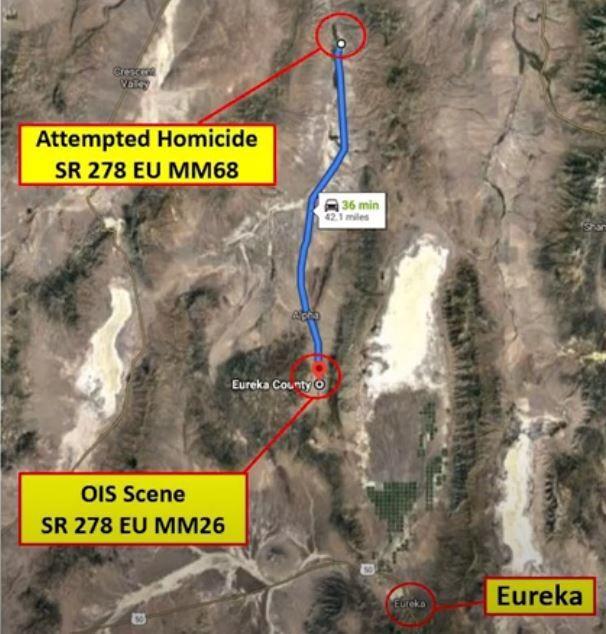 Dashboard video shows the van going off the edge of the highway into the sagebrush about 42 miles south of where the initial shooting occurred.
"The suspect then exited the vehicle and began to fire at the officers" with a .45-caliber revolver, Bowers said.
According to Bowers, Candee fired six shots from an AR-15 rifle and Thomas fired 10 shots from a Glock 9mm handgun.
"Minissale sustained a single gunshot wound and later died," Bowers said. He did not say which gun the fatal shot was fired from.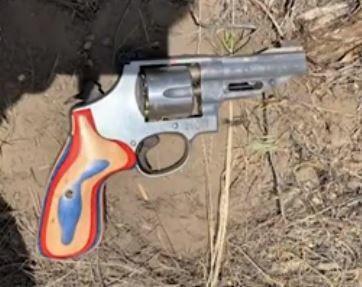 Had Minissale survived, Bowers said he would have been charged with attempted murder and four counts of assault with a deadly weapon on a protected person.
"Through the investigation into this incident it was discovered that Minissale may have ties to an ongoing homicide investigation in Nevada City, California," Bowers said.
According to a report by the Sierra Sun, Minissale could be linked to the slaying of a British citizen who was found dead in a home owned by Minissale on the same day as the Nevada highway incident. The 30-year-old victim had been shot multiple times.
Authorities have not formally named any suspects in the death, the Sun reported.
The Eureka County shooting comes almost a year after another fatal officer-involved shooting in northeastern Nevada.
On June 26, 2020, a 30-year-old Spring Creek man fled from a Nevada Highway Patrol trooper during a traffic stop near the 12th Street Bridge in Elko.
Aaron W. Keller fired at the trooper during the foot chase and was shot by trooper Jacob Evans.