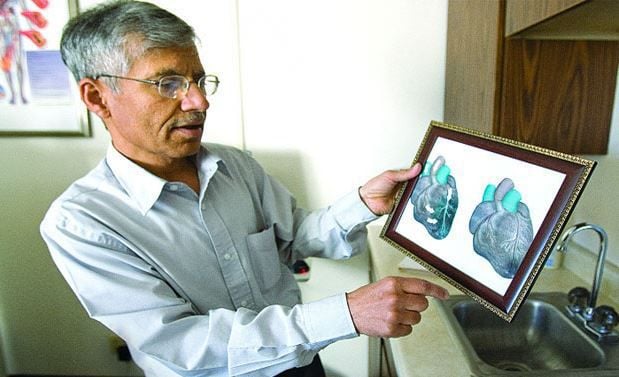 RENO – An Elko cardiologist who was one of the first doctors to be targeted by federal prosecutors for overprescribing opioids has been sentenced to prison.
Dr. Devendra I. Patel, also known as Devendrakumar I. Patel, was sentenced Tuesday to three years and one month in federal prison for prescribing highly addictive pain pills Oxycodone and Hydrocodone at a high rate to his patients without a medical purpose, according to a release from the U.S. Department of Justice.
Patel, 60, pleaded guilty in November 2018 to distribution of controlled substances, after being indicted by a grand jury in December 2017. His DEA license was suspended upon his arrest in December 2017.
The indictment included 36 counts with a maximum penalty of 10 years in prison for each count.
Patel owned and operated Northeastern Nevada Cardiology. In addition to the prison term, U.S. District Judge Larry R. Hicks sentenced Patel to three years of supervised release and ordered him to pay a $500,000 fine. Patel was ordered to self-surrender to begin serving his sentence on August 6.
U.S. Attorney Nicholas A. Trutanich for the District of Nevada, Special Agent in Charge Aaron C. Rouse of the FBI's Las Vegas Division, Resident Agent in Charge Marc C. Kuzmicki of the DEA's Reno Office, and Special Agent in Charge Christian J. Schrank of the Office of Inspector General, for the U.S. Department of Health and Human Services Office Los Angeles Region made the announcement.
"Medical professionals who violate their oath and the law by prescribing addictive opioids without a legitimate medical purpose will be investigated, prosecuted, and held accountable for their actions," said Trutanich. "The U.S. Attorney's Office is fully committed to the investigation and prosecution of medical professionals who abuse their position of trust and by a stroke of the pen directly contribute to the opioid crisis."
"Let those who would betray their oath to do no harm take notice of the penalty for such callous mistreatment of their patients," said Rouse. "The FBI will continue to work with our law enforcement partners in a unified effort to battle the opioid crisis in the state of Nevada."
"This case is a direct result of the hard work of the investigators and prosecutors from the DOJ and their partners in Reno, Nevada," said Kuzmicki. "This should serve as a warning to practitioners in Northern Nevada who are helping fuel the opioid epidemic. While the vast majority of medical professionals are following the appropriate guidelines and prescribing well within the law, we will find those who are harming members of our community and bring them to justice."
"It is difficult to believe that a physician, sworn to do no harm by his Hippocratic oath, would needlessly prescribe these highly addictive opioid medications," said Schrank. "Yet our investigation revealed that Dr. Patel did exactly that. Physicians using prescribing privileges to fatten their profits rather than easing the pain of patients should expect aggressive investigation and prosecution."
Between September 2015 and February 2016, Patel prescribed Oxycodone and Hydrocodone to patients without a legitimate medical purpose and outside the usual course of professional practice. His prescribing practices allowed him to see a high volume of patients and easily prescribe opioids, while not addressing any legitimate medical concerns of his patients, investigators said.
The case was investigated by the FBI, DEA, Office of Inspector General of the U.S. Department of Health and Human Services, U.S. Secret Service, the Elko Combined Narcotics Unit, Elko Police Department, Elko County Sheriff's Office, and the Nevada Department of Public Safety. Assistant U.S. Attorney Sue Fahami prosecuted the case.
More than 42,000 people died from a prescription opioid overdose in 2016, and over 1,000 people are treated in the emergency room daily for improper use of prescription opioids, according to the Center for Disease Control. In 2016, there were 408 opioid-related deaths in Nevada, according to the Nevada Department of Health and Human Services.
The Opioid Fraud and Abuse Detection unit is a program that utilizes data to help combat the devastating opioid crisis. In 2017, the District of Nevada was selected as one of 12 districts nationally to participate in the program. The District of Nevada has assigned an experienced prosecutor that focuses solely on investigating and prosecuting health care fraud related to medical professionals who prescribe opioids, that unlawfully divert of dispense prescription opioids for illegitimate purposes.
Sign up for our Crime & Courts newsletter
Get the latest in local public safety news with this weekly email.