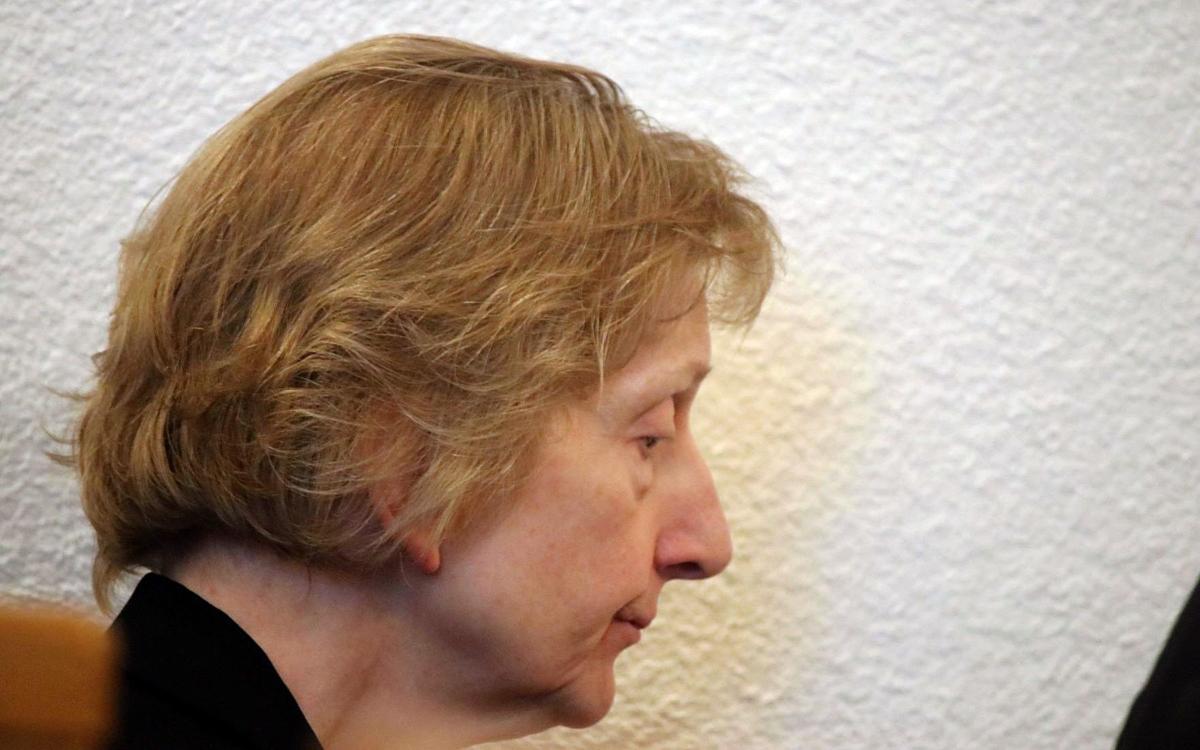 ELKO – An Elko woman accused of strangling her adult daughter went on trial Thursday in Elko District Court.
Judith Zavala, 63, is charged with open murder in the death of her 24-year-old daughter April on June 14, 2020, at their Elko residence.
Zavala says she was her daughter's primary caregiver as April was autistic and required special needs care.
Jurors heard opening arguments Thursday from Elko County Deputy District Attorney Justin Barainca and Public Defender Kelsey Angeley in District Judge Al Kacin's court.
Public Defender Matthew Pennell is also serving as defense co-counsel for the case.
About 15 months ago, Zavala was arrested for allegedly strangling her daughter in their bedroom while she tried to get her dressed. The death was discovered after Zavala's husband returned home from a fishing trip with their son.
Prosecution opening arguments Barainca described the events of that day to the jury, stating that "this case is about a mother strangling her daughter."
He explained that April had special needs, but it was unclear what exactly those were because she was not evaluated.
"It was guessed by the family that April was autistic," Barainca said. "She may have been, she may not have been. We don't know. The one thing that is for sure is that April did have those special needs that required a lot of extra care."
April was able to speak and communicate, but when she was having difficulties she became upset if she was interrupted, Barainca explained.
April's care required Zavala, the primary caregiver, to stay home all day with April, with her husband working and doing the grocery shopping, Barainca said. Eventually Zavala and April shared the same bed and her husband began sleeping in the basement.
That afternoon, April wanted to dress herself and resisted Zavala's efforts to help, a "struggle ensued and April hyperventilated and gasped for air, collapsed and stopped breathing," Barainca said, recalling Zavala's first statement to police.
After she realized April had died, Zavala remained in the house and did not call 911 because there was no landline, and her husband, who was out fishing with his son, had the only cellphone in the household, Barainca recounted.
Zavala's husband discovered what happened after he got home and called their son, who then called 911.
Barainca also described the events at the Zavala home following a call to police by Zavala's son, and how the investigation by detectives began.
Investigators noticed marks on April's neck, and the Washoe County Regional Medical Examiner determined later that the cause of death was strangulation.
According to police reports, Zavala confessed the next day, telling detectives she put her hands around April's neck and "squeezed until April stopped breathing," Barainca recounted.
Zavala told investigators that April was a high-functioning autistic until her behavior's changed several months before the incident.
Jurors were told to expect testimony over the next several days from family members, investigators and the Washoe County Medical Examiner Dr. Laura Knight, who would testify that April was 5-foot, 5-inches and weighed 94 pounds at the time of her death.
"This isn't a whodunit case. We know what happened, we know how this goes down," Barainca said. "At the conclusion of this, I will be asking that you as the jury find Mrs. Zavala guilty of first-degree murder."
Defense opening arguments
Angeley gave the opening statement for the defense, telling jurors the case was about the story of the Zavala family, with daughter April as "a child trapped in the body of an adult."
She described how Zavala "broke" upon the stress of caring for her daughter around the clock since 2018 as April's behaviors and moods changed, not leaving the house for about two years.
In the years and months leading up to April's death, the family responded differently to her condition, leaving Judith the primary caregiver "who was abandoned and alone and imprisoned in her house," Angeley said.
On the day April died, "after years of exhaustion and months of desperation, after weeks of sleepless nights, on one day, June 14, 2020, everything in Judy broke," she continued.
As April grew up, the family noticed she had characteristics for someone on the autism spectrum, such as inability to make eye contact, sensitivity to loud noises, and she did not like large crowds or strangers, Angeley explained. She was able to take care of her personal hygiene until a few years ago when there were some shifts in the home.
Particularly, her brother moved out of the house and her father quit his job due to stress and suffered an "emotional breakdown, anxiety and depression," which changed his relationship with April and Judith, eventually moving downstairs to the basement apartment, Angeley told the jury.
April's behavior became more compulsive and she was having "more and more trouble expressing herself," which took extra time for her family to communicate with her. April was also refusing to eat, and sometimes took three hours to finish a meal.
"It was hard enough to get her to sit down and even take a glass of water," Angeley said.
Judith also helped April fall asleep, "talking, praying and reading to her." She would repeat the routine to help April get up the next day. Once April became incontinent, Judith also changed her adult diapers.
Throughout the years, April became more and more dependent on Judith, and did not want her mother to leave her, even in the same house, Angeley said. Sometimes Judith took short breaks in her office, but April would bang on the door and shout while she was inside.
"All Judy could to do was hide under her desk and block her ears and try to escape for a minute," Angeley said, adding that Zavala never had a day off or took time for herself.
She served as April's caregiver for "about 10 years, working every single day caring for April, about 3,650 days in a row. No days off," Angeley said.
As April's health declined, "it took more and more and more of Judy," Angeley said. "Judy didn't have help."
"The evidence will show that Judy did not have opportunity to go out at all," Angeley said. "The evidence will show you that Judy cared for her daughter day in and day out without a break."
Angeley recalled Zavala's husband's preliminary hearing testimony where he said he "didn't spend that much time with [April]. She was difficult to be around and she had a lot of needs."
Witnesses will testify for the defense that Zavala never lost her temper, "that Judy never yelled. She never raised her voice. Being with April and caring for April took patience and that Judy had this patience," Angeley said.
But Zavala was "trapped in that upstairs bedroom with April's compulsions," and she was exhausted, had lost weight and had many sleepless nights when April could not sleep.
Zavala became "desperate and hopeless," Angeley added.
In the last year of April's life, Angeley said Zavala could not take her to the doctor because she was not on her husband's insurance plan for his new job and the family's savings had been depleted while he was out of work.
As the trial progresses, Angeley promised that the defense would provide evidence to "show that Judy was alone and that on June 14, 2020, Judy broke. That's what you'll hear her say, 'Everything inside of me broke.'"
"As we go through the next few days, I'm asking you to keep in mind that Judy was alone and abandoned," Angeley said. "I'm asking you to keep in mind that years of exhaustion built up, there were months of desperation leading to this moment on June 14, when Judy's mind broke, when everything in her broke."