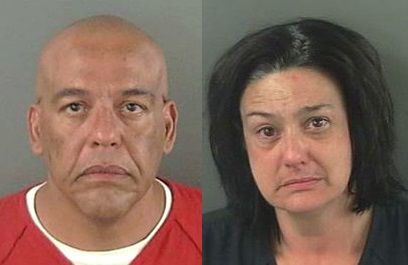 ELKO – Two Elko residents have been charged with multiple counts of burglary and grand larceny, including the theft of boxing shorts signed by Muhammad Ali and Joe Frazier.
Joel S. Varnum, 48, was arrested Tuesday on a warrant for two counts of burglary; grand larceny; grand larceny of an automobile; buying, possessing or receiving stolen property; and taking possession of a vehicle without the owner's consent.
Marilou Ottenbacher, 48, was arrested in January on the same charges.
The pair is accused of burglarizing the home and business of a former employer of Varnum.
You have free articles remaining.
Ottenbacher was pulled over in Carlin shortly after midnight on May 31, 2017, when an officer noticed one of her vehicle's tail lights was not working. He asked to search her vehicle. She consented, and the officer found shadow boxes containing boxing memorabilia. The officer checked with dispatch and determined that the items had been reported stolen two weeks earlier.
The signed boxing shorts from the two world champion heavyweights were valued at approximately $15,000, according to the officer's report.
Ottenbacher reportedly told the officer that the items belonged to Varnum.
Varnum and Ottenbacher also are accused of stealing a truck from a shop in February 2018.
Varnum's bail was listed at $90,000; Ottenbacher's was $92,513.
Varnum was also arrested in January 2016 on a charge of possessing a counterfeit bill, according to Elko Daily Free Press files.