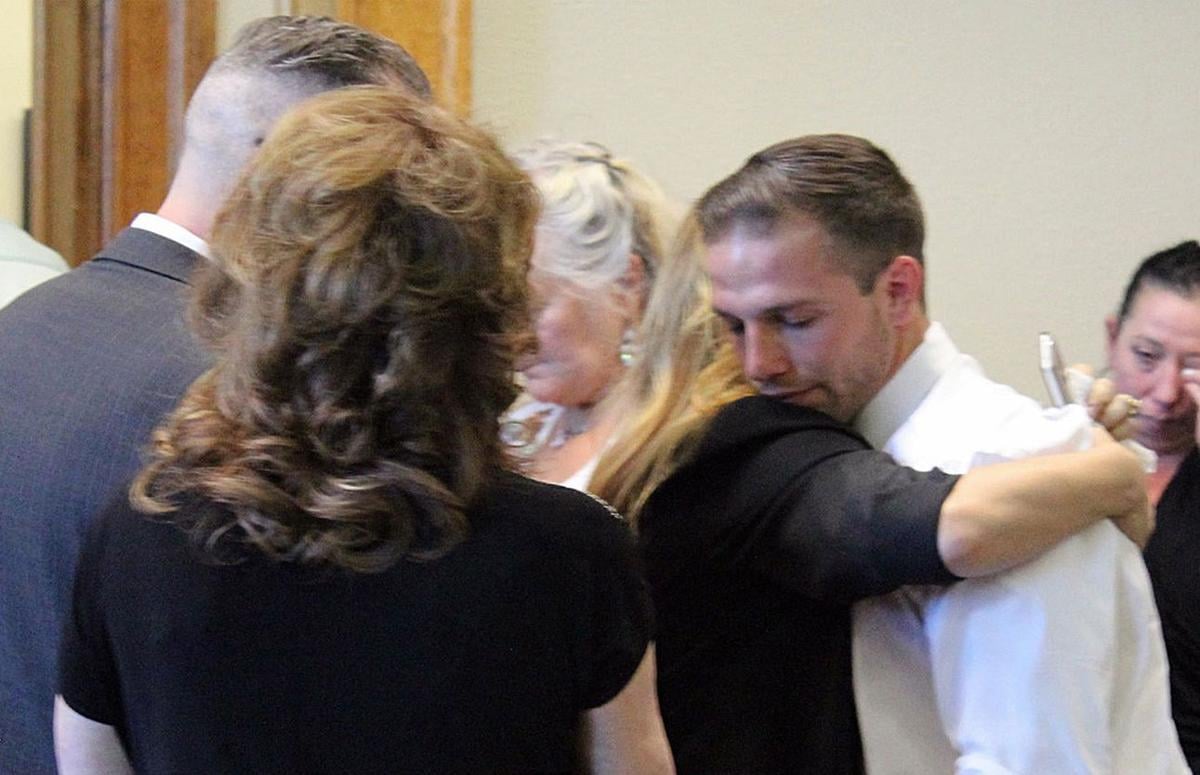 ELKO — On July 15, 2015, the Rev. Jared Kraintz, 35, died from being hit by a car in the Wal-Mart parking lot; only one day before a year had passed, the driver was sentenced to three months in jail.
The courtroom was filled Thursday with family members and friends, some tearfully holding Bibles, others solemn in their demeanor, awaiting the outcome.
Tyler Demerath, 23, was sentenced by Elko Justice of the Peace Mason Simons to serve 180 days in the Elko County Jail; 90 days was suspended for a two-year period. Additionally, he is to perform 200 hours of community service with a nonprofit or government entity; maintain a good conduct clause, which includes obeying all laws, ordinances and being arrest free; as well as pay fees, fines and restitution totaling approximately $4,082.31.
The defendant is to complete his community service by Oct. 20, 2017. He will begin to pay restitution on Jan. 20, 2017 in the amount of $200 per month. His payments to the court will start upon completion.
Demerath was found guilty of three misdemeanor counts following an April trial: vehicular manslaughter, operating a motor vehicle without a driver's license, and operation of a motor vehicle while registration is suspended.
Count four of operating a motor vehicle without insurance was dismissed.
Chief District Attorney Chad Thompson said the State and the family was looking for the maximum sentence of six months in jail and a fine of up to $1,000.
Sentencing was initially continued because of an issue of restitution. Over $2,000, which represents a charge from Burns Funeral Home, was settled upon, he said.
"Your Honor, you see our courtroom is filled with a lot of people who support Mr. Kraintz," said Thompson. "They miss their friend, they miss their relative, their son, and there's no way to bring him back and we recognize that the punishment … will not bring him back either, but there must be punishment."
Thompson said the sentence should serve as both general and specific deterrents.
"Mr. Kraintz was in a crosswalk in front of a store and he lost his life. … but it (the sentence) sends a message to the rest of the community to take better care. It sends a message to Mr. Demerath to take better care," he said, calling the vehicular manslaughter charge one of, if not, the most serious misdemeanor.
"It was a horrible confluence of factors, which ultimately led to the death of Mr. Kraintz," said Demerath's defense attorney Sherburne Macfarlan.
He explained to the court every time he has spoken to Demerath regarding this case, he has expressed remorse and regret.
"I think the one thing that is absolutely abundantly clear is, there was absolutely no intent on the part of Mr. Demerath to hurt Mr. Kraintz," said Macfarlan.
You have free articles remaining.
"The question, for this court, is what is the appropriate punishment for basically what comes down to be a terrible, tragic accident?" he said, explaining he wishes there was something he could do to help Kraintz's family and friends with their loss.
The defense reminded the court Demerath did not have any alcohol or drugs in his system.
Ideally, Macfarlan said he would not like to see his client serve jail time. The defense requested Demerath's jail term be suspended for two years, with the conditions he would pay restitution and fines and maintain a good conduct clause, including no new arrests anywhere in the country or any minor traffic violations.
Macfarlan submitted two letters in support of Demerath to the court.
"I'm sorry for what has happened. I … took one of your family member's life, a friend, a son and I regret it every day," said Demerath, expressing his remorse to the family and how he relives this tragedy in his dreams and wonders why him.
"With respect to those in attendance in the courtroom today, as a family we chose not to attend the trial in person. We do not feel vindictive or vengeful toward Tyler," said Joshua Kraintz, Jared Kraintz's brother, who served as the family's representative.
"As a family, we have moved through the sadness of this unfortunate situation and are trying to look forward with faith and optimism," he said. "We would like to wish the same for Tyler and his family."
The Kraintz family said they would respect the decision of the court, hoping this will serve as a learning experience and lives will be changed for the good.
"Our recommendation would be for the maximum penalty, in this respect, a loss of life, as has already been demonstrated by both attorneys in this court, is irreplaceable but the purpose of the law is deterrent from anything further happening to any member of our community," said Joshua Kraintz.
"We would like to see the maximum penalty enforced for the larger picture of our community, as Jared was larger than just a family member," but also a community member, he said, discussing because of the loss of life, a suspended sentence was not warranted; six months to reflect on the situation was not too much to ask for.
"In this case, there's a family without their family member," said Simons. "This may not have been willful conduct, but it was conduct certainly of a negligent fashion."
The judge told the defendant there are still consequences even when a "horrible tragedy" occurs, telling the personal story of how he lost his own brother to a traffic accident in 1990.
"We're talking about nearly 26 years ago, I can tell you though I think about him on nearly a daily basis. This is the situation the Kraintz family faces for the foreseeable future," said Simons.
Simons said he balanced attempting to hold onto the memory of the family member with the level of culpability on the part of the defendant and the severity of the act, when crafting trying to craft an appropriate sentence for actions to be learned from.
Demerath will turn himself into the jail later this month.