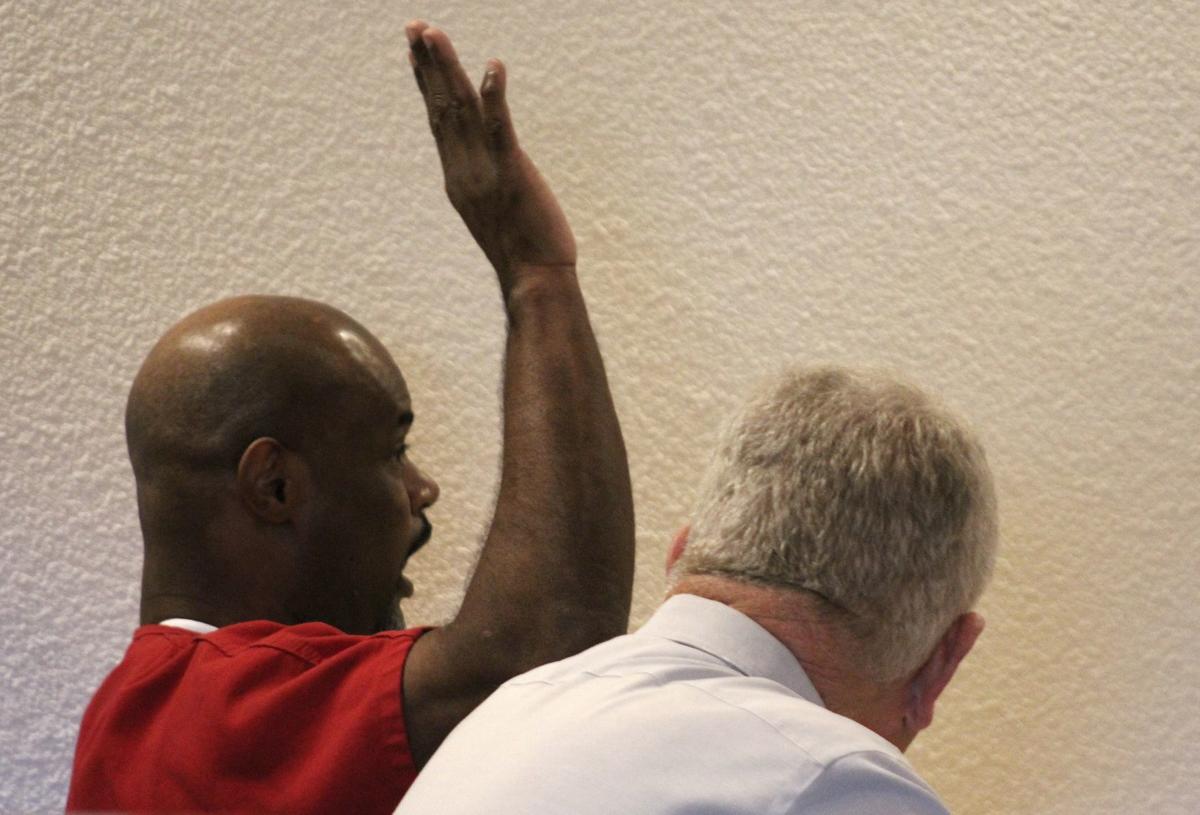 ELKO — A defendant in an attempted murder case claimed his trial had been compromised by racism and incompetence on the part of his appointed attorney, causing counsel to be dismissed and sentencing continued Thursday in Department II of Elko District Court.
Sean Dean, 50, was convicted by an Elko County jury on June 28 of attempted murder with the use of a deadly weapon, battery with the use of a deadly weapon resulting in substantial bodily harm, and battery with a deadly weapon, said Elko District Judge Al Kacin.
The State is seeking for Dean to be judged a habitual criminal and serve a life sentence without parole, said Kacin, explaining the gravity of this case "in terms of sentencing."
Gary Woodbury filed a petition for advice and instruction with the court in which he cited a breakdown in communications between himself and Dean.
Kacin explained Dean's right to remain silent. However, the defendant said his statements were too serious to remain silent and not to break attorney-client privilege concerning Woodbury. The defendant read from a four-page letter he claimed was hand-delivered to him by his former counsel.
"I feel like my trial has been compromised," Dean said multiple times throughout his statements.
During his time in Elko, since 2012, Dean claims to have had some "uncomfortable experiences," which included racial slurs, leading him to not want his trial to take place in Elko — a choice he said he made clear to Woodbury and asked him to relay Dean's apprehensions to the judge on two occasions.
Racially slanderous language was allegedly used by Woodbury in his trial notes regarding an African-American witness, according to Dean.
Dean feared the possibility of an all-white jury as he feels the citizens of Elko stereotype African-Americans based on media portrayals. Additionally, during jury selection Dean asked for a juror to be eliminated as he seemed to create conflict.
When questioned, Dean said the man apparently remained on the jury "because I (Woodbury) like him," angering Dean because the consequences of the proceedings affected him, not the attorney.
"The things I wanted him to present, he never did," said the defendant, explaining there were common-sense questions delineated in a seven-page letter.
"That's a significant piece of information that could have had an … effect on the jury, because there was a specific question asked and that would have eradicated that whole question … there was more than one injury, two of them," said Dean, explaining not all of his injuries were exhibited during the trial on Woodbury's recommendation.
Another instance included Woodbury telling his client he was unaware of a wound on one of the victims, Burt Minter, that was three-and-a-half inches deep and Minter's need for exploratory surgery, until after the doctor had testified.
"I don't necessarily oppose it. It sounds like there has been a significant breakdown in the relationship between Mr. Woodbury and his client," said Deputy District Attorney Mark Mills, explaining the State's position on releasing Woodbury from his appointment to represent.
The deputy DA cited Young v. Nevada, which discusses substitution of counsel through a three-prong test: the extent of the conflict; the adequacy of the inquiry by the court; and the timeliness of the motion.
Mills said the first two instances have been shown. In addition, it further stipulates a refusal to substitute counsel, if a collapse is evident, creates a violation of Sixth Amendment rights.
Kacin has to appoint Dean another defense attorney to review the case and consult further with the defendant on how to proceed.
The judge will look outside of the immediate area as the defendant said he is not comfortable with representation from Elko.
Dean said he did not want to represent himself.
Sign up for our Crime & Courts newsletter
Get the latest in local public safety news with this weekly email.