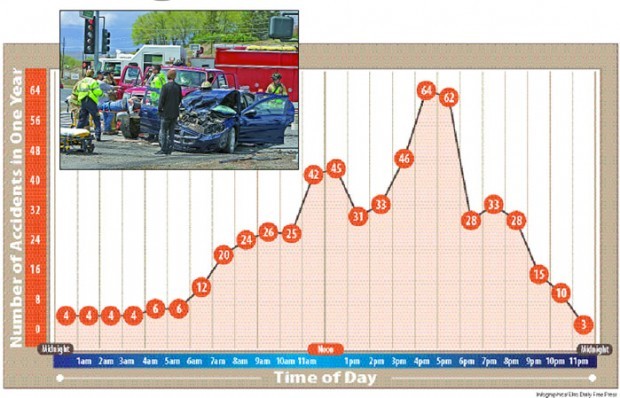 ELKO — Elko Police Chief Don Zumwalt can remember it like it was yesterday, even if it was nearly a decade ago. The 2-year-old was barely out of his mother's sight for a second before an SUV hit and killed him in an Elko parking lot. It was ruled an accident, but all it took was one split second for the driver to miss seeing the toddler.
"I'm thankful that doesn't happen a lot in this town," Zumwalt said. "But I remember it so vividly. It just happened so fast that it was over before it could be prevented. That's why distractions are so difficult and put us at such greater risk for accidents."
According to an Elko Daily Free Press analysis of police car accident reports, the most dangerous time to drive within Elko city limits is from 4-6 p.m. on weekdays. While this traditional late-afternoon rush hour had 126 car accidents over the last year, it was closely followed by 87 accidents during the 11 a.m.-1 p.m. lunch hour.
"I'm not going to tell people to stay in during those hours because I drive during those hours," Zumwalt said. "But it's the distractions that really cause accidents in this city. It's the radio, children, texting, using cell phones. People have to pay attention."
The Free Press looked at a year's worth of police data detailing car accidents within the city limits. The data shows that almost 60 percent of car accidents in Elko happen on Idaho Street, Mountain City Highway and Silver Street.
More than half of the data provided by the police department indicates only one street location, making it impossible to determine exact crash intersections, but Zumwalt said the department monitors intersections closely. He is specifically concerned about the number of accidents at the intersections of Mountain City Highway and Argent Avenue, Fifth Street and Clarkson Drive, and Lamoille Highway and Pinion Road.
"People are taking their life into their own hands at these cross sections," Zumwalt said. "Taking a left out of these uncontrolled intersections is so difficult because the speeds are higher and it's hard to see oncoming traffic."
Auto accidents kill more than 40,000 people in the U.S. each year and are the No. 1 cause of death for people between the ages of 1 and 34, according to numbers from the National Highway Traffic Safety Administration. From six to seven people are killed on average in the U.S. every day from 5-6 p.m., according to the Insurance Institute.
While fewer accidents happen during the night hours in Elko, instances of drunken driving, excessive speeding and driving without a seat belt all significantly increase during those hours, according to police reports, and influence severity of damage and injuries. Getting behind the wheel is inherently dangerous, especially during times when roads are obviously more full of people heading to lunch or home from work.
"We don't always have enough officers on duty to increase patrol during these peak hours," Zumwalt said. "But when we have a full shift we have officers out on Idaho and Silver making sure that people see us out there and that they slow down. We do the best we can with what we have."
Even if the police department sees a problem at an intersection such as the one in front of Elko Glass on Lamoille Highway, they can only recommend changes. It takes engineers employed by the city and a targeted educational campaign to make changes happen.
The city uses much of this Elko Police Department accident data to justify changes in traffic patterns, add traffic controls such as stop signs or lights, and to monitor where there is a possibility for an accident.
"We pull this data from time to time," said Public Works Director Dennis Strickland. "Just this spring we adjusted speed limits on Idaho Street and out on Ruby Vista using data from police reports."
Strickland's department also added stop signs at Seventh and Pine streets earlier this year and used statistics to justify the addition. A few years ago they did the same at Seventh and Court streets.
"It's helpful for us to know where to focus our attention," Strickland said.
The biggest focus for Zumwalt's department at this time of year is monitoring the noon hour when high schoolers leave campus for lunch. He focuses more police on the Elko High School area from noon to 12:15 when most students leave campus in a big swarm, but they tend to trickle back at different times during that hour, he said.
Zumwalt credits much of the high school area's safety to the low speeds on the roads that surround it. Other areas aren't as lucky.
"You have time to react when you're going 25, but not so much when you're cruising at 40," Zumwalt said. "We have more severe accidents on Mountain City Highway where it's 35 miles per hour, on South Fifth Street where speeds are higher, and Lamoille Highway. That's where we see people get severely injured in accidents and even if they're not injured they still have to deal with insurance and damage, so there's always a consequence."
Zumwalt's safety tips for drivers may seem obvious, but he says they are the simple distractions behind almost all accidents: don't talk on the phone, don't get distracted by your kids, don't play with the radio, don't text, and don't be so much of a looky loo at an accident that you cause your own.
The data used for this report dated from August 1, 2011 through July 31, 2012. There were 575 car accidents listed in the report during that time period and within the city limits. The report included a general location (sometimes only a street), date and time of day. In more than 60 of the entries, officers did not indicate any location of the car accident, mostly from Oct. 27, 2011 through Nov. 30, 2011.