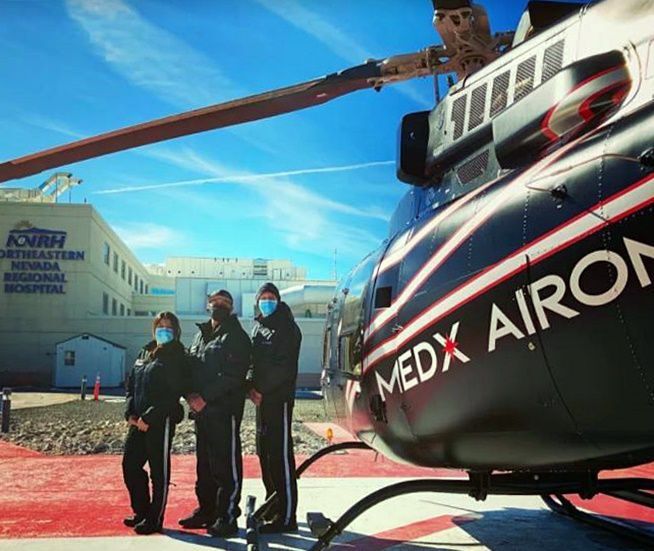 ELKO — Since 2016, Elko AirOne has served Elko County and the patients of Northeastern Nevada Regional Hospital, offering quality care without burdening patients' pocket books. The white and blue helicopter, or rotor, parked on the helipad at NNRH known as Elko AirOne has been upgraded to a new state-of-the-art Bell 407 helicopter with a new look.
MedX AirOne, which placed the helicopter, redesigned its assets to the new black, white, and red color scheme in order to be more easily recognized across the region. While their helicopter and ambulances have been updated, and the website has received an overhaul, the mission of MedX AirOne has remained the same: to provide quality care without financially stressing the patient.
"We've always been MedX AirOne. The original rotors were designed to match the hospital they served," said Paul Ward, executive director. "Now we hope to be recognized as MedX AirOne with the same level of commitment to our base hospitals."
MedX AirOne began with one rotor at Winnemucca's Humboldt General Hospital. Now the company has three fully manned air ambulance bases in Northern Nevada: one in Elko, one in Ely and one in Winnemucca ready to serve at a moment's notice.
These new Bell 407s can travel at speeds over 150 mph, helping to meet the needs of patients requiring emergency transport.
"The new Bell 407s enhance our ability to rapidly transport patients in their time of need," said Ward. "They are ideal for our climate and topography and are the most advanced air medical helicopters in Northern Nevada."
Becky Jones, director of cardiopulmonary services for Northeastern Nevada Regional Hospital, said "MedX AirOne is an essential part of our local healthcare system. Every minute matters for patients having a cardiac event and these helicopters and their highly trained medical crews save patients' lives."
In addition to air medical transport, MedX AirOne offers ground medical transport services. Three new Osage Ford Type II ambulances are stationed locally to help with transports from one facility to another.
With three PC-12 planes, three Bell 407 helicopters, and six ground ambulances, MedX AirOne has more assets than any other air ambulance provider in the area. Each base is manned 24/7/365 with highly trained pilots and emergency responders.
The flight crews, used for critical care transport, consist of a pilot, flight nurse and flight paramedic. Ground ambulances, used for patients not requiring rapid air medical transport, utilize an EMT and an Advanced EMT.
MedX AirOne also provides 911 emergency medical services for the city of Wells.
MedX AirOne was founded by a Nevada resident who believed the high-cost of emergency air medical transportation should not affect a patient in need. Choosing to follow a different model, MedX AirOne does not sell memberships or surprise patients with balance bills.