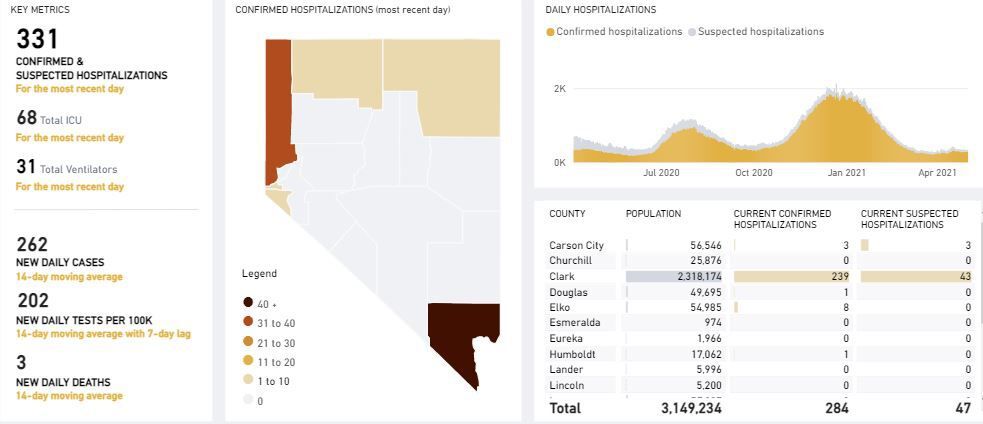 ELKO – Northeastern Nevada Regional Hospital is restricting visitors because of a rise in the number of COVID-19 patients.
The hospital made the announcement Monday afternoon.
With a few exceptions, patients in the hospital will not be permitted to receive visitors until May 17 at the earliest.
"This is not a decision we made lightly," said Steve Simpson, hospital CEO. "But patient safety is always our number one priority. We have seen an exponential increase in patients hospitalized for COVID-19 over the past few days, so this was the logical next step."
A week ago Elko County listed only one COVID-positive patient. As of Monday there were nine at NNRH.
According to the hospital's revised visitor policy, only the following patients will be allowed a single healthy visitor: people undergoing outpatient surgery, minors under the age of 18, expectant mothers in active labor and individuals with special needs who require a full-time caregiver.
Exceptions may also be made to allow multiple visits from family for patients receiving end-of-life care. The complete visitor policy can be viewed at www.nnrhospital.com/visitors.
"We understand how frustrating it can be for people to get turned away from visiting their loved ones," Simpson said. "But we must protect our most vulnerable patients, and that means limiting the number of people entering our facility. We appreciate everyone's understanding and cooperation."
Simpson explained that the hospital's leadership team will continue monitoring the COVID-19 positivity rates of both inpatients and the community at large. Based on how the data trends, the hospital could make the decision to allow visitors again as early as May 17.
"We look forward to welcoming visitors back inside just as soon as it's safe to do so," Simpson stated. "In the meantime, we encourage everyone to keep practicing COVID precautions like wearing a mask and washing your hands. And please, if you haven't done so already, get vaccinated. This pandemic is not behind us just yet."
Authority over some COVID-19 restrictions — such as business occupancy levels — was transferred from the state to the county on Saturday.
Elko County's coronavirus dashboard listed 49 active cases and a test positivity rate of 8.6% on Monday.