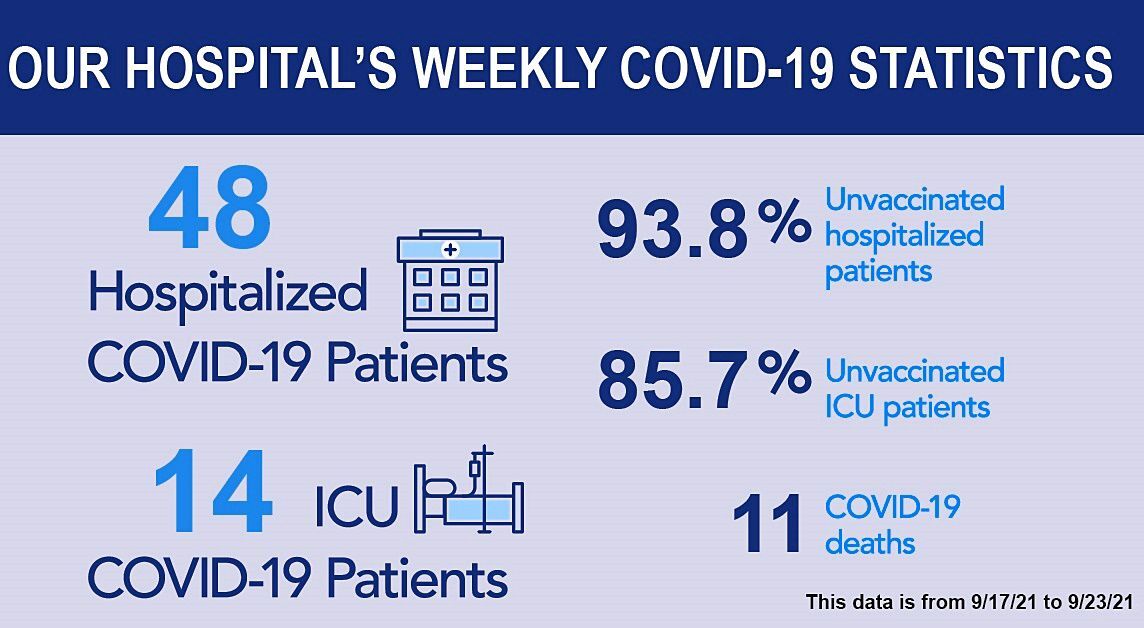 ELKO – Hospital and county officials pleaded for local residents to get vaccinated for COVID-19 and to practice other health precautions Friday as virus deaths and hospitalizations soared to record levels.
"Our medical-surgical unit and our intensive care unit have both been near capacity for several days," stated Northeastern Nevada Regional Hospital. "We have postponed elective surgeries and redeployed our surgical staff to care for COVID-19 patients. Now we are moving patients into alternate clinical areas of the hospital in order to increase the number of beds available throughout the facility.
"We share all of this with our community because we want you to know the situation is more critical than ever. COVID-19 is running rampant through our region, and we need your help to slow the spread of this virus."
The hospital reported it had 48 COVID patients this week, 14 of them treated in intensive care. The overwhelming majority — 93.8% — were unvaccinated.
"As a hospital staff, we are pleading with you to practice the precautions we know are effective in stopping COVID-19. Avoid large gatherings, wear a mask when around people from outside your household, observe physical distancing, and practice good hand hygiene. Most importantly, please get vaccinated against COVID-19. Vaccination truly is the best way to protect yourself and others from being hospitalized with this disease."
Eleven patients died at the hospital this week. There have been 18 deaths of Elko County residents so far this month, exceeding the deadliest month of the pandemic last December.
"Our hearts go out to all who have lost loved ones to this disease," said Elko County Manager Amanda Osborne. "Please know that our doctors, nurses and staff members are working around the clock to help patients recover. Please help us slow the spread of COVID-19 by getting vaccinated."
Elko had a record number of 655 active cases of coronavirus on Friday. Churchill and Mineral counties are also experiencing major surges, while cases are leveling off in most of the rest of the state.
NNRH officials said it is still safe for residents to come to the hospital for medical care.
"While wait times may be longer than normal, we are not turning away any patients who present to our facility and you will be seen. If you require medical attention, please do not delay seeking care. And if you are experiencing an emergency of any kind, please call 9-1-1 immediately."
While health officials nationwide say the priority is to get first shots into arms as soon as possible, vaccine boosters produced by Pfizer are expected to be available in Nevada by the end of next week.
The CDC directed its booster guidance to Pfizer recipients 65 and older; nursing home and assisted living residents; those ages 50 to 64 with health problems including cancer, diabetes, asthma, HIV infection and heart disease; and those 18 to 64 with underlying health conditions.
Elko County is planning to set up a COVID treatment center next week at the Great Basin College Fitness Center. Monoclonal antibody therapy will be provided to those with mild or moderate symptoms, in cooperation with NNRH and the Elko County Ambulance Service.
"Please help us slow the spread of COVID-19 and keep our healthcare system from being overrun," stated the hospital.