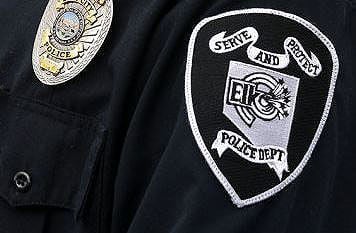 ELKO – In addition to Aaron Hildreth being named Officer of the Year at the 2017 Elko Police Department awards ceremony on Jan. 10, officer Joshua Bogdon was named Rookie of the Year.
Bogdon was hired in 2016 and went on to graduate from the Police Academy in Carson City, subsequently completing his Field Training Program and his probation.
"He has demonstrated tremendous growth in his patrol officer skills and he is consistently proactive," said Lt. Michael D. Palhegyi.
A recent volunteer to the Elko Police Honor Guard, Bogdon also demonstrates "personal commitment through positive attitude, response to feedback and a willingness to assist whenever possible," Palhegyi said.
Awards were also presented by the Elko Police Department's Awards Committee for officers who have served with the Elko Police for five, 10, 15 and 20 years.
Merit awards to peace officers and citizens were also given during the ceremony.
Merit Awards - Peace officer awards:
Exemplary performance: Detective Cpl. Bryan Drake
You have free articles remaining.
Police Medal: Sgt. Jeremy Shelley; Detective Pete Nielson; Officer Aaron Hildreth; Officer Shane Daz; Officer Joshua Taylor
Police Life Saving Medal: Sgt. Jason Pepper; Detective Jacob Eisinger; Officer Steve Spring; Officer Klint Ratliff; Officer Jason Ward
Merit Awards - Citizen's Awards:
Certificate of Appreciation: Alan Doman
Citizen's Service Medal: Steven Hinton; James Pearson; Morgan Wines
Years of service recognition:
Five Years – Certificate: Detective Jacob Ensinger; Officer Brad Parvin;
10 Years –Officer Michael Gustafson; Officer Bartolo Oritz; Officer Klint Ratliff
15 Years –Detective Cpl. Josh Morrell
20 Years –Sgt. Matt Locuson; Officer Fred McKown