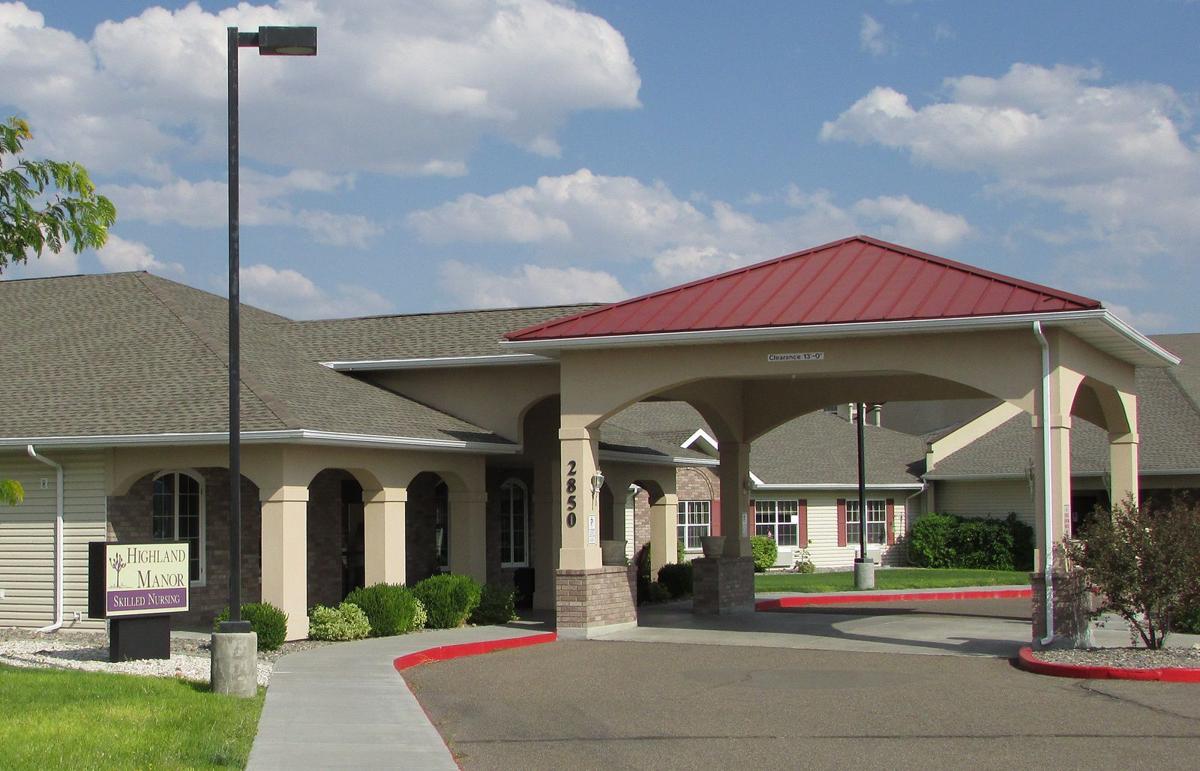 ELKO – Senior citizens and nursing home residents are resuming some of their activities as the Elko Senior Center and Highland Manor open their doors while maintaining virus safety procedures.
Last month, the Terrace at Ruby View resumed in-person dining, with Highland inviting family and loved ones to reconnect with residents in one-on-one meetings.
The reopenings come a year after the pandemic restricted public gatherings and nursing home visitations to stem the spread of the coronavirus. According to the facility administrators, both places are proceeding slowly and carefully to bring back people to their buildings.
Matt McCarty, executive director of the Elko Senior Center, explained the deep-cleaning, social distancing and virus screening procedures for members who have returned to eat their lunch at the Terraces.
"We're doing everything we can to make sure that it's safe and healthy because we want our seniors to be confident they can come and have a healthy meal and stay healthy while they're here," McCarty said.
The senior center reopened to activities such as art classes, crochet classes, and exercise classes such as tai chi, McCarty said. Plans are also in the works to resume monthly bingo games.
Support local news coverage and the people who report it by subscribing to the Elko Daily Free Press.
"Bingo would be open to the community. We're not looking to compete with our gaming partners or neighbors, but I think monthly bingo is something that the community would enjoy," McCarty added.
A year after Highland Manor and Highland Inn were closed to the public, family members can now see their loved ones by appointment.
Visitor protocols were enacted on March 22, according to Drew Banford, nursing home administrator.
"As of right now, we are heavily encouraging people to call and make an appointment for an hour visit," Banford said. "We are having up to two people per visit who live in the same household."
Non-household members must schedule separately, he added.
Highland Village, which includes skilled nursing, memory care and assisted living facilities, closed to the public on March 12, 2020, ahead of Gov. Steve Sisolak issuing an executive order to shut down all nursing homes.
"We were mandated by CMS to have the restrictions in place," Banford said. "It's not a facilities prerogative to agree or disagree, but to enforce that."
Since the closure, the facility endured an outbreak affecting residents and staff of the nursing home. Approximately 18 deaths within Elko County were attributed to manor residents.
ELKO — A state epidemiology team has begun investigating an outbreak of coronavirus at Highland Manor, and Elko County has requested emergency…
In December, nursing home residents were given Tier 1 priority to receive the COVID-19 vaccination. Two shot clinics were scheduled for January that saw about 85% of residents and 70% of staff vaccinated, Banford reported.
Elko's Highland Manor nursing and assisted living home is on track to receive COVID-19 vaccines in January. 
Highland Manor is serving as the two-week "test model" before opening Highland Inn assisted living facility to visitors on April 5.
All visitors must enter through the main entrance for a virus screening and temperature check by an employee before entering the facility.
"We will review core principles regarding social distancing, hand sanitizing, and proper face mask usage that covers the nose and mouth," Banford explained.
Surgical or cloth masks are encouraged. Coverings made of thin fabric, such as multiclavas, are not allowed. Visitors are asked to bring their own but will be supplied a mask by Highland in case it is forgotten.
The manor has designated areas for visitations, with outdoor areas planned for warmer weather.
Residents who have been vaccinated can receive physical touch or a hug. But for residents who have not received the vaccine, visitors must maintain a six-foot distance.
So far, about 30 people have visited residents at Highland Manor. People can still use Zoom, window visits and phone calls to stay in touch with a resident.
See how a family stayed connected with their grandmother, a resident at Highland Manor. 
After a year of delivering difficult news to family members, Banford said he and the staff were overjoyed to welcome them back to see their loved ones.
"It's an awesome time. March 22 was probably one of the better days we've had over the last year," he said. "People were coming, and the staff was excited."
"It's been a very much of a sunny day to have people come and be part of our building and see their family and loved ones," Banford added.
To schedule an appointment or for more information, call 775-753-5500.
With the new stimulus funding package, McCarty said no funding was directly earmarked to senior centers. However, if money were to come, it could be through other entities.
Money from the CARES Act and other grants was distributed to the senior center, McCarty said.
"However that doesn't mean the state and Elko County won't be able to accept more money that they can, in turn, distribute to nonprofits such as the senior center," he added.
If money from the latest stimulus package eventually becomes available, McCarty said it would fund a rotating schedule of physicians to perform screenings and health checks for members who have difficulty making doctor's visits.
Currently, Dr. John Patton, a podiatry specialist, is slated to visit the senior center every other month. But McCarty envisions adding optometrists to the list or using Zoom for Q&A sessions with other medical providers.
"It would be to have folks come here in a smaller area and get through visits with simple exams, nothing real big," McCarty said. "Those are some ideas we have to continue to provide services that our seniors would want and value."
Banford said he was unsure if the new stimulus package provided funding to nursing homes but the CARES Act funded skilled nursing facilities last year.
Highland used the funds for staffing, virus testing and purchasing personal protective equipment, particularly N95 masks that cost $4 each.
Highland Village is a not-for-profit organization and is owned by parent company RFMS based in Galesburg, Illinois.
The sharp drop in COVID-19 cases in nursing homes is now not only saving lives, it's helping residents reconnect with the loved ones they've b…