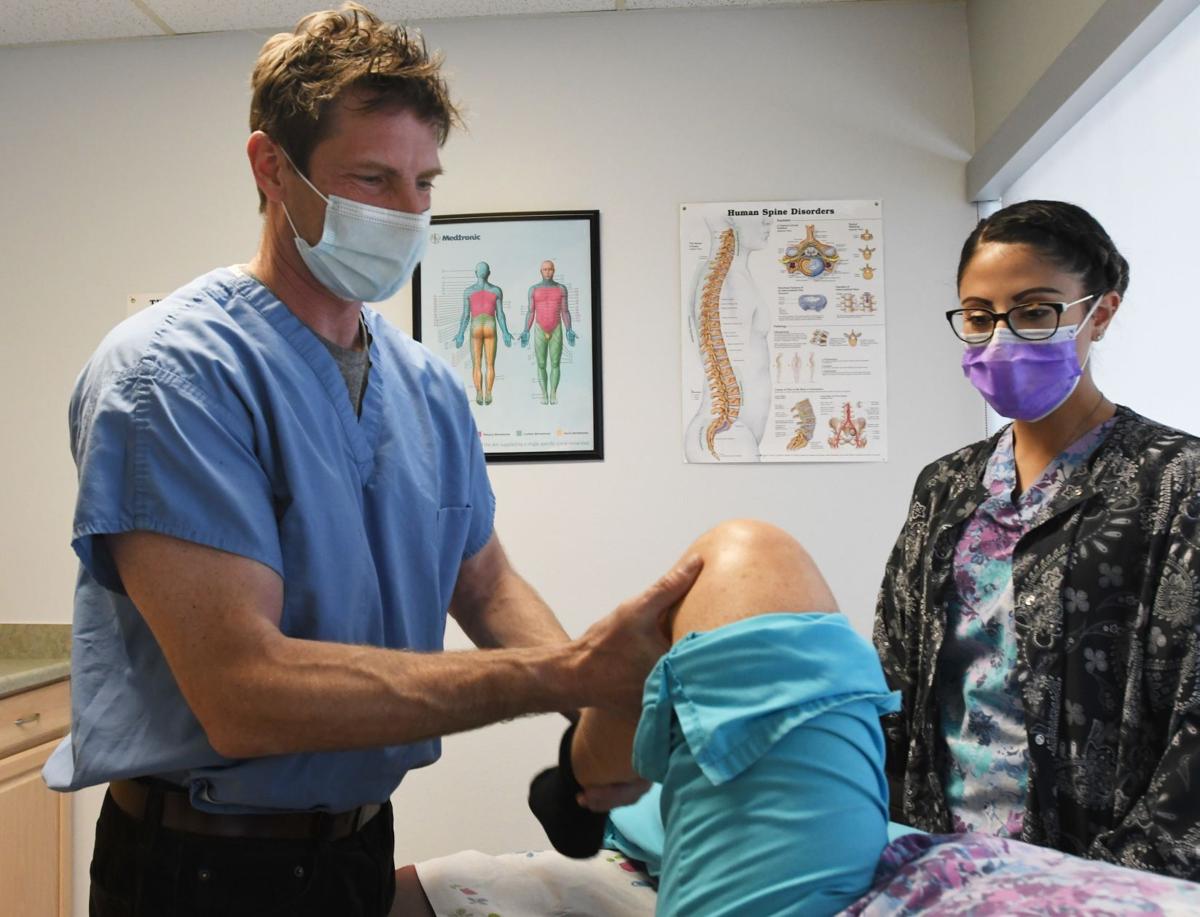 ELKO — A new physician recently joined the team at Elko Spine and Rehabilitation. Dr. Graham Hill is looking forward to working with locals and offers many years of experience and training.
"I can tell you about physical medicine and why I chose that," said Hill. "What I like about rehab medicine is that you get to see people get better. That's rewarding. You do internal medicine and you start out with a guy who is 45 years old and maybe he has hypertension, and then a few years later he's got high cholesterol, and 10 years down the line he's got diabetes and neuropathy. You go from healthy to less healthy. In musculoskeletal medicine somebody comes into you injured and you get to see them get better."
Hill explained that in the clinic the doctor's work overlaps with sports medicine, or non-surgical orthopedics.
"We deal with knees, hips, shoulders and backs," he said. "We do non-surgical orthopedics. We treat them with physical therapy, medications, injections and lifestyle changes. We offer conservative management of the joints and spine."
Before coming to Elko, Hill worked for 12 years at Intermountain Health Care in Salt Lake City. He attended undergraduate school at Clemson University in South Carolina and went to medical school at the University of New England. He did his internship at Eastern Maine Medical Center. He did specialty resident training in physical medicine and rehabilitation at the University of Utah. He also did a fellowship in upstate New York in interventional spine and joint care.
"PMNR is the smallest represented specialty in medicine," Hill said. "It's the newest specialty within medicine and was developed after veterans returned home from WWII. They had specialized injuries like spinal injuries, brain injuries, limb loss and the regular family doctors and internal medicine doctors realized this is an area into itself and this requires specialization. This is how the field developed."
Hill said nursing is the vocation that leads to the most injuries and claims of disability or work loss.
"They are always running and working long hours and lifting," Hill said.
"The number one tool we use the most is physical therapy," Hill said.
The office has an in-house physical therapy office.
"A lot of things you can't undo, like arthritis, but what you can do is certain exercises and lifestyle changes to prevent it from getting worse," Hill said. "You can slow the progression and stabilize the muscles around the joint."
The first part of treatment, according to Hill, is that a doctor of physical medicine gets a good history of what is going on with a patient.
"What happened, how did it start, how does it present, what bothers it, what makes it better, what interventions or treatments have you tried already," Hill said. "You don't want to reinvent the wheel. Secondly you get a very good physical exam. You test range of motion. There is a musculoskeletal exam for every part. When that is done, you look at the history of what has been done treatment wise. Then we pick up from there. There is no single protocol for every patient. It's tailored to the individual."
Back in the exam room Hill pointed out skeletal models and talked more about treatment options.
"We do all kind of joint injections and epidural injections," said office manager Becky Thomson. "We are the only ones in town with a pool and we do aqua therapy."
When Hill isn't working he enjoys hiking and camping. He also likes snowboarding
"I lived in Salt Lake City for the last 17 years," he said.
Look back: Nevada Health Centers