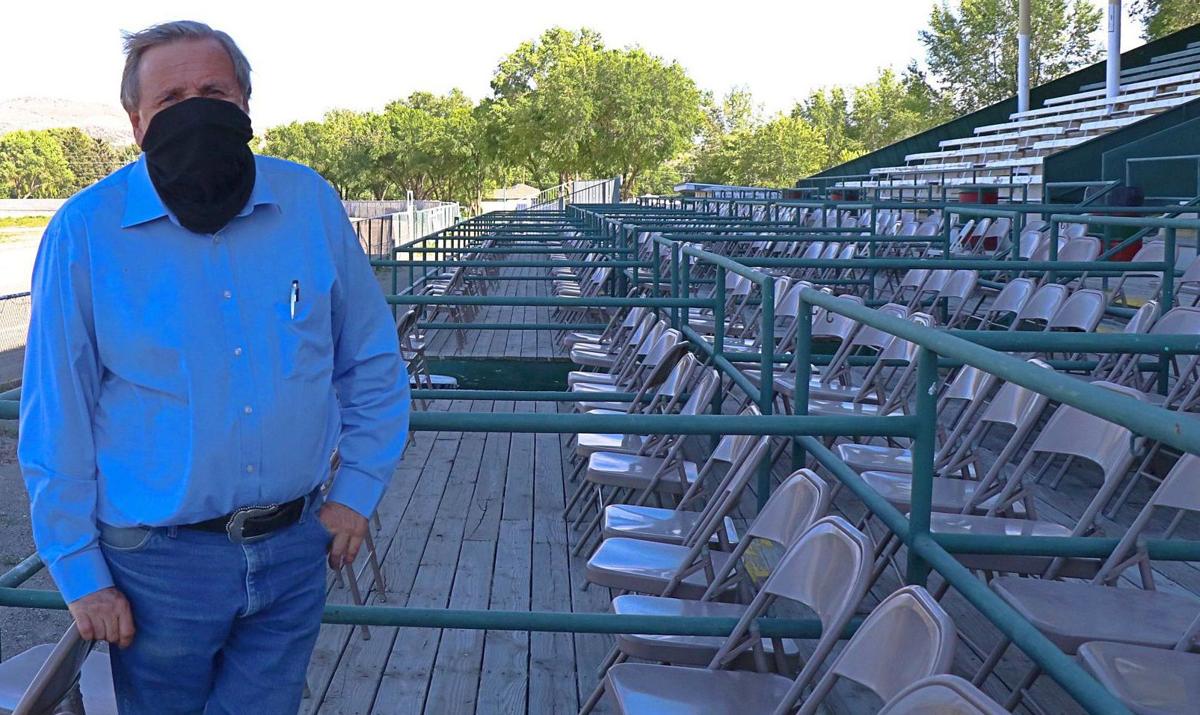 ELKO – "Making lemons out of lemonade" is Assemblyman John Ellison's philosophy as plans were disrupted to have 50% of the Elko County Fairgrounds filled for the annual Fourth of July fireworks show.
Under state social distancing guidelines enacted to reduce the spread of COVID-19, public gatherings are limited to 50 people, including the upcoming Independence Day festivities at the fairgrounds.
"We have to make some changes in what we are doing, but it will be a really big show," Ellison said.
The ground display has been converted to create an extensive aerial fireworks show for the community, and the patriotic program emceed by Charlie Myers will go on.
Spectators are welcome to watch the fireworks from their vehicles surrounding the fairgrounds, and the program will be live-streamed on Facebook.
Parking is also available in the fairgrounds RV area, and in an empty lot on Ruby Vista Drive, which overlooks the grandstands and racetrack, Ellison explained.
Ellison said he received a phone call from a staffer for Gov. Steve Sisolak Wednesday morning, learning that the office had received complaints regarding the fireworks show and asked him to keep the attendance to under 50 people.
The City of Elko also received complaints, Ellison added.
Preparations had been made to space attendees out among the grandstands with dividing tape and extra bleachers rented from the City of Elko, he said. Face masks, sanitizers and hand-washing stations were also going to be available.
A five-member crew at the fairgrounds spent three 8-hour days setting up chairs in the grandstands and cleaning restrooms this week, said JT Taravella, fairgrounds manager.
The fairgrounds was the site of the Jake Eary Memorial Rodeo June 6-7 and is slated to host the Silver State Stampede next weekend.
However, the Rodeo and Stampede are covered under liability insurance for their events, Ellison said. The fireworks committee does not obtain it each year because of the extra cost.
"We don't have that kind of money," he said.
According to the "Roadmap to Recovery for Nevada" published by Nevada Health Response, organizers of outdoor equine and livestock competitions "must limit occupancy of grandstands/seating to 50% occupancy and spectators may sit it groups of no larger than 50 persons. Social distancing is required between groups of spectators."
It also recommends screening all spectators, reminding spectators about wearing face masks, and providing sanitizing stations.
Four signs alerting people they were entering the fairgrounds at their own risk were printed to be displayed prominently at the fairgrounds. Now they are stored in Ellison's office.
"We did everything off of what we thought was 50% occupancy," Ellison explained. "But we were told this morning it was 50 people at an event anywhere."
Although Ellison said he is disheartened at the outcome for an event that takes "months and months" of preparation, he said "it's no fault of one person."
"It's just the situation we were handed this morning. We're blaming nobody."
Ellison Electric became a hub of activity Wednesday morning. Family members, including Ellison's daughters and sisters, arrived to call businesses and individuals, offering reimbursements on box seats and tables reserved for the fireworks show on Saturday.
"Whatever they want to do [with the money] we will honor that," he said.
Early Wednesday afternoon, support for the show was pouring into Ellison's office, with people telling him to keep the money to pay for the fireworks.
"This is a community show, and we believe in our community 100%. The people are 100% behind us," Ellison said. "These are people saying, 'Keep the money. We're going to help finance it. But we've had some call and say they want it reimbursed.'"
Sheriff Aitor Narvaiza responded to the developments by encouraging people throughout Elko County to celebrate the holiday as a "peaceful protest for our Constitutional rights and our freedom [of] speech" with "beer, burgers, hot dogs and chorizos."
It is not clear how much money will be lost from the last-minute changes, Ellison said. However, there was a discount on the fireworks thanks to an early payment made with the deposit.
Despite the setback, Ellison thanked the community for their help in keeping the event going and encouraged everyone to find a parking spot and enjoy the fireworks display.
He also asked the people to not forget the reason to celebrate.
"This is about our country's birth, and we're going to show pride for our country."
Get local news delivered to your inbox!
Subscribe to our Daily Headlines newsletter.