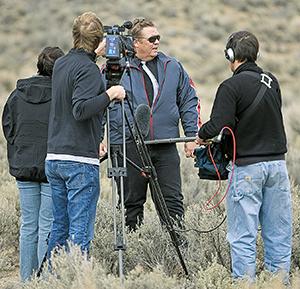 ELKO — The murder of a North Dakota woman whose body was found near Osino will be among the crimes featured in an episode of Investigation Discovery's "Wicked Attraction."
A film crew with M2 Pictures was in Elko Monday to interview former Elko County sheriff's detective Mike Kolsch about his involvement with the September 1993 discovery of the body of Donna Martz, found a few miles north of Interstate 80 and just west of Osino.
Martz, 59, of Rock Lake, N.D., was found by sheriff's investigators after law enforcement was tipped off by the FBI that Martz may be in the area. According to Free Press articles published at the time, Bradley A. Martin and Carolyn A. King were accused of being on a nationwide spree from Pennsylvania to California.
Martin walked away from the Lebanon County Jail and, with King as his accomplice, killed Guy Goodman, 74, and later Martz. The couple was later found in Southern California while in possession of Martz' car. After a high-speed chase into Arizona, the couple was involved in a three-car collision and they were arrested.
Both were sentenced to death in 1994 in Pennsyl-vania for Goodman's murder. They are both still on death row.
After receiving the tip from the FBI, Kolsch said the sheriff's office did aerial observance of the area near Osino, which they concluded was the dumping site based upon details relayed by King and Martin.
Martz's nude, lifeless body was discovered partially hidden amongst the sagebrush. Martz had been shot in the head, and a .357 revolver was found in the possession of Martin and King.
But why this case is of interest to M2 Pictures is — as executive producer Mike Sinclair said — that it was a male and female duo that killed together.
Sinclair said the footage shot in Elko will be part of the Martin/ King case to be featured on "Wicked Attraction."
The show is in its third season, and Sinclair said it should be out with the next season this fall.
Sinclair said his research team digs through old records and has contacts throughout the country and world to hunt down cases for this and other shows.
Nigel Bellis, the series producer, said crews shoot an average of 100 hours in order to produce a show that can tell a captivating story, but still be trimmed down to 50 minutes.
Kolsch, who was with the sheriff's office from 1989 to 2008, said he feels a sense of satisfaction when he thinks about cases such as Martz' in which the perpetrators were brought to justice.
"You know you were able to bring justice to a family," Kolsch said. "This is the most horrendous crime you can have. Had (Martin and King) not been caught, who knows how many more would've been killed."