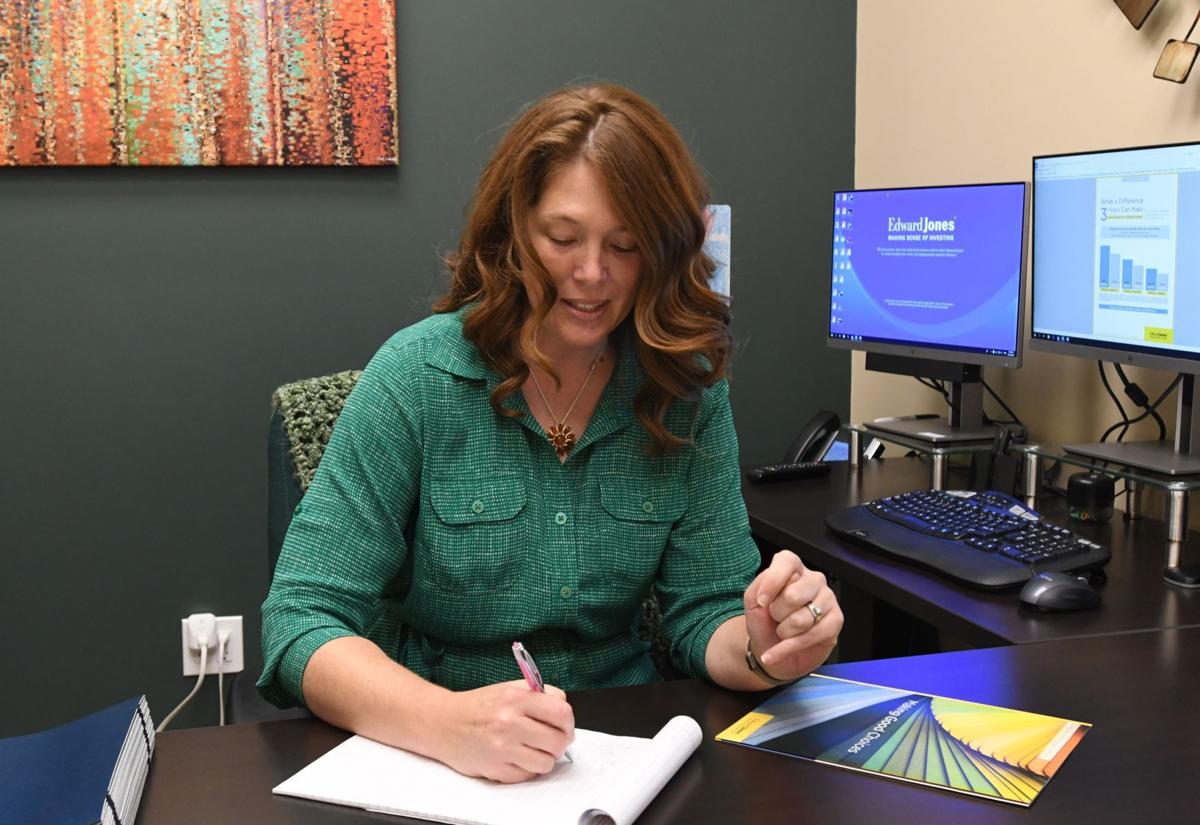 ELKO — Financial advisor Tara Bybee has recently taken over a new Edward Jones office located at 1028 Idaho St.
Q: Tell me about your work and education background.
A: I started out in the media, in broadcasting. My first degree was in broadcast technology, radio and television studies. I also went on and did a bachelor's with an emphasis in broadcasting. After those two degrees, I started working in the local television stations in the Treasure Valley area. I started out as a news photographer. I left the media as a broadcast engineer. I realized I wanted to do more. I jumped over to a company that develops software for broadcast engineers and systems designers. While I was there I went back to school and got a marketing/finance degree. I left that company as vice president.
Q: How did you get involved in financial advisement?
A: I went and talked to my financial advisor who was an Edward Jones advisor. I have been working with Edward Jones ever since I was old enough to invest. Basically, he asked for my resume and one thing led to another, and seven years later, here I am still as a financial advisor. I feel as a financial advisor [that] I help solve problems, help people attain goals. Everybody's goals and situations are different. I enjoy the challenge. What we do is give a place to start.
Q: How did you learn about the opportunity at this Edward Jones office in Elko and why did you choose to relocate from Boise?
A: My husband and I put a bug in upper management ears that we would be interested if an opportunity became available in a smaller community. When this opportunity came about I told my husband, "What do you think of Elko?" and he said, "The Ruby Mountains are really pretty!" (Bybee's husband is a wildlands firefighter and enjoys hunting.) There are more opportunities [for my children] to do things. When I grew up I was in 4-H and raised animals. Unless I wanted to live in the outskirts of Boise there is no way [for them] to raise the animals I used to raise, sheep and steers.
Q: When did you take over the office on Idaho Street?
A: My first day [in Elko] was May 25th. The new office was already built out. I thought it was sort of funny because being an Idaho girl, when they told me about the branch [saying] it is on Idaho Street, I thought, should I take that as a sign?
Q: What can you offer to established and new clients?
A: I understand talking finance is sometimes a hard conversation. It doesn't matter whether you have done a really good job or you need help doing it. It's very personal. There are sometimes a lot of walls that have to be broken down to really understand what people are trying to do with their money and what they envision they want to do with their money. I just try to make it as comfortable as possible. There is no judgement. I am just here to provide ideas, provide options to provide any type of guidance that I can. We focus on serving clients for the long term. Our job is to find out what is most important to our clients. We use an established process to help build those strategies. It's a partnership. I want my clients to see me as a partner in their lives and in their plan. I want them to know that I am here for them.
Elko businesses in the news:
Kerby Lane – A handmade hangout
ELKO – As the Digital Revolution advances, appreciation for crafts and other handmade treasures just seems to grow and grow.
"We started October 1 of 2017," Kerby Lane owner Tosha Kerby said. "I love to craft and I just started doing a few classes a week. We always stayed full and I never thought to expand."
Then her husband quit his mining job and she was temporarily laid off from hers. They decided it was a good time to grow the business. Formerly located in the Terraces, Kerby sought out a more visible retail location and found it in the mall near Family Dollar. The store just reopened in its new location on Mountain City Highway.
Kerby and her mother, Veronica Bullock, teach workshops and host creative parties. The shop has also expanded into more retail where Kerby sells supplies and handmade items.
"My mom has been a huge help," Kerby said.
The studio is all about creativity and good times. One of the most popular workshops is the "chunky blanket." Participants make a very popular-style throw with extra thick yarn. The night I interviewed Kerby, a dozen women were working with multiple skeins of rope-thick yarn using only their hands to manipulate the fiber, a process called arm knitting.
"I saw this class promoted on Facebook and it looked fun," Dominique Massie said as she picked out her yarn. "It's a fun night out with family."
The chunky blanket class costs $60 and includes materials and instructions.
Kerby also offers open workshops that can involve wood sign making, pillow making, canvas wall hangings, macramé and wooden centerpieces.
"Each person gets to choose their own project," she said.
Furniture making is another popular activity. There are a number of different farmhouse-style pieces that students can finish including tables, ladders and shelves. Examples of the items are displayed in the shop.
"Everything is cut at home," Kerby said. "It's assembly only. We bring it put together as raw wood and we walk you through the finishing."
Besides classes, Kerby books bridal showers, birthday parties, Christmas parties and other events for people who want to offer a participatory experience for their friends. Most classes require no experience whatsoever. Kerby hopes to expand her offerings as time goes by. She sells handmade earrings, wood burned décor and other crafts that may eventually become the subject matter in future classes.
"The owners are amazing," Sarah Davis-Halton said about her experience making a throw a couple of weeks ago. "I'm not crafty at all and I learned how to make a blanket in just a few hours. It's so much fun and great to do with friends and family. I will definitely be back for more classes."
Wabi Sabi – passion becomes a business
ELKO – The skilled hands of a team of artists transform paint, found objects, old wood and other materials. These garage sale gurus have opened a side gig that fulfills their need to work with their hands.
"While it does sound like sushi, it's not," Asia May said about the name of the business, Wabi Sabi Designs. "It's more of a concept, perfectly imperfect."
Japanese in origin, the term "wabi-sabi" has developed to mean "beauty in imperfection." It is often applied to various art forms.
Husband and wife team Asia and Colten May have always been creative and enjoy working with both new and familiar media. Their fluid paintings especially encompass the wabi-sabi concept. Now they have taken their hobbies a step further and opened an online business specializing in home décor.
"I have always had a passion for working with wood," Colten said. "I was in construction for over a decade and I like seeing things built from scratch. I think every piece of art is that way. The start is not always as it ends. We both develop art as we go."
"You really have to let it speak to you," Asia said. "We like to encourage people to use found items and we give 10 percent off if they bring in their own wood."
While the artists make replicas of some of their creations, they are always coming up with new products and thrive on doing custom design.
They communicate with clients to come up with that one-of-a-kind piece for the home or office. Soon, they hope to branch into making furniture.
In a recent haul, Asia discovered a classic 1950s television. She plans to convert the hairpin legs into something magical.
Asia creates her wood-burned designs in a drawing program and then transfers the image to wood, going over the marks with the burner.
"It's really cool to see the design go from iPad to paper to burned on the wood," Asia said. "A mandala takes me about three hours to do. It's tedious but they turn out so nice."
While some of their products are decorative, many serve a dual purpose with hooks or knobs for scarves, keys and other eccoutrement. The combination of making things that are both beautiful and basic is endless.
"I like artwork that is dual purpose," Asia said. "I love things that are aesthetically interesting but functional."
Most of their custom pieces take about a week's turnaround time.
Asia and Colten recently opened an Etsy shop. They also sell artwork at Duncan LittleCreek Gallery. Soon they will be hitting the local craft market circuit with a large collection of goods.
"This is a passion more than a job," Colten said.
Downtown Elko's New Video Arcade
ELKO — Coin-op video arcades, vanished echoes from the 1980s, have spawned their second life at Modz Arcade in historic downtown Elko.
Chris Symes started the new family fun center after his success opening Modified Vapors.
"I thought, 'What does Elko need? What doesn't Elko have?' And voila – my dream came true."
"It gives kids a place to go and have fun, be themselves," Symes said, "Without being bullied, or peer pressure, or being on the streets."
No stranger to fun, Symes helped open Elko's first skateboard park in "the early 1990s" by Southside Park, at the site of today's tennis and basketball courts.
Modz Arcade fuses 21st century entertainment into Elko's 1800s architecture. Jan Peterson, director of the Cowboy Arts and Gear Museum two doors west, said the Modz building was originally Live and Let Live Grocery Store, owned by local character Hiram Chase until his death in 1905. The Commercial Street building later hosted Elko Floors and Furnishings.
"You can't have an arcade unless you have Pac Man, Dig-Dug, and Galaga," Symes said, and offers a single-game console playing cloned versions of all those arcade classics, plus a few others.
Modz Arcade leveled up from mountains of quarters into digital swipe cards. Player cards hold game credits, and also make it easier for players to track, save, and build up their "tickets" won.
Several video games offer tickets exchangeable at the gift shop. Also available are air hockey (an analog version of the arcade classic "Pong!"), pool, darts, and a free throw booth.
Pinball wizards can tourney against two machines, themed after Deadpool and Star Wars.
"I'd like to put in a whole Pinball Alley upstairs along the mezzanine, but you can't have an alley with just two pinball machines," Symes said.
"I get new games that last," he said. "I get new ones with warranties, and I fix them myself. When you lease them, you don't know what happened to them before." To ensure getting a new one, Symes drove to Las Vegas to pick up his Deadpool pinball machine.
Their latest arrival is a Walking Dead two-player shooting game.
Modz Arcade features greaseless air-fryers in their snack bar, and plans to offer ice cream in the future. The bar offers 17 beers and the usual mixable spirits.
The dining booths, under the antique mezzanine, view four TV screens displaying sports and skateboarding videos.
"The Sunday Ticket, it's first come, first served Sunday morning, and you can pick which game that screen will play all day, until you leave," Symes said.
Their private room offers packages for five, 10, or 15 children of all ages, and includes pizza and $10 game cards for each guest.
"That's been really popular ever since we opened," he said.
Symes wants to expand his game selection as he gets more customers, and also plans to expand his family fun center when he can find the right property.
"I'd like to offer go-carts and batting cages, and even miniature golf some day," Symes said.
Luciano's looks beyond disaster
ELKO – When a fire gutted the back end of a popular eatery during the wee hours of the morning on Oct. 19. Luciano's owners Luc and Erin Gerber were shocked.
"I was crying," Erin said. "I was just devastated. This is our baby. It's our blood, sweat and tears. We love being here. We love working here and serving."
According to Luc, someone saw something amiss and called the police.
"I don't know who called it in. The way this building is made it could have been much worse much quicker."
The fire is thought to have started from faulty old wiring. The official report from the Elko Fire Department has not been released.
"We are still not done with the investigation yet," Fire Marshal John Holmes said. "It will probably be done near the end of this week."
The building was originally a Basque boarding house, according to Luc. Later it became the Nevada Dinner House. Over the years the building has undergone several expansions until it became the structure it is today.
The back end of the restaurant suffered the greatest damage. The metal walk-in units melted. The ice machine, washer, dryer, coffee grinder, meat grinder and dishes were all damaged.
"The back part that burned was somebody's house that they added on." Erin said. "A chimney was exposed in the fire behind some sheetrock."
The Gerbers opened Luciano's in 2010 and were just about to celebrate their eighth anniversary when the fire occurred.
"At least we will remember this [anniversary]," Luc said.
Despite the tragedy, the Gerbers are taking things in stride and are hoping to be open again by Dec. 1.
"The thing is that this is an emotional roller coaster," Luc said. "Then you show up and there is nothing there, everything is gone. Then you think about the 13 families who are depending on us."
"They rely on us for their income," Erin said. "We all have worked together for so many years."
The Gerbers are keeping payroll going and hoping the insurance company will help out when the final tally comes in.
"It's not their fault. I don't want to lose these amazing employees," Luc said. "This is an extended family."
The staff is helping the Gerbers clean up the facility.
"With all the negative, honestly, the fire department [gets] an A-plus-plus," Luc said. "The whole crew from the morning of the fire to the fire marshal, they have been with us during the fire, after the fire and yesterday we had three of them show up with a check from the fire association just to help. Amazing people."
The Gerbers also noted that the city and the community have been supportive during their time of need. They appreciate the rapid response from a number of local contractors.
The Gerbers will be posting pictures and information about their reopening on Facebook. They plan to have a grand reopening in early December.
Erin, Luc and their employees are all anxious to get back to their regular jobs.
"I like doing photography [when I am not working] but the [Lamoille] canyon is shut down so I can't go there, and Erin likes riding her bike but it's cold and windy every day," Luc said. "But, like the canyon, it's going to come back stronger and we'll come back stronger."
"The thing is that this is an emotional roller coaster. Then you show up and there is nothing there, everything is gone." Luc Gerber
Elko Federal Credit Union expanding
ELKO – The Elko Federal Credit Union is about to get a lot bigger.
"We are growing like a weed," CEO John Kelly said. "We are literally running out of room. We need to add some more staff and don't have any place to put them."
Kelly said the credit union has doubled its loans over the last two years.
"The Credit Union was kind of a sleeping giant," he said. "We had the capability of doing a lot more loans but I don't think we were doing a very good job of how we were delivering the product. We were clunky."
According to Kelly, the financial institution has been renting additional room at Eighth and Court streets to fulfill its space needs until the expansion is completed.
The board of directors looked at all options, including relocating the business to a larger building. They ended up purchasing the empty lot next door to the current facility in the Elko Junction shopping center.
"At the end of the day, what we did is we decided that we would talk to some design-build firms that specialize in the credit union industry," Kelly said. "There are three or four major players that do a lot of work and they are up on what the latest trends are in financial institutions and the latest technology. We had three of them give us a pitch."
The board ended up picking the LaMacchia Group. The group did some analysis to see where the company is headed in the market.
According to its website, LaMacchia Group is dedicated to planning, branding, designing, building and evolving financial institutions. The company started in 2002.
"They talked to us about what they thought our growth would look like over the next 10 years," Kelly said.
He mentioned that the company may eventually reach out to serve Winnemucca, Ely and Twin Falls with mobile apps, a technology that LaMacchia is quite familiar with.
The first phase of the expansion will involve a stand-alone drive-through on the new piece of ground.
"The drive-through will be its own self-contained system," Kelly said. "It's going to have interactive teller machines. Basically, they are ATMs on steroids."
A video camera on top sets up a two-way system that will connect the client with the teller. The drive-through systems will have much wider lanes than a traditional drive-through, perfect for big trucks.
The first phase is scheduled to be complete by early next summer.
LaMacchia will oversee the construction process using local subcontractors.
"Right now we are in the construction planning phase. LaMacchia has a team of guys that take the artist rendering and map it out in great detail so that an actual builder will be able to look at it," Kelly said.
"After that we are going to tear down the existing drive-through that is attached to the building," he explained. "This is going to be the new footprint for the new add-on."
Elko Federal was chartered in 1960, and broke ground on its current facility in 1995.
The current building is 6,500 square feet and the add-on will be 5,000 square feet. The new area will be called the retail center, which will have a space where members can relax with a cup of coffee and watch video walls.
"It's going to be like a mini Starbucks where people can get treats and coffee," Kelly said.
The third phase will involve refurbishing the old building. This space will be designated as the administration area.
"We will be able to expand IT and accounting," he said.
Kelly did not have an estimate of the overall project cost.
"Part of our mission is to be good citizens to the community," he said.
Not your normal knife
ELKO – Knives are some of the most practical tools we all use on a day-to-day basis. However, there are knives, and then there are "knives." Blohm Jewelers is now carrying an elite selection of blades that will impress even the savviest knife enthusiast.
"These knives have 250 to 260 layers of two different types of steel," store manager Pat Lamoureux said. "What they do is take very thin pieces of steel, and they fold and pound and fold and pound."
This manufacturing technology makes for a very durable steel blade with a decorative wavy pattern. The practice is centuries old, however, the process has been modernized over time.
"This [process] first emerged in India around 300 B.C.," store employee Lenora DiGrazia said.
The Damascus steel knives are part of a collection of luxury knives the store now carries. Each comes in its own special leather case.
"No two knives will ever look alike," Lamoureux said.
The handles are made from all types of materials including mother of pearl, stag horn and steel olive wood.
The prices range from $375 to $625. Blohm's has a number of knives on display but they also carry a catalog for specialty ordering.
"There are many styles we can order," Lamoureux said.
Lamoureux and store owner Lina Blohm picked out the knives at the gem show in Houston in March.
"It was quite an experience," she said. "I have never seen so much jewelry in my life."
The truck stops here
ELKO – It's been more than half a century since Elko last had a truck stop.
Golden Gate Petroleum recently opened its doors just off Interstate 80 at Exit 298.
When asked why the company chose to open a truck stop in Elko, store manager Dave Collier mentioned the fact that there was no truck stop in town. The last such business to open here was in the 1950s.
The new truck stop has 12 gas pumps and six high-flow diesel pumps, surely more modern machines than their 1950s counterparts.
"They shoot out 20 gallons a minute," Collier said.
The facility has opened in stages, with the main store and gas pumps opening first. Port of Subs, which is located inside the shopping area, opened Oct. 15. The bar and casino are expected to open in December.
The casino and Port of Subs are separate businesses, leasing space from Golden Gate Petroleum. The casino will have slot machines, pool tables and big screen televisions.
"Golden Gate has been around since 1946 and was founded in the Bay Area," Collier said. "Our headquarters are now in Reno."
Golden Gate is a family operation run by CEO and president Dennis O'Keefe. His wife and children also work for the operation in various capacities.
The store carries drinks, snacks and truckers' supplies. Collier delightedly showed off the F'real drink dispenser, a make-it-yourself milkshake machine. Flavors include cake batter, cotton candy carnival and mango.
The business is located near two mine parking lots and has already seen a number of workers coming in to stock up on supplies for the long day.
"I've watched a lot of people [miners] come in and pick up," shift lead Amanda King said.
Since opening, Port of Subs has also seen a lot of foot traffic.
"We provide breakfast burritos that are ready around 4 a.m.," Port of Subs owner Robert Leonhardt said.
While the truck stop is open 24 hours per day Port of Subs opens at 4 a.m. and closes at 9 p.m.
"Several times a day we make our crafted-to-go items," Leonhardt said.
One whole section in the store is dedicated to these quick-pick items. Sandwiches, salads, wraps and parfaits don't remain on the shelves long.
Once the gaming area of the building is open the company plans on having a grand opening.
"It won't be in the dead of winter when it's 20 below," Collier said. "We usually wait about six months. I would say it will be in the spring when everything is operating, including the casino."
Mural Expo – A new vision for Elko
ELKO – A picture is indeed worth a thousand words. Elko's newest mural, the first in the Elko Mural Expo series, says many things to many people.
A young girl in Basque costume peers downward from a high wall. The photorealistic mural appealed to those who stood by watching the painting process this week. Some saw the literal picture, but others possibly gleaned other messages of innocence and heritage.
"Elko is a city with a rich cultural history, but very little public art," Eric Brooks, owner of Art Spot Reno, said. "The inaugural Elko Mural Expo will brighten and revitalize areas of town, washing walls with color and positive messaging."
Brooks approached the city and Catherine Wines, chair of the city's Arts and Culture Advisory Board, about doing a mural festival in Elko.
Brooks and his business partner, Geralda Miller, orchestrated the Reno Mural Expo last year and felt it was such a success they wanted to branch out and reach into rural Nevada.
"I feel like I just need to pinch myself," Wines said about the project.
The expo, scheduled for next September, will bring about 20 muralists to town during a concentrated period.
"This festival will bring artists using a diverse array of styles of mural art, including abstract, photo realistic, illustrative, graffiti, paintbrush, airbrush, roller brush, wheat paste and stencil," Brooks said.
The event will also include art lectures, a film screening, workshops, docent-led mural tours and musical entertainment at venues in town.
The mural of a Basque girl is located on the east-facing wall of Ogi Deli. Deli owners Annamaria and Mikel Lopategui donated the wall space and paid for the paint for the kickoff mural. They are also hosting a paella feed starting at 4:30 p.m. today, Oct. 18. All proceeds will go to support next year's expo.
"I am so excited to see this downtown," Michele Wines, an Ogi Deli employee and Mikel's aunt, said. "This will really help the downtown."
Erik Burke has been working on the deli mural for most of this week. Burke, who lives in Reno, has created murals all over the U.S. and in such far-flung places as Brazil, Spain, Italy Norway, Canada and South Korea.
"It has transitioned into an official full-time job over the last four or five years," Burke said. "There is nothing I like more than getting to know about a place, meet interesting people and distill this into an image that represents or means something to that place."
"This is the tenth year for the arts and culture board," Catherine Wines said. "Sometimes it has been such a struggle to promote public art and now these super cool guys from Reno called us and said, 'Do you want to do this?"'
Catherine Wines, Burke and Brooks have spent this past week scoping out potential architectural canvases for next year's murals. Business owners who are interested in having a mural painted on their building should call either Brooks or Catherine Wines. Owners will be partnered with an artist who will collaborate and design a unique image that works.
"We plan on doing 27 murals," Brooks said.
Kinross Bald Mountain Mine Invests in Community Foundation of Elko County
ELKO — Kinross Bald Mountain Mine announced that it has committed $30,000 to benefit Elko County residents through the Community Foundation of Elko County.The $30,000 gift will be paid out in $10,000 increments over the next three years, starting in 2018.
"Kinross Bald Mountain is excited to be able to support this valuable organization though a multi-year commitment. We truly believe in supporting our community's long-term sustainability and see this investment as an ideal opportunity to do just that," said Alissa Wood, corporate social responsibility specialist.
The Community Foundation of Elko County is an endowment fund making annual grants to local nonprofits from the fund's investment returns. Kinross Bald Mountain's gift to the fund will generate earnings that increase the amount available for annual grants.
Elko residents were asked to nominate nonprofit organizations to receive the fund's 2018 grants. As a result, two $1,000 grants were awarded. The recipients of the 2018 grants are Communities in Schools of Nevada's Spring Creek High School Peer Mentoring Program and the Committee Against Domestic Violence to provide meals for women and children at the Harbor House shelter.
As the Community Foundation of Elko County endowment grows, the annual grants to benefit Elko County will increase correspondingly. The Kinross Bald Mountain Mine gift will generate income to allow more grants to be awarded now and in the future.
City of Elko Business Licenses: September 2018
Balanced Bodywork: Massage Therapy
Cascade Drilling LP: Contractor
22722 29th Drive SE, Suite 228
Carol Cespedes: Dog Groomer
Elko Food Mart: Gas/Retail
Entertech Resources LLC: Contractor
Golden Gate Petroleum of Nevada: Retail/Gas
Golden Gate Petroleum of Nevada LLC
Michelle Green: Nail Technician
Mischelle Gurule: Cosmetologist
Hair by Cierra: Cosmetologist
John Anderson Construction: Contractor
Landworx: Lawn Care/Snow Removal
Gavin Demaline (Home Occ.)
Major League Audio: TV and Speaker Mounting/Home Audio Installation
Ona Ames Cosmetology: Cosmetologist
Consuelo Romero: Cleaning
Consuelo Romero (Home Occ.)
Superior Service Transport Inc.: LTL Trucking
Superior Service Transport Inc.
Teriyaki Madness: Restaurant
1657 Mountain City Highway, No. 104
Xtreme Cleaning: Cleaning
A new look for Allusive Images
ELKO – Ten years ago, Brandi Betancourt started a small, home-based photography business. Later she graduated to a petite studio in the Blohm Building. Now, after years of hard work, Betancourt is excited about showing off her new digs in the recently restored Hesson Building.
"The business really blossomed while I was at the Blohm Building," Betancourt said.
Betancourt has been interested in photography since she was a child. Her father originally got her involved.
"My dad always had an eye for it, too," Betancourt said. "He had cameras, so I was always using his stuff.
When her family lived in Idaho, Betancourt became involved with photography through 4-H. She created a portfolio on lighting that won first in the state. Her portfolio was showcased at the state fair.
In Elko, she worked on the yearbook committee at Elko High School.
"That was more of the photojournalistic side," she said.
Now Betancourt's bread and butter is mostly in portraiture. She spends a lot of time photographing families, weddings and reunions.
"Families are fun," Betancourt said. "It's great to start with engagement photos then do wedding photos and maternity. From families comes everything else."
After primary school, Betancourt she took a couple of photography classes at Great Basin College. After exhausting the offerings there, she enrolled in the New York Institute of Photography online program. She has also taken classes from various professional photographers at Shooting the West and at Wedding and Portrait Photography International conferences.
Betancourt's new studio is a grand space with exposed brick walls, wood floors and tall ceilings. The height is ideal for her drop-down backdrops and roof-high prop storage. She can also extend her lighting to accommodate taller subjects.
Betancourt is delighted with her expanded space that includes a private office adjacent to the studio.
Although portraiture is her mainstay, Betancourt also does a lot of real estate work for Coldwell Banker and corporate work for different agencies. She has recently ventured into school photography. She composes the Mountain View Grammar School yearbook and signed a contract with the school to photograph annual student and faculty images.
With all of that, Betancourt makes time to teach 4-H photography and works with the Northern Nevada Autism Network.
"I do Santa photos for them," she said. "This is one of the more rewarding things I have done over the years. I enjoy touching someone's life in a different way."
Betancourt realized the difficulties autistic children have fitting into social situations, especially during the holidays when Santa photo sessions can be hectic and loud.
"We set up private times for each kid," Betancourt said.
She said the first time she did this, the moms left crying because they were so happy to see their special-needs children really enjoying the Santa experience.
The grand opening will be 11 a.m. to 2 p.m., and 5 p.m. to 7 p.m. Sept. 27. The earlier time will include a light luncheon. Betancourt will offer door prizes, raffle items and giveaway sessions.
City of Elko New Business Licenses: August 2018
Alamitos Cleaning Company: House Cleaning
Garcia Cleaning Services (Home Occ.)
ASAP Handyman Service: Handyman
Steven Jr. and Brittany Thunehorst
Darci Bluemel: Cosmetologist
Cashell Mechanical LLC: Mobile Maintenance Practices Training
557 West Silver St., Suite 202 B
Crafty Blackberry: Homemade Gifts
Stacey and Raymond Archuletta (Home Occ.)
DKC Construction: Contractor
118 North 800 West, Building 6D, Suite B
Cheney Brothers Construction Inc.
Esfi Cleaning: Cleaning Services
Goin' Postal: Private Mail Center
1910 Idaho St., Suite 102
Sardesso Inc. (New Owners)
Home 2 Suites by Hilton: Motel/Retail
Honey Won't Handyman Services: Handyman
JP Industries Inc. (Home Occ.)
Jessie Miller (Home Occ.)
John Zarbock Plumbing: Contractor
John Zarbock Plumbing Inc.
Joseph Milione (Home Occ.)
Modz Arcade: Family Fun Center/Retail Liquor
Mona's Ranch: Brothel/Retail Liquor
Louis Goldberg and Anna Brown (New Owners)
NPK Mining Equipment: Equipment Distributor
NPK Mining Equipment Inc.
Permanent Makeup: Permanent Makeup
RAB Entertainment LLC: Organizing/Operating Public Dances
Ramon Beltran (Home Occ.)
Reliance Appliance Repair Services: Appliance Repair and Maintenance
Stemher By Ruby B. Johnson Magazine LLC: A Stem Print Magazine
Ruby B. Johnson (Home Occ.)
Lindsey Taylor: Personal Trainer
Tire Services Unlimited: Tire Sales and Related Services
Wild Rose Florist: Floral Services
Harley Gignac (New Owner)
Reflections, a "salon" in more ways than one
ELKO – Reflections Styling Salon inhabits a small nook in the Sunrise Shopping Center. A full-service beauty salon, the business is also home to another type of salon, or gallery.
Jennifer Frazier owns the business after taking it over from her mother in 2015. Frazier completed her cosmetology degree doing an apprenticeship with her mother.
"In rural areas, you can do that," Frazier said.
"One thing I love about our salon," fellow cosmetologist Keri Wegener said, "is that we have old school values with new technology."
On entering the salon, I noticed the usual, a couple of workstations, nail polish in racks on the wall and the reflective surfaces of several mirrors.
On second look, what really caught my eye was the collection of artwork hanging on the walls and the displays of antique hair appliances.
"There's a lot of character in here," Frazier said.
Frazier's father, Tim Oldham, supplies most of the artwork on the walls of the salon. Oldham is an instrumentation engineer who lives in Arizona. He long considered his love of metalwork just a hobby. Now he sees that work as having a true purpose.
"I got divorced, and a year later, I was diagnosed with a cerebral spinal fluid leak, he said. "Spinal fluid was leaking from my spinal cord into my brain cavity and out my nose."
A brain tumor had also begun to grow. Oldham was sent to Tucson where doctors gave him a 5 percent chance of survival. Oldham prayed and went into surgery. Seven hours later, he was off the table and alive.
The doctor told him he was extremely lucky and that he should go buy a lottery ticket.
Since then, he has been focusing his artistic expression in a different direction. He experiments more with color and design. He uses a plasma cutter to chisel out the shapes. Oldham sells his luminescent sculptures in his daughter's shop and from his Facebook page.
Oldham also makes "Cancer Angels" he gives to people who are trying to beat the disease.
"During the month of December, we will have a great big Christmas tree featuring my dad's famous cancer angels in ornament size," Frazier said. "If you have lost a loved one or are a cancer survivor, you can pick an ornament off our tree."
Like her father, Frazier also suffered a neurological event. About three years ago, she was in a major motorcycle accident.
"It left me with a bad head injury," she said. "I had to relearn and concentrate to do some of the things that once came so easily."
During her down time after the accident, Frazier also took to creating things as a means of self-expression and healing. She learned candle-making and now sells her product line in the shop.
Frazier sells soy-based candles and wax melts which are scented with essential oils.
"I use wood wicks," Frazier said. "When it burns it has a crackling effect like a fire."
Frazier also loves to paint and build things. Frazier's creative work is a real visual extension of her personality, her love of life and her pleasure at recovering from a devastating accident.
"We have really great clientele," she said. "It's fun when somebody calls and says they want a hot pink mohawk."
Elko Veterinary Clinic welcomes new doctor
ELKO – When he received a call from Elko Veterinary Clinic, Dr. Timothy Warner jumped on the first plane and came down from Fairbanks to interview.
Warner was looking for a privately owned clinic in the western lower 48, and this fit the bill.
Dr. Arlyn Cuthbertson started Elko Veterinary Clinic in 1953. Now his son, Dr. Alan Cuthbertson, runs the hospital.
Warner joined the practice in early September, serving alongside doctors Mike Perchetti, a co-owner, Lorinda Fallini and Tess Sustacha.
The clinic sees large and small animals and some exotics.
"You can't be lazy to be a vet," Warner said. "This job is not 8 to 5. Animals don't get sick just at those times."
The week he started at the Elko clinic he was extremely busy.
"My third day here, I had six emergencies," he said. "It can be rough because you have to get up and come in the next day."
Warner loved animals growing up and thought he would like to work with them.
"I talked to my godfather who is a radiologist," Warner said, "and he said, 'You really, really really want to be a physician on the human side.'"
He started working in the animal care industry during high school. He has done everything from cleaning kennels to working as a veterinary technician. Now he appreciates what the staff is doing because he was there before them.
Warner attended the University of Washington State Veterinary School. He finished the requisite eight-year program in seven years.
Early in his career, he worked in Las Vegas and Boise. Before accepting the position in Elko, he was employed with a clinic in Alaska.
Warner has seen the gamut of animal injury and illness.
"We had a dog in Fairbanks that had severe pancreatitis, and we had to take the gall bladder and attach it to the intestine so it did not have to go through the normal plumbing."
Warner was not sure it was going to make it, but it did.
Yet not everything goes the way he wants it all of the time, and occasionally, it keeps him up at night.
"Sometimes, you never know," Warner said.
Warner feels that one of his best skills as an animal doctor is his ability to communicate with clients. He wants owners to understand what is going on with their pets.
"He's fabulous," inventory manager and technician Ann Jayo said. "He's very thorough and really likes to talk to the owners."
Warner is excited that the clinic will soon be doing minimally invasive laproscopic procedures. He is also well versed in orthopedics.
"I was looking for a progressive, well-equipped clinic where you can work up cases instead of not having the equipment you need to work," Warner said.
Warner is familiar with some of the environmental health hazards in our area, including snake bites, penetrating foxtail and cheat grass, and exposure to cold.
"If you plan to be out and about with your dog at all, try to get in rattlesnake training when it is a puppy," he said. "Avoid areas where they will be. When I worked in Boise, the rule of thumb was not to get out there too much until you have at least two good freezes."
In his first week working in Elko, Warner saw a number of toxicity patients. He recommends that pet owners get rid of rodent poison or antifreeze or put it very high up.
"A few licks of antifreeze, and you have irreparable kidney damage," Warner said.
One of the best things that Warner appreciates about his job and his relationship with his own dogs is seeing and maintaining the animal-human bond.
"My girlfriend and I have a Pomeranian and a Shih Tzu," he said, "and when I come home they just brighten my day."
Repair the bear: White King to get facelift
ELKO – Old Chicago Pizza is no longer destined to reside within the confines of the Commercial Casino. Instead, grant monies destined to fix up the building's façade in preparation for the possible construction of the pizzeria and taproom will be directed at restoring the iconic polar bears which have greeted visitors and residents alike for more than 40 years.
Northern Star Casinos, owners of the Commercial Hotel, Stockmen's Casino and the Scoreboard, were approved for a $25,000 Storefront Improvement Grant earlier this year. Since that time the scope of their plans have changed.
"Since then they have had discussions about relocating the Old Chicago Pizzeria to another property," city planner Cathy Laughlin said at City of Elko Redevelopment Agency meeting Sept. 11. "The amendment to their grant lists that they will be painting the bears and the façade."
The exterior bears represent what is claimed to be the world's largest dead polar bear, stuffed and on display in the casino. According to roadsideamerica.com, the bear stand 10 feet 4 inches and weighs 2,200 pounds.
The company anticipates the project to be over the required $50,000 amount to receive the grant. Catherine Wines, architect for the company, assured the council that the cost would exceed that amount. An official cost estimate is still forthcoming.
According to David Zornes, Northern Star Casinos CEO, the owners now want to locate the pizzeria in the Stockmen's Casino.
"What we've decided is that we really want to build the Old Chicago, if it gets built, at the Stockmen's instead of the Commercial," Zornes said. "It just gives us a better space to make a bigger pizza parlor. Still, the Commercial is in dire need of some renovation on the outside of the building."
Zornes said Steve Tenney from Nevada Advertising will repair the bears.
Other painting and sign removal needs to be done.
"I just want to take a minute to congratulate Northern Star Casinos for all of the investment they have made," Wines said. "Their commitment to downtown and those two properties is high."
Councilman Reece Keener made a motion to approve the amendment to the grant award to include the scope of the exterior renovations and the bear repair. The councilmen and mayor approved the change.
"The lot between Fourth and Fifth Street belongs to us. We would fix that lot up, pave it and light it. It would be a very first-class restaurant if it gets approved," Zornes said.
Zornes agreed that the two polar bears are Elko favorites and need to be restored and kept on the building.
"With this grant we can do quite a bit of work to get that building looking decent. We will work on the worst places first."
Zornes said he thinks the bears have been around for 40 or more years.
Steve Tenney, owner of Nevada Advertising Sign Co., said Signs Incorporated, an affiliate of his company made the bears. He said that both bears need to be removed to do the restoration. The fiberglass bears were handmade and were top quality for their era.
"They are part of Elko," Tenney said. They both need extensive work. We are excited about doing this."
Drafting your design
ELKO – Twenty-seven years on the job at Great Basin College has given graphic artist Laura Gallegos all of the experience needed to pursue the craft as a business.
"I started at the college as an administrative assistant," Gallegos said. "I worked with Joyce Shaw and learned everything on the job."
Gallegos retired from the college in July and opened G Graphics, a home-based business. Gallegos designs numerous types of documents and paper products including event posters, greeting cards, announcements, raffle tickets, business cards, calendars, signs and funeral programs. She also creates logos.
Right now I am working on a layout for a cookbook called "Stay for Supper," Gallegos said. "It's a homestead type of cookbook."
Gallegos prides herself on a quick turnaround time and prefers to hand-deliver all of her finished products.
"I think that is an attractive feature for most people," Gallegos said. "All of my clients are top priority."
Many projects — such as fliers — cost a flat fee of $30. Logos usually cost $120. Gallegos tries to provide people with several different takes on a logo design.
Gallegos keeps up to date with current trends in the industry. For design work she uses Photoshop, Adobe InDesign and Corel DRAW.
Gallegos likes to meet in person with her clients a to understand their design needs before starting on a project.
Besides the design work, Gallegos also provides editing services and can do this mostly through emailing documents back and forth.
"I love making people's documents come to fruition," Gallegos said.
XP Gaming: A "nerdy" niche
ELKO – Elko has a new, hip hangout dedicated to gamers, not the "gaming industry."
"We have four events each week for "Magic: the Gathering," XP Gaming co-owner Kyle Ashley said. "Magic" and "Dungeons and Dragons" are owned by the same company. We are sanctioned by them to hold the Magic tournaments."
"Magic has been around for over 30 years," co-owner Caleb Tapia said.
On Wednesdays the business hosts a league that lasts for four weeks. Friday Night Magic, an event designed by Wizards of the Coast, brings in crowds. Every other Saturday the café provides a special event called "Drafts." On Sundays there is a game with prizes sent by Wizards of the Coast.
The owners plan to eventually set up events for Dungeons and Dragons once they establish a dedicated person just for that.
XP Gaming also has plenty of board games on hand. Families and groups come in to play. The owners are well versed in all they carry and can explain the rules to even the most novice player.
"We play board games all of the time," Ashley said.
On Sunday mornings the business has a person who comes down to teach board game rules. They offer a new crash course each week.
"We also have Candyland for the younger kids because it's easy to learn," Ashley said.
The business opened May 5 and has since seen a near constant stream of patrons.
"The whole premise behind this has been to give people a place to sit down and play without being pressured to buy anything," Tapia said.
"This is a fun place," said high school student Dalton de Arrieta. "I love all of the games they lend out for free."
The entire demo library at the shop is free to play, but many of the card games, like "Magic," have to be purchased due to customization. The business does offer retail products for the games they have on hand. People who come to just "hang out" often find a new game they enjoy and purchase it to take home.
Eventually, the owners hope to expand the business to include retrofitted arcade machines to be used with small computers.
Both Ashley and Tapia admit to being "connoisseurs on the nerd spectrum." They want to make sure that others know that this stigma is not necessarily a bad thing.
People into gaming are not out there doing drugs, explained Tapia, with a laugh.
Besides gaming, XP also offers food and drinks. The meat and cheese platter is a hit with the gamer crowd and others who stop in just for a bite to eat. Before opening the business the owners wanted to make sure they offered a signature food. They decided on the grilled cheese sandwich and the menu lists several takes on this classic combination. Players can also munch on sliders, pizza and other goodies while enjoying their playtime. The lounge sells a variety of drinks including coffee, beer and sodas.
"We partnered with Collective Coffee Roasters and they have been such an asset to us since the get-go," Tapia said. "They gave us espresso training. We sell their beans here."
The drive-up window for the cafe is the first one on the southern edge of Elko when commuters head in from Lamoille Highway for the workday.
"We are the first stop for coffee and the first stop for breakfast," Tapia said.
Both Ashley and Tapia grew up in the Elko area and they realized the need for safe and fun entertainment for young people. They said parents feel good leaving their children at the café because there are always responsible adults around. Parents can call the shop if their children decide not to answer their phones.
"We want to encourage people to engage in play," Tapia said. "While these guys are playing they are off their phones and engaging with you."
He explained about cooperative games where members play against the game itself. This type of gaming fosters team building, according to Tapia and Ashley.
"I encourage this with families so much," Tapia said.
The golden era of gaming started to surge in the Pacific Northwest over the last few years, emphasizing cooperative games. XP Gaming follows the mechanics of other established facilities.
Before opening the business, Ashley, Tapia and their other partner, Casey Parish, traveled to the Seattle area to check out operations like the one they wanted to open.
"We went up and checked out places," Tapia explained about the look of the lounge. "We wanted people to not feel like they are in Elko anymore."
Marcus Suan named CEO of Play Elko properties
ELKO — The Navegante Group this week announced the promotion of Marcus Suan to CEO and general manager of its Play Elko properties.
Suan will be responsible for the overall operation of the entire Play Elko portfolio, which includes the Red Lion Hotel/Casino, the Gold Country Inn and Casino, the High Desert Inn, and the Chevron Gas Station and Convenience Store. The combined portfolio equates to the largest hotel and casino operations in the direct market.
He first came to Navegante in March 2017 as a consultant. He was embraced by the management and staff and his experience and ability to work with people showed immediately. The owners quickly made him a job offer as vice president of operations, which he accepted.
"Marcus has a true understanding of casino, hotel and all corresponding operations, and his experience and ability to make competent decisions have led to his promotion," said Larry J. Woolf, founder of Navegante Group.
Prior to joining Navegante's Play Elko properties, and over the last 20-plus years, Suan has held executive-level positions with major companies such as Coast Casinos, Boyd Gaming and Marcus Gaming.
"Marcus has always shown initiative in the performance of his duties, going above and beyond to ensure that our properties deliver quality customer service and provides fair and respectful treatment of our team members," Woolf said. "He has made major contributions which have resulted in greatly increasing the bottom line and has played a significant role in repositioning our properties to be a top performer in the market."
Navegante is a full-service gaming company that handles projects from targeted consulting to complete design, development and management of hotel and casino resorts.
Woolf is a recent inductee into Nevada's prestigious Gaming Hall of Fame.
Home2 Suites opens this weekend
ELKO – Home2 Suites by Hilton is on tap to open its doors at 2572 East Jennings Way, featuring 107 rooms for travelers and long-term residents.
The grand opening will be held within a few weeks, but Michelli Leedy, the general manager, said the plan or long-term stays was to open the hotel by Saturday.
"We do everything from a one-night stop up to a year or more," she said of the hotel that offers a gathering-friendly lobby, a fire pit patio and another patio with barbecue grills. The exercise room has television screens on the equipment so residents can watch shows while exercising.
The hotel also has an indoor swimming pool that uses salt treatment rather than chlorine.
"Everything in Home2 Suites is designed to be energy efficient. We're a green hotel," Leedy said.
A full complimentary breakfast will be offered each morning, with breakfast bowls, waffles, breads, fruit and more.
The rooms all have full kitchens, queen beds, sofas that make into beds, swing-out tables and work stations. There also are rooms with a view and apartment-like suites, and there is a laundry free to guests and a little store on site.
There also is a basketball court for guests, and a little store that she hopes will soon also sell beer and wine. Additionally, the hotel has access points for every three rooms for internet service so there won't be any dead spots. The internet is secure and managed by Hilton, Leedy said.
The business center also has the secure internet connection.
Lodgers who are Hilton Honor members can make reservations, check into their room after a "key" is sent to their smart phones and never have to see a check-in clerk. The hotel also has four Tesla charging stations for electric cars.
"It's very high-tech," Leedy said.
"Most of our clients will be corporate-based with mine support companies," and the hotel lobby is arranged so residents can entertain or hold small meetings, she said. There are no meeting or conference rooms, however.
The rate structure will depend upon the length of stay, so the longer a person stays at the hotel, the lower the rate.
The hotel also is "a great place for families," Leedy said.
Home2 Suites in Elko has 18 employees, and she expects to add about four more.
"We've had the team assembled for about seven weeks. It's a great team. They have put in incredible hours and hard work," she said.
General contractor for the four-story hotel was RH Construction.
Leedy, who has been an Elko resident since 2006, earlier was general manager at the Holiday Inn Express in Elko, which is operated by the same management company as is Home2 Suites. The Holiday Inn Express will later become a Marriott, but still under the same management company.
She is on the board of the Elko Area Chamber of Commerce, on the chamber's Government Affairs Committee and on the Elko Convention and Visitors Authority Lodging Committee.
Sales manager is Carrie Massie, who said she will handle group sales, negotiated rates and special requests. She can be reached at the hotel. The phone number is 234-5354.
The hotel plans to support the Gabriel Project, a charity that is new to Elko.
Building at Fifth and Idaho streets to be demolished beginning Monday
ELKO – The boarded up building on the corner of Fifth and Idaho is coming down beginning next week.
Rusty Shipp, owner of Braemar Construction, said his company has been hired to demolish the building that was once home to Dupont Pharmacy and, more recently, Cherished Friends.
"The building was bought by Sonora a few years back," Shipp said. "Their goal was to rehab it but after getting into it and hiring multiple engineers they were never able to create a stable structure without pretty much tearing down the building. So they finally made the decision to do that."
The demolition is scheduled to start next week and should take about a month, according to Shipp. The destruction is being done completely by hand to avoid having big equipment in the area. After everything is down, trucks will come in to remove the debris.
Although design ideas have been tossed around, Shipp said at this time there is no definite plan in place for construction after the original building comes down.
Elko Daily Free Press called a representative of Sonora who declined to comment.
Because of the building's historic nature, Shipp said the demolition process will include a salvage operation. The leaded glass windows will be donated to the Cowboy Museum and old prescriptions will be given to Bob Morley, a relative of the original pharmacist who worked in the Dupont building.
"We want to try to salvage a few things out of there gently to get it to some hands who might want to restore things," Shipp said.
While the demolition process takes place the sidewalks around the building will be blocked off. Hazard signs will be up to keep people away from the area.
"The biggest thing is keeping track of everyone's safety," Shipp said.
Lawn and Order: Special Clippings Unit
ELKO – A love of gardening, combined with a passion for watching crime flicks, inspired the name of a new home-based business.
Christy and Dave McCabe opened Lawn and Order — Special Clippings Unit in April.
"I like the crime shows," Christy said. "'Law & Order: Special Victims Unit' is my favorite one."
"We both like the name of our business," Dave said.
The McCabes are both employed by the school system. Dave has worked as an industrial arts instructor for 30 years, many of them at Elko High School. He also coached golf and basketball for a number of years. Christy works at Northside Elementary in administration.
They both love gardening and, looking toward the future, decided they wanted to start a business they can pursue in retirement.
"Dave likes mowing and I like flowerbeds and landscaping," Christy said.
Their own property has great curb appeal, thanks to their hard work. The lawn is manicured and the flowers and shrubs flourish.
"Our philosophy is that we will treat every lawn like our own," Dave said. "We pay close attention to detail."
The McCabes already have about 25 clients in Carlin, Spring Creek and Elko but they are looking to add more. Dave plans to work at the high school another year then go full-time with the business. Right now they tend to their clients' needs in the evenings and on weekends.
Before entertaining the idea of starting a yard care business, Dave contacted Moyal Kump, educator turned lawn-care specialist. Kump let McCabe ride along on some jobs and mentored him. McCabe says he owes a lot to Kump and his advice.
The McCabes do free quotes for interested customers. They will come out, measure and assess the property, then provide a price for their services.
The McCabes also do yard cleanup and will cut down weeds and sagebrush.
We are extremely happy about our new adventure," Dave said.
Co-op proposes natural gas, broadband service for Spring Creek, Lamoille
ELKO — A former governor and local internet provider formed a co-op that aims to deliver natural gas and broadband to Spring Creek in as little as 18 months and to Lamoille shortly after.
The proposal could spark competition to provide natural gas and broadband between the cooperative and Southwest Gas, an investor-owned utility.
"The race is on," said Delmo Andreozzi, chairman of the Elko County Board of Commissioners.
Jim Gibbons, who served as Nevada governor from 2007-2011 and now owns a 40-acre ranch property in Lamoille, partnered with Tariq Ahmad of Satview Broadband Ltd., an Elko cable company, to create Pacific Rural Gas Cooperative.
"We're beginning here with a co-op for a very important reason," Gibbons said.
They propose that the cooperative — a member-owned, nonprofit organization that is not regulated by the Public Utility Commission of Nevada — construct, own and operate a natural gas distribution and high-speed broadband network to serve Spring Creek and Lamoille, a 57-square-mile-area where those services do not exist yet.
Their approach would use existing cable company rights-of-way to install natural gas pipelines and fiber optic line using a "single trench model." The method is intended to save money while reducing environmental impact, according to a Pacific Rural Gas Cooperative executive summary. The system would be designed to supply the needs of 16,000 residents and accommodate population increases over the next 30 years. Wholesale natural gas would come from the Ruby and Paiute pipelines, said Ahmad, and Satview plans to offer high-speed broadband service.
Because the organization is nonprofit, it does not have margins to invest in the project but can apply for federal rural energy grants to pay for a feasibility study and capital projects.
"This money is there for a purpose," Gibbons said. "It's there for a reason, so why not take advantage of that money?"
Members of the Elko County Board of Commissioners voted June 20 to support Pacific Rural Gas Cooperative's grant application to finance a feasibility study for $125,000 under the U.S. Economic Development Administration's Economic Development Assistance Program.
The grant process requires that a government or economic development entity submit the application. The Northeastern Nevada Regional Development Authority worked with the co-op and county staff to prepare the paperwork.
Commissioners also voted to contribute $5,000 from the 2018-19 budget contingency fund — to show the county "has skin in the game," said NNRDA Executive Director Sheldon Mudd — and the county will act as a pass-through agency for the grant if it is approved.
Based on the co-op's proposed model, the feasibility study would estimate construction costs and economic impact of natural gas and broadband development in Spring Creek. Study results would be available to any company, including Southwest Gas.
Debra Gallo, a representative from Southwest Gas, said the company has been working toward providing natural gas service to Spring Creek for years, and Southwest Gas has a nonexclusive franchise agreement with Elko County, she said. The utility lobbied the Legislature in 2015 to get a bill passed that would allow the company to expand its infrastructure and has been conducting internal analyses regarding project feasibility.
"We have been working significantly hard to allow us to get this done because we agree … that it is key for the area," she told commissioners. "We are going to make the filing."
Gallo also explained that Southwest Gas has experience with joint trenches, and adding broadband lines could be a possibility for the Spring Creek area. However, Southwest Gas' plan would take more than 18 months, she said, partly because of PUCN requirements and processes.
A cooperative circumvents PUCN regulation because it has its own governing board. Freedom from the agency's oversight would be well-received by Spring Creek residents who may be growing weary of deliberations between Great Basin Water Company and the PUCN, said Commissioner Rex Steninger.
"There are 15,000 residents out there that we could help out," said Steninger, explaining that the utility services would improve residents' quality of life and expand business opportunities. "I think it's worth the $5,000 commitment."
If the grant is approved and feasibility study completed, Mudd would continue to assist the cooperative with grant applications for the installment of infrastructure.
"We really want to get this done," Gibbons said. "We want to get this done sooner rather than later."
"There are 15,000 residents out there that we could help out. I think it's worth the $5,000 commitment." Commissioner Rex Steninger
Open for business: Dalling Hall dazzles
ELKO – After about a year and a half of remodeling, the A.W. Hesson Co. Hardware building is almost fully restored and brand new Dalling Hall is open for business.
"We had the first wedding April 28," Dalling said.
Exposed brick walls, chandeliers and a stunning wood dance floor offer excellence in entertainment. The Brunswick Imperial model bar, built in the early 1900s, hugs much of the eastern wall.
"The bar came out of Deadwood, South Dakota," Dalling said.
He bought the bar long before he decided to purchase and remodel the Hesson building. It was stored in Dalling's airplane hangar for five years.
"It was originally supposed to go in the Coffee Mug," said Dalling, owner of the restaurant. "First came the bar, then came the building."
Work on the 111-year-old, two-story Hesson building at 600 Commercial St. has been underway for the past two years.
The venue is open for all types of celebrations and meetings. Quinciñeras to corporate conferences, the hall does it all. Dalling spared no expense in bringing the building completely up to code, including ADA compliant restrooms and entryways.
"Things are booking up fast," Dalling said Tuesday . "Sandvik Mining was here last week doing training."
Besides the newly restored facility, Dalling has also gone all out with the "accoutrements," stocking the event center with brand new china, glassware and silverware. Catering is available for any gathering.
Rates for events vary with a deposit of $500 to hold the date.
"The great part is that we have good parking out front," Dalling said. "I hope to bring a lot of good synergy to the downtown. If you are already here for a wedding and you are having a good time you can go down to the Stray Dog and get a beer or go to Machi's or The Star. You can get a hotel right here and walk."
The A.W. Hesson store was established in 1896 and the building was sold in 1971. Over the decades it has been home to several businesses including Napa Auto Parts, Comforts of Home and the Elko Arts Academy.
The original Hesson Hardware sign was taken from storage at Northeastern Nevada Museum and placed back on the storefront.
Dalling cares about the downtown. He now has two businesses located mid-town and he is involved in the planning commission and the Redevelopment Advisory Council.
"I'm kind of a downtown guy," Dalling said.
NPK to open branch for mining equipment
ELKO — NPK Construction Equipment Inc. launched a mining branch and plans to open a distribution and service location in Elko this summer to keep up with demand.
"We're swamped," NPK mining sales manager Erik Hopperton said at the 2018 Elko Mining Expo on June 8. "We're busy seven years in a row."
NPK Mining Equipment purchased the former Kenworth Sales Co. building at 1850 Idaho St. effective June 1, according to a May 8 company press release. The 2-acre site and facility is being cleaned and renovated, and will open once the updates are completed, said Kathy Lemich, branch administrator, on June 12.
The Idaho Street location is expected to be a full-service NPK Construction Equipment distributor outlet with a warehouse, providing sales, rental, spare parts, field service and support for NPK and Paus products, the company stated. The site also will provide a home base for mobile technicians.
"People now know it's a permanent interest," Hopperton said.
In time for the Elko Mining Expo, NPK parked Paus mining personnel carriers along Idaho Street with a banner announcing the company's plans to open a local branch. To help generate interest, Hopperton displayed a personnel carrier and an underground grader at a booth during the exhibition.
"This was built for the mine," he said of the Paus personnel carrier, which looks like a yellow armored vehicle and can carry up to 18 people. "Literally, this was built in our factory from the ground up. … It's a niche vehicle."
Hopperton was confident that the company found its niche in Elko. "I guarantee that one's sold within a week," he said of the underground grader.
Less than a week after the Elko Mining Expo, that grader sits in front of the Idaho Street location with a sign saying it has been sold to Thyssen Mining.
Founded as Nippon Pneumatic Manufacturing Co. in the early 1900s in Japan, the company began designing and manufacturing construction equipment attachments in the 1950s and earned a reputation for its hydraulic hammers, crushers, shears and pile drivers, according to the company website.
NPK Construction Equipment Inc. was then established in 1985 to serve the western hemisphere, with a location in Ohio. In 2013, NPK Construction Equipment partnered with Hermann Paus Maschinenfabrik of Germany, a mining equipment manufacturer that specializes in mining vehicles.
In addition to its facilities in Japan and the U.S., the company now has facilities in Europe and the Middle East, and about 350 dealer locations.
The Elko location will serve the western United States and Canada.
City of Elko Business Licenses: May 2018
ELKO — The City of Elko issued the following business permits in May:
American Fire Equipment Sales: Contractor/Sales
The Hiller Companies Inc.
Anthony Around Town: Online Journalism/Media
3700 Sundance Drive A-101
Anthony Crosby (Home Occ.)
Ascent Construction Inc.: Contractor
Bio-One Reno: Crime/Trauma Scene Cleanup
Caring Bio-Hazard Cleanup Inc.
Buddy's Stump Removal: Tree Stump Removal
Campos, Teresa: Hair Care Product Sales
Teresa Campos (Home Occ.)
CB Nutrition LLC: Registered Dietician
Dalling Hall: Banquet Hall
Elle's Design Company: Woodwork/Art/ Event Décor
Lacey Hermann (Home Occ.)
1730 Mountain City Highway
Elko Medical Services Inc.: Medical Services
976 Mountain City Highway
Elko Medical Services Inc.
Growing Thinkers: Educational Consultant/Tutor
Johnson Brothers Planning Mill Inc.:
Architectural Woodwork/ Wood Products/Commercial Hardware/Contractor
Johnson Brothers Planning Mill Inc.
Kandy Sigritz-Raunier, LMT, RN: Massage Therapy
Kandy Sigritz-Raunier (Home Occ.)
Lisa G. Reed, CPA, Ltd.: Accounting
Little Explorers LLC: Preschool
Palacios Professional Welding and Machining: Welding
Carlos Palacios (Home Occ.)
Ponderosa Roofing and Steel Works: Contractor
Silver State Lawn Care: Lawn Care
Jesus Alvarado: (Home Occ.)
T-Mobile West LLC: Utility/Retail
2525 Mountain City Highway No. 108
The Tiberti Fence Company: Contractor
TKS Services LLC: Mobile Document Destruction
TKS Services LLC (Home Occ.)
Vogue Laundry & Cleaners Inc.: Administrative Offices
Vogue Laundry and Cleaners Inc.
Welkome to Nevada LLC: Wholesale Gift Merchandise
Wild Bunch Off-Road: Auto Customization Shop
Wild West Vending LLC: Vending Services
White Desert Witch: Healing with handcrafted candles
ELKO – In a tiny alcove studio, Jeanette Friedel toils away making her line of healing candles. Guided by the phases of the moon, Friedel keeps very busy burning the midnight oil.
"I make these with my heart and soul," Friedel said. "I am a very spiritual person. I make healing candles."
Friedel's candles are made with essential oil blends, specialty herbs, hemp wicks and crystals; all components of a fine, handmade product.
However, Friedel touts the torches' main powers come from the fact that they are created in conjunction with the phases of the moon.
"They are charged with the energy of the moon," Friedel said. "The moon is super powerful. Most people don't recognize the energy that it gives us."
She explained that she lives and works by the moon phases. The week before the full moon Friedel mixes all of the oils together and grinds the herbs. She then lets them sit a whole week until the moon is full to "charge" them with energy.
Then the ingredients are mixed with paraffin and coconut wax and poured around the wick.
"It took me forever to find the right kind of wick," Friedel said. "There is no point to a candle if the wick does not even light up right. Every time you light it you need to cut it way down."
Different crystals are associated with each candle variety, and, according to Friedel, these amplify the energy. She takes extra time to clean each crystal with black salt and purified water in the sunlight before "charging" them with the moon. Plus, when the candle has burned away, the crystal remains, a tangible element to hold onto when the process is finished.
Friedel has a long association with healing and herb use. She grew up partly in Germany where, as a young teenager, she tended her parents' herb garden. Her herbal knowledge also comes from studying a number of sources, including books by Maria Treben, a renowned European herbalist.
"My dad even called me 'herb child,' Freidel said.
White Desert Witch candles come in four varieties, serving four very different holistic purposes. The three main ones are for purification, protection and healing. Friedel has also created a fourth candle called Evil Eye that has one part of the protection blend and another part that wards off trouble and breaks curses.
"People deal with envy and things like that on a daily basis," Friedel explained. "These protect you from envy and jealousy. It's like a shield. We can't stop the evil in the world but we can protect ourselves from it."
Friedel explained that during the waning phases of the moon people need to work on getting rid of negative things. The waxing phases signal the time to gain positive energy.
The black candle, which provides protection, works best during waning. The green and white candles, used for healing and purification, work best during the waxing period, she said.
However, Friedel explained that the candles can be used at any time with powerful results.
"If a person suffers from things that they cannot explain, if they have a theory it might be spiritual, if they have fears or are nervous all of the time," they can first try the black one to get out all of the bad and evil, then use the green one to heal themselves and then the white one to "purify themselves," Friedel said.
White Desert Witch candles cost $40 each. Friedel can also make customized candles using any scent or color.
Friedel is working on other healing items for her online store and may eventually add a blog to her website.
"If people seek this kind of help they may want to reach out to me and I hope to make that possible with a blog on my website," Friedel said.
Scoreboard gets a new look, new chef
SPRING CREEK – The owners of the Scoreboard restaurant have been making some changes including a new "industrial farmhouse" look and a menu that mom would be proud of.
The Scoreboard has been around since 1995, according to Dave Zornes, CEO of Northern Star Casinos. In the past, private owners ran the restaurant, but now Northern Star is managing the facility, along with a brand new chef.
"We are going to install a country club style menu," said chef Scott Ploussard. "It will consist of a lot of home cooking with fresh potatoes, fresh burgers and homemade desserts. The food that comes out of this kitchen will definitely be different than what people have seen in this town."
Blintzes and frittatas are some of the more unique items that will be on the menu.
Ploussard has been in the food business his whole life. He has owned five restaurants and has worked in a number of prestigious restaurants and banquet facilities.
"We are going to have things like chicken and waffles and buckwheat pancakes," Ploussard said. "We want to put a smile on everyone's face."
New décor in the dining room reflects a practical ruggedness that Zornes said fits in with the Nevada environment. Industrial droplights hang above the tables. Corrugated iron and barn wood on the walls add a textured look.
Behind the scenes, the kitchen has been completely renovated as well. All new flooring was put in and the configuration of the enormous prep and cooking area has been revamped. New cutlery and dishes are also being introduced.
Marcia Bogner and Rachael Reinschmidt will help run the scene and manage the wait staff. They are there to ensure that every diner has a fine experience.
"She is the ying to my yang," Bogner said.
The two will take shifts in managing the space and work.
"I have been in food since I started working," Reinschmidt said. "I have hosted, bussed and cashiered since I was 15. I started off in the restaurant and just never left."
"The first phase remodeling project includes both the restaurant and casino, and will cost about $1 million," Zornes said.
"We plan to carry this feel over to the casino," Zornes said. "This fits into Spring Creek. It's not too fancy but it's comfortable, modern and welcoming."
The casino will be undergoing construction during the summer. Fifty new slot machines will be added. There will also be a new lounge where people can sit and enjoy their evening.
The restaurant is scheduled to open next weekend with a soft opening. Hours will be Friday through Sunday from 6 to 9 p.m. and Monday through Thursday 11 a.m. to 9 p.m.
The team feels that the new restaurant will be a popular destination for Spring Creek residents but that residents from "over the hill" will also seek out the new dining scene.
"I'm going to bet that the quality of the product we put out is going to advertise itself," Ploussard said. "When people come here and have a meal they are going to be happy and when they leave they are going to tell everyone."
Southwest Gas opens Elko facility
ELKO — Southwest Gas Corp. recently opened an operations center in Elko to facilitate area growth and economic development.
"Elko has been a growing area of our service territory," said Southwest Gas President and CEO John Hester. "We are really excited to be part of that energy solution."
The company celebrated the opening of its 16,000-square-foot facility at 2901 Ruby Vista Drive with a ribbon cutting May 15. The building includes space for training, a fabrication shop and a warehouse.
The facility was designed by Lombard Conrad Architects and constructed by Ormaza Construction. Planning began in October 2015, construction commenced in June 2017, and Southwest Gas office and field employees moved in about Eastertime this year.
Brad Harris, Southwest Gas vice president of the Northern Nevada division, welcomed a standing-room-only crowd to the company's grand-opening celebration. He said the Elko operations center will help Southwest Gas personnel serve local customers and respond quickly to emergencies, if needed.
"We are very excited about unifying our customer assistance and operations personnel in this facility as we strive to continually enhance the service and safety of our customers," Harris said.
The district manager stationed at the Elko operations center is Frans Yorgensen.
"He is Southwest Gas here in Elko and the surrounding communities," Harris said.
Byron Smith, managing architect at Lombard Conrad, said designing the center was a great project. Design elements that contribute to the project's sustainability include maximizing open space and preserving existing wetlands on the 15-acre site, using a remote-controlled heating and cooling system to reduce energy consumption, and incorporating energy-efficient fixtures to conserve water and electricity.
Pedro Ormaza, president and owner of Ormaza Construction, said the work helped keep locals employed over the past year and that the project represents a substantial accomplishment for his company.
"We're very proud of that," he said. "It's a great project. The money stayed local."
Investing $8.5 million in the facility and contracting local businesses for design and construction are some of the ways the company showed its commitment to serving and supporting the area.
"We want to be part of this community," Harris said. "Southwest Gas is proud to serve Elko, and our new operations center is a tangible symbol of our commitment to, and investment in, the communities we serve."
In another demonstration of investment, Hester presented a check to representatives of Great Basin College in support of the college's technical programs. Through education and training, GBC students could one day become employees of Southwest Gas.
"Thank you for investing in our community," Matt McCarty, chief development and foundation director at GBC, said to Hester after the check presentation.
"I'm happy to be a small part of it," Hester responded.
The company also supports the communities where it operates through community engagement programs, including an employee charitable giving fund that supports nonprofit organizations and volunteering.
"We are looking well into the future, as well," Harris said.
Spring Creek is an area that has the attention of Southwest Gas leaders for the future. Although the company has not yet filed an application to serve Spring Creek, Hester said he is enthusiastic about the possibility of serving the area and "our company is very supportive of that."
Chamber Happenings: 40th annual Home & Business Expo
ELKO — Please join the Elko Area Chamber for our 40th annual Home & Business Expo.
The event will take place over Mother's Day weekend, May 12-13 at the Elko Convention Center. Time times are 9 a.m. to 5 p.m. on Saturday and 9 a.m. to 4 p.m. on Sunday. We will have over 100 vendors, both indoors and out, over the course of the weekend.
We will have something for everyone. We have some great shopping, clothes, jewelry, and bath and body vendors, as well as live demonstrations, cars, trucks, RVs, informational booths, our food vendors and interactive activities.
There is no admission fee to attend. Enter to win our backyard giveaway for free. We are giving away two riding lawn mowers, sponsored by The Home Depot. You may also enter our vendor bingo for free. The first 100 people through the doors on Saturday and Sunday will receive one of our giveaway swag bags filled with coupons and goodies from our vendors and members.
Come enjoy the weekend with Mom. We look forward to another great year and Mother's Day weekend.
Please contact the chamber with questions at 738-7135.
From business student to business owner, with a little help from JOIN Inc.
ELKO — Andrew Peterson was working at a smoothie bar while attending Great Basin College and working toward his entrepreneurial certificate.
Julie Robertson, a case manager at JOIN Inc., Northern Nevada's career training agency, was a frequent customer at the smoothie bar and told him about the organization's work experience, or WEX, program.
The program piqued Peterson's interest, he said, because he had been looking for financial support to help him with his classes at GBC.
JOIN Inc. is a private nonprofit organization that provides services to eligible individuals in Northern Nevada that include training and coaching in employment skills, tuition assistance and work experience. The WEX program reimburses employers up to 100 percent of the employee's first 12 weeks of wages, making it feasible for employers to hire and train new employees. Prior to employment, JOIN recruits, screens and provides participants with occupational training and certificates.
"Before the program, I was struggling with how I was going to pay for school," Peterson said. "I wasn't sure where I wanted to go career-wise."
He scheduled an appointment with Robertson, who administered a career assessment and helped him figure out what kind of career he wanted to pursue. She then set out to find an employer that would be a good match for Peterson.
Robertson approached Chip Stone, owner of Diamondchipppers, a rolled ice cream store in Elko, about doing a WEX with Peterson. Because Peterson was taking classes for his entrepreneurial certificate and Stone was looking for a management professional, Robertson thought they would be a great fit.
Peterson was hired at the inception of the ice cream shop and was instrumental in setting up the store. Peterson's WEX has ended but he is still employed as a manager at the ice cream shop.
Stone is a local entrepreneur who also owns Stonecraft Jewelers in Elko. He said he has always been a proponent of programs such as this one, recognizing their value and seeing how they can change lives.
"I actually started on a similar program in Utah 35 years ago when I became a jeweler," Stone said. "I looked at this as an opportunity to give back to somebody else."
JOIN Inc.'s WEX program has been a great experience for both Stone and Peterson, they said. Stone said he has seen Peterson's growth firsthand and noted that he has come miles since his initial hiring, gaining confidence and business skills.
"I don't think enough people know about JOIN Inc. and the benefits they offer," Stone said. "It would be great if there would be a way to get the word out to employers about the incentives. I don't think a lot of employers realize how easy it really is."
Peterson said his dream has always been to own his own business, which, he said, his position at Diamondchipppers has prepared him for. He now owns a small photo booth business with his sister, in addition to working with Stone.
JOIN Inc. covers all of Northern Nevada's 13 counties and has seven regional offices in Elko, Ely, Winnemucca, Fallon, Fernley, Reno and Carson City. For more information on JOIN Inc.'s programs for career seekers and employers, visit www.join.org, or call the Elko office at 753-1700.
Are City of Elko vendor fees too high?
ELKO – After hearing about a plan to hold a Farmer's Market at Sherman Station and looking for a solution to the high vendor fees for the event on city-owned property, the Elko City Council has opted for more research of the relevant city code.
City Attorney David Stanton will review the city code and corresponding resolution to look for a way for the city to waive or lower vendor fees so four days of the Farmer's Market could be held in the Greater Elko Chamber of Commerce's parking lot.
"We will probably bring something back at the next meeting," Elko City Manager Curtis Calder said.
Dan Lotspeich of Lotspeich Family Farms asked the council to waive the vendor fees that otherwise would be $34.50 per vendor, so a group of farmers could hold a Farmer's Market June 16, July 21, Aug. 18 and Sept. 15 at the chamber's Sherman Station. The chamber leases the parking lot from the city.
Lotspeich said markets at that location would have "the potential to be a really good family-focused event" that would offer locally grown products and benefit the community. "It's an ideal location for such an event."
The high fee would create a barrier for the seven vendors now interested in the location, he said.
The Farmer's Market events held at the IFA (Intermountain Farmers Association) Country Store on 30th Street in prior years were on private property so vendors paid only $6 per day, according to Debbie Renseler, the city's business license clerk.
The Elko chamber has offered to sponsor the Farmer's Market at Sherman Station, and Councilman Reece Keener said the chamber is a nonprofit, wondering if that would qualify for an exemption. Stanton said the code doesn't allow for waivers event by event, but there is an exemption for nonprofits.
A nonprofit sponsor could handle all the vendor permits, but Renseler said she thought each vendor, unless it is a nonprofit organization, would still have to pay the fees. She offered to do more research.
"The issue comes up every year," she said.
Stanton said he could talk with the clerk's office because his legal interpretation may be "slightly different" from the clerk's.
"We would love to have it at Sherman Station," Calder said at the meeting, but he said the city has never made exceptions for public property. "The resolution is pretty specific."
Keener told Lotspeich that "we all support what you are doing, and we want to see more of it. We just need to figure out how to get it done."
The council took no action, but rather informally agreed to the research.
ROOM TAXES
Also at the May 8 meeting, the council unanimously adopted a revised ordinance covering room taxes after a second reading. There was no public comment at the hearing. Councilman John Patrick Rice was absent.
The ordinance details rules for room-tax exemptions for lodging stays of 28 days or more, outlines audit procedures over room-tax issues, requires daily occupancy reports and requires lodging businesses to postmark payments by the 10th of each month. Penalties occur if payments not made after the 15th of the month.
Hotels, motels and RV parks charge customers the city's 14 percent room tax, and the lodging businesses must send their collection to the city each month.
Business Briefs
Tomera joins
Angus Association
SPRING CREEK — Jaxon Tomera is a new junior member of the American Angus Association, reports Allen Moczygemba, CEO of the national organization with headquarters in Saint Joseph, Missouri.
Junior members of the Association are eligible to register cattle in the American Angus Association, participate in programs conducted by the National Junior Angus Association, and take part in Association-sponsored shows and other national and regional events.
The American Angus Association is the largest beef breed association in the world, with more than 25,000 active adult and junior members.
Agents named to Sterling Society
ELKO — Carol Buckner, Jaren Gilbert, Molly Wolf, Veronica Eldridge and Vicki Lloyd of Elko Nevada, sales associates/representatives with Coldwell Banker Algerio Q-Team Realty, have been honored as members of the company's 2017 International Sterling Society. This distinguished membership was awarded to the top 17 percent of all sales associates / representatives worldwide in the Coldwell Banker system.
"Carol, Jaren, Molly, Veronica and Vicki are dedicated to their customers, ensuring they have the tools and expertise to make the right decisions and guiding them as they realize their dream of homeownership," said Charlie Young, president and CEO of Coldwell Banker Real Estate LLC. "I'm thrilled that we can acknowledge Carol, Jaren, Molly, Veronica and Vicki for their outstanding work."
Jim Winer, broker/owner of Coldwell Banker Algerio Q-Team Realty, stated, "It's amazing and a testament to the hard work and dedication to the Real Estate profession that Carol, Jaren, Molly, Veronica and Vicki have been able to achieve the level of success they have and to be in the top 17 percent of the 92,000 Coldwell Banker Real Estate Professionals in the world, right here out of rural North Eastern Nevada."
April business licenses
Anderson's Handyman Service
_____
_____
Bramco Construction Corp.
_____
_____
_____
Lawn and Order—Special Clippings Unit
_____
_____
Pearson Brothers Construction Co.
_____
_____
_____
Hair, Skin and Nails Salon
___
Sales, Service and Installation of Security Systems
____
Candle Making/Retail (Home Occ.)
1525 Opal Drive, Apt. I-300
Barrick USA leader got start at community college
Michael J. Brown, an alumnus of Lorain County Community College and president of Barrick Gold of North America, the U.S. subsidiary of Toronto-based Barrick Gold Corp., will be the keynote speaker at the College's 54th annual commencement at 9:30 a.m. on Saturday, May 12.
Brown, who was named president of Barrick USA in 2016, attended LCCC from 1976 through 1978. He is a Grafton native who graduated from Midview High School in 1976.
In returning to LCCC as the keynote speaker, Brown will be coming full circle as LCCC President Marcia J. Ballinger, Ph.D., confers his Associate of Arts degree to him. Although highly accomplished academically, Brown transferred from LCCC before earning his associate degree, later earning both a Bachelor of Science from The Ohio State University (1981) and a Master of Business Administration from George Washington University (1987). While at LCCC, Brown was a leader on campus and served as a student senator.
"We are extremely honored that Michael Brown will be returning to his first alma mater – LCCC – where he discovered his pathway to his future," Ballinger said. "Michael's journey that began at LCCC has been extraordinary. He is an inspiration to all of us at LCCC and the nation's community colleges."
A first-generation college graduate, Brown is proud of his time at LCCC and grateful for the role the college and his education has played in every aspect of his life.
"Education is critical to success," Brown said. "As an alumnus of LCCC, I am delighted to have the opportunity to share such a special occasion with these students and their families."
'Flags Over Elko' to include Nevada blue alongside the Stars and Stripes this year
ELKO – Nevada's Battle Born state flag will accompany the U.S. flag this summer for the Downtown Business Association's "Flags Over Elko."
More than 54 American and Nevada state flags will fly over the downtown corridor and Idaho Street in the weeks preceding Memorial Day through November and Veterans Day.
"'Flags Over Elko' is an opportunity to come together and celebrate our country and support the community," said DBA coordinator Rushele Melton.
The project began last year when flags flying throughout Elko were replaced. About 30 flags were added.
Flags will be placed by Boy Scout Troop 93 along Idaho Street from Third to 13th streets and on Railroad and Commercial streets on the parking light poles.
The scouts' involvement in the project began when Lina Blohm suggested it to Scoutmaster Jeremy Draper.
Draper said his troop was in favor of "Flags Over Elko" becoming their service project, and it is a good opportunity for the scouts to show their patriotism for their country.
"It's something they can be proud of," Draper said. "Every time they see a flag downtown they can say, 'I helped put that up.'"
The troop consists of six active members ranging in age from 13 to 16, Draper said.
The troop also takes responsibility for the care and welfare of the flags, watching out for broken or missing flags throughout downtown.
"During the summer we have flags that come down due to wind, or a vehicle might snag them," Draper said. "We watch them throughout the summer and make sure they're in good order, keeping Elko patriotic."
Other supporters include the Veterans of Foreign Wars, which donated $500 to the program for new flags and replacements and also assists installing flags, said Merlene Merck, junior vice commander.
Lina Blohm of Blohm Jewelers and Vogue Services are also major sponsors, Melton added.
"The DBA would like to thank the community and participating organizations for their continuous support," she said.
To learn more about becoming a sponsor, or to get involved, contact Melton at 299-7444 or email her at elkodba@gmail.com.
Farmer's Market organizers want city fee waived
ELKO – Elko City Council will be considering a request Tuesday to waive or at least reduce vendor fees for Elko Farmer's Markets this summer in the parking lot behind Sherman Station.
The Elko Area Chamber of Commerce's chief executive officer, Billie Crapo, wrote to the council that the chamber is "in full support of Lotspeich Family Farms holding these events at the chamber, as it is not only bringing people to Sherman Station, it is benefitting our community."
Crapo said the vendor fees are higher because the parking lot is on city property that the chamber leases, and the higher fees are a "concern for small vendors and could potentially dissuade them from being a part of the Farmer's Market."
Her letter and one signed jointly by Dan Lotspeich of Lotspeich Family Farms and Sue Kennedy of Kennedy Ranch Home-Grown Meats will be presented to the council at their May 8 meeting that begins at 4 p.m. at city hall.
"If you vote to approve this waiver, the dates for the Elko Farmer's Market at Sherman Station will be June 16, July 21, Aug. 18 and Sept. 15 from 8 a.m. to noon. The possibility exists that we'd be able to hold an Oct. 20 market, as well, depending on how the weather holds during harvest season," their letter states.
According to the council agenda, the Elko Farmer's Market is considered a special event under city code, which means a fee of $34.50 per vendor per event would be required. Events held on private property, however, allow for a $6 fee per vendor per day.
"This fee presents a significant barrier to our local agricultural producers, given that most of us operate on a shoestring," Lotspeich and Kennedy wrote, encouraging the council to waive the fee so the market can grow with more vendors and more customers.
"Although technically public property, the Sherman Station parking is included in the lease area and operated/controlled by the chamber," the council agenda states.
The agenda also reports that the chamber is willing to sponsor the markets, if needed.
Lotspeich and Kennedy also said the markets held in Lamoille and Elko -- featuring food grown in Elko County or adjacent counties -- have been successful and customers have requested more.
Also at the May 8 meeting, the second and final reading of the revised ordinance governing room taxes will be held at 5:30 p.m. The ordinance outlines rules for room-tax exemptions for stays of 28 days or more, details procedures the city would take to audit a lodging business over room-tax issues and requires lodging businesses to provide daily occupancy reports.
The council motion at the April 24 meeting agreeing to move to the second reading included the stipulation that lodging companies must file the daily occupancy reports, which help the Elko Convention and Visitors Authority better track how their marketing attracts visitors to the city.
The ordinance also requires motels, hotels and RV parks to mail their payments of room taxes by the 10th of the month, although they have until the 15th before there is a penalty. Customers pay the 14 percent room tax, but the businesses collect them to forward to the city.
The council agenda states that all transient lodging facilities were mailed a copy of the proposed ordinance.
Hensley earns Coldwell Banker honors
ELKO — Jody Dee Hensley of Elko, sales associates with Coldwell Banker Algerio Q-Team Realty, have earned membership in the company's 2017 International Diamond Society, a level achieved by only the top 11 percent of all sales associates/representatives nationwide in the Coldwell Banker system.
"Hensley has been presented with the membership in the International Diamond Society in recognition of her contributions to both Coldwell Banker and the real estate industry," said Charlie Young, President and CEO of Coldwell Banker Real Estate LLC. "Jody is dedicated to her customers, ensuring they have the tools and expertise to make the right decisions and guiding them as they realize their dream of homeownership. I'm thrilled that we can acknowledge Jody Dee Hensley, for her outstanding work."
"It's amazing and a testament to the hard work and dedication to the Real Estate profession that Jody has been able to achieve the level of success they have and to be in the top 11 percent of the 92,000 Coldwell Banker Real Estate Professionals in the world, right here out of rural Northeastern Nevada, is quite an accomplishment," said Jim Winer, broker/owner of Coldwell Banker Algerio Q-Team Realty.
Coldwell Banker Algerio/ Q-Team Realty, at 700 Idaho St. in Elko and 114 Tonka Lane in Spring Creek, can be reached at 738-4078 and 738-9866 and can be found online at www.CBElko.com. Coldwell Banker Algerio/ Q-Team Realty has been an affiliate of the Coldwell Banker System for 27 years.
McEwen reports productive Q1
TORONTO — McEwen Mining Inc. reported an industrious start to the year, especially in gold production, development and exploration, in its first quarter 2018 results released May 1.
The first quarter of 2018 "marked the beginning of an important year for McEwen Mining," said Robert McEwen, executive chairman and chief owner, in an investor conference call.
The company achieved production of 44,344 gold equivalent ounces in the first quarter of 2018.
Net cash flow from the business, excluding project development costs, was $12.4 million, offset by $22.7 million related to investments toward long-term production growth at Gold Bar in Nevada, Black Fox project in Canada and Los Azules project in Argentina.
"We're happy with the quarter," McEwen said, adding that although productive, the company had to report a loss.
Consolidated net loss was $5.2 million, or $0.02 per share. In the first quarter, McEwen paid a semi-annual return of capital distribution of $0.005 per share of common stock, for a total distribution of $1.7 million.
As of April 30, the company had cash, investments and precious metals of $47 million — and no debt.
Construction, exploration
During Q1 2018, construction activities at Gold Bar focused on finishing civil works related to the heap leach pad, ponds and site infrastructure, in preparation for major equipment and material deliveries in the second quarter.
Cumulative to date, McEwen capitalized $14.8 million to construction in progress relating to permitting, engineering, and site development activities. The company expects to spend about $25 million per quarter in the second and third quarters. McEwen said the company might consider taking on some debt to finance Gold Bar.
"It is the brunt of the capital going in those two quarters," said Andrew Elinesky, chief financial officer, in response to a stakeholder's question.
Construction is advancing on schedule for completion by the end of 2018, and McEwen expects to declare commercial production in early 2019. During the first three years of operation, Gold Bar is projected to produce approximately 55,000, 74,000 and 68,000 ounces of gold respectively.
"The project is currently on schedule and on budget," Elinesky said.
The company also operates at the El Gallo Mine in Mexico, Black Fox Mine in Canada, and the San Jose and Los Azules projects in Argentina.
At Black Fox, the company reported its first steady operating quarter, producing 12,078 gold equivalent ounces for Q1. Production helped offset investments being made at Gold Bar.
The company reported a positive start to its exploration program at Black Fox, with 30 percent of its exploration budget going into work at the Canada site.
"As you can appreciate, we have been busy working on the future of production and growth of our company," said Xavier Ochoa, chief operating officer.