ELKO — The Camp Fire that swept into Paradise, California last November and turned the day into a devastating nightmare has been a wake-up call for many people who have considered, "What if a wall of flames burned into our town?"
But the forest fire that enveloped Paradise is different from fires in the sagebrush ecosystem of northern Nevada.
A story on the growing threat of cheatgrass fires published by the Stateline news service on July 2 said, "While rangeland fires tend not to threaten homes the way forest fires do, they affect agriculture, watersheds and air quality, and could threaten more communities as more people move out West. Like all kinds of wildfire, they're becoming bigger and more frequent partly because of climate change."
Note that the story says, "tend not to threaten homes …"
And consider this: On July 23 the Arizona Republic published "Where will the West's next deadly wildfire strike? The risks are everywhere." The study, conducted by the Republic and USA Today, ranks the potential fire risk of 4,784 communities of less than 15,000 people in the 11 states of the American West. Using U.S. Forest Service data, which weighs 65 risk factors including topography, precipitation, vegetation and previous fires, the study concludes that 526 communities have a wildfire potential greater than Paradise.
Each community was given a fire danger score on a scale of 1 to 5, with 5 having the highest wildfire risk. Paradise got a score of 3.81. The median score in the study was 2.08.
How does Elko's wildfire potential compare with Paradise? It's substantially higher, according to the study. Elko is right near the top of the fire danger scale, with a score of 4.73. Spring Creek has just a slightly lower score, 4.44. Several other towns in Elko County fall in the same range: Wells has a score of 4.67, Jackpot is 4.58, Carlin is 4.55, and Lamoille is 4.04.
The Camp Fire, pushed by 50 mph winds, burned through the forest with walls of flames about 200 feet high. Embers blew a half mile or more out in front of the fire and started dozens of spot fires.
The flames of grassland fires don't get quite that high – but they can still be around 30 feet. And grassland fires can travel faster than forest fires. The Arizona Republic story said, "The worst-case wildfire can travel through a coniferous forest at 6 mph or faster, and through dry grasslands at 14 mph."
Matt Murphy, a fire management officer with the Bureau of Land Management Elko District office, said wildfires are a major concern in northern Nevada.
"Our fuel type is flashy fuels, it is sagebrush and grass," Murphy said. "We can burn 100,000 acres in a day, we can burn 10,000 acres in an hour and a half with winds on it. When we get wind on dry fuel on a fire, you can't outrun it. If you don't take the right road, you may not be able to outrun it in a vehicle.
"It is very fast-moving fire, and we could get 20, 30, 40-foot flame lengths. That's deadly for whoever's in its way, including any vehicles or buildings, or communities. It is going to have a big impact. We saw that here with the Oil Well Fire of 2017.
"With a fast-moving fire, the biggest concern for us a lot of times is just time itself. It does not take a fire in northern Nevada long to cross a mountain range or cross a valley or a canyon and move into a community. Time is of the essence.
"A lot of folks don't think about fire until smoke is in the air, and when fire is moving that fast, it's a little late potentially to be doing your defensible space around your house, and trying to fireproof your house, and a little late to be thinking about your evacuation plan, too, and what you're going to take out of your house and how you're going to have accountability for your family members, and your pets.
"We're going to send folks to a fire, and we're going to try to put the fire out before it hits the community, but at some point if we determine that fire is going to beat us to this house or this community before we can get around it, we might have to disengage from actually fighting the fire, and go into a reaction mode doing structure protection with our other agencies working here, in trying to protect these homes when the fire comes to it, which is not a good situation for our firefighters or for the public."
The Oil Well Fire on July 17, 2017 burned 7,467 acres and destroyed nine homes in the White Rock and Osino areas.
If the time comes when people have to flee from a fire, Spring Creek does not many escape routes, and Elko has a limited number also, although it does have the interstate running through town. The Arizona Republic study ranked a variety of fire risk factors, and Spring Creek and Elko do not rank very well on the "evacuation constraint" scale, which looks at the ratio of households and the major roads exiting a community. The median for the nearly 5,000 communities the study looked at is 110 households per exit road. According to the study, Spring Creek has 1,194 households per exit road, and Elko has 1,142.
One of the other fire danger factors the Arizona Republic looked at was the number of people who live in mobile homes. In Paradise, 37 of the 85 people who died in the Camp Fire were residents of mobile homes.
The Republic story said, "Prior to the Camp Fire, one in eight households lived in a mobile home park. But while Paradise's mobile-home numbers were high, it was not unique: in Elko, Nevada, with a population of just over 20,000, roughly one household in nine is listed in a mobile home park."
Reducing the wildfire threat
What can be done to reduce the danger of a wildfire having devastating impacts on a community? There are a variety of steps that individuals can take and that government agencies and community groups are continuing to work on.
Murphy said that wildfire education is an important mission for the BLM and other agencies. He said they regularly reach out to people in the community in a variety of ways to increase fire awareness. They also do several fire prevention education activities each year with children in the community.
"There's a lot of information we're trying to share with folks," Murphy said.
He said they are always looking for new ways to spread the word.
For the past several years realtors have been provided with fire awareness pamphlets which they can give to people who are moving into this sagebrush/grassland environment.
This weekend Smokey Bear has been at the Ruby Mountain Balloon Festival to share the message of fire prevention.
There are a lot of ways that people can work on preventing fires and reducing the potential impacts that a wildfire could have on their community.
It is important for people to be aware of the danger of fires and to avoid doing things that might start a wildfire. Fires are a part of nature, and fires are always going to happen. One lightning strike on a sagebrush, and a fire can be off and running. But BLM Public Affairs Officer Greg Deimel said that about 30 percent of fires in northern Nevada are human-caused, and last year about 40 percent of the fires were human caused.
"That's why we focus heavily on prevention," Deimel said. "We're not going to eliminate everything, but if we could prevent the preventable ones, that will decrease our fire risk tremendously."
Also, it is important for people to create a defensible space around their home and work on making their home and property more fireproof.
The livingwithfire.info website has a lot of good fire awareness information, including detailed instructions for creating a defensible space. This website is managed by the University of Nevada Cooperative Extension, and the site sponsors include the BLM, Nevada Division of Forestry, Nevada Insurance Council, Sierra Front Wildfire Cooperators, and the USDA Forest Service.
Elko County Fire District Administrator Linda Bingaman said people can also contact the Elko County Fire Protection District if they have questions about creating a defensible space and making their home more fire resistant.
"We can come out and give them thoughts on what they can do to improve their defensible space," Bingaman said.
People can call county's fire district office at 775-738-9960.
Bingaman commented that looking at the aftermath of the Oil Well Fire, "You could tell the difference between those who had defensible space and those who didn't."
The Arizona Republic story talks about an analysis done by Alex Maranghides, a fire protection engineer with the National Institute of Standards and Technology. According to Maranghides, "the scientific evidence for fire-safe efforts is irrefutable."
"It can be the difference between an event becoming a catastrophe or just petering out," he said.
Deimel commented that while people are thinking about fire danger, they should check their fire insurance. He said that after the Oil Well Fire, some people found that they did not have fire insurance.
"Yes, that's an added expense, but people probably need to look at, are they insured for a fire?" Deimel said.
Bingaman said different companies use different methods for calculating fire insurance rates. Some use ISO ratings. The Insurance Services Office judges communities and fire departments based on a variety of factors. Other insurance companies look at factors such as the fire history and the number of claims in an area.
What will happen if a wildfire does roll across the landscape toward a community?
Nevada's governor has the authority to issue an evacuation order, but that is not likely to happen in the short amount of time it can take for a wildfire to become a serious threat.
Elko County Emergency Manager Annette Kerr said that if there is an emergency, the incident commander can contact the sheriff's office, and the sheriff can enact an evacuation. Depending on the situation, deputies might go door to door to let people know about the evacuation. It would be a voluntary evacuation, but if a deputy is knocking on your door telling you the area is not safe, it would be a good idea to get out of there.
Kerr said the information about the evacuation would also be posted on the sheriff's website and various social media, and several agencies would be notified, including the Highway Patrol, the Elko Police Department, and the Weather Service.
The county also has an Emergency Alert System which can send an emergency message to every cellphone within a specified area of any size. Even people driving into the area will get the notification.
There are also cell phone apps available which people can sign up for to get a variety of emergency information.
Kerr said she is currently working with the sheriff's office to create an Elko County emergency alert app. This app will be free, and people will be able to sign up for it if they want it on their phone.
"Any time that we have an emergency, a train derailment, hazardous spill, flood, fire, we would put that information out on the app," Kerr said.
Elko County launched a new website a few weeks ago, Kerr said, and she is currently working on getting the county's "Evacuation, Sheltering, Mass Care Plan and Traffic Management Plan" uploaded to the site so that people will be able to look through the details of the plan to be better prepared for an emergency.
"The Evacuation Plan will be online shortly," Kerr said.
She said she also has some brochures from the old evacuation plan, and they are still relevant.
"If people are interested they can contact me, and I can give them copies of the new plan as well as a brochure of the old plan," Kerr said.
Bingaman said if there is a fire evacuation, there will probably be law enforcement on the scene directing traffic, and the directions might not be what people are expecting. Some routes may be closed due to the fire, and some areas may need to be kept open for emergency vehicles.
"We're going to be thinking about all of those things as we're trying to get people in and out," she said.
During some emergencies the sheriff's office sets up shelters, usually at schools. Kerr said, however, that so far not that many people have ended up using the shelters.
"Most people in Elko County are very resilient, and already have family members, or the ability to go somewhere, and hotels have been very accommodating, often offering special rates when needed," Kerr said.
The wet winter and spring in this area could have several effects on this summer's fire season. Murphy said the snow compacted the fire fuel plants on the ground that were left over from 2018, reducing the danger of those older fuels.
Murphy also said that for the months of March, April and May the Elko airport reported nearly seven inches of rain, which was the wettest spring since 1904. All that moisture has made it possible for an above-average amount of grass to grow across the landscape.
"We have an increased amount of fuel on the ground in the form of cheatgrass as well as perennial grasses," Murphy said. "It will be available for fire at some point. We're seeing that cheatgrass is cured out and ready to carry fire."
Murphy said that following the late spring rains there is still some moisture left in the perennial grasses and the sagebrush, "but we turned the water off in June and July, and it's getting hot, and it's drying country out pretty fast, so late July through August could be a very nerve-wracking month in regards to wildland fire in northern Nevada."
Like they do every year, the BLM is currently bringing in firefighters from around the region to help fight any fires that break out this summer.
"We have fire trucks from all over the Western United States here now," Murphy said. "Dozers, water tenders and engines. They are going to be all around town. …. But one lightning bust and our barn is empty, everyone's out on fires, and we're asking for more resources after that."
"The Elko community has always been appreciative and also treated the extra firefighters that we get in town very well," Deimel said. "They're glad to see them, glad to have them around. Those crews are well treated, and we appreciate that."
According to an April story in Bloomberg Environment, "cheatgrass was first brought to the Western U.S. in the late 1890s in hay bales purchased from Asia to feed horses and cattle in the winter." This version of the story says the grass got its name because some people in Asia cheated by putting this grass into the bales instead of hay.
However it got here, cheatgrass has become an ever-spreading blight on the landscape. It seems to have a love of fire which it uses as a strategy for taking over the land. It grows in a mass across the landscape, dries out early in the season and ignites easily. Murphy said it has the nickname "grassoline." And after a fire, it grows back the next year, while native plants can take years to get reestablished.
Look at maps of Nevada from 1990, 2000 and 2018 with the cheatgrass areas marked in red, and you will see a few red blotches turn into swaths of red that cover much of northern Nevada. Elko is surrounded by red.
A June story in High Country News said that because of the culprit cheatgrass, "The Great Basin now has the nation's highest wildfire risk."
Deimel pointed out that he has read papers talking about cheatgrass and fire danger back in the 1920s, '30s and '40s. The amount of cheatgrass has increased since then, but another big factor that has increased fire danger is that a lot more people live here now. Having more people in an area increases the possibility that a wildfire will turn into a lethal disaster. Also, when more people travel through an area and recreate outdoors, it becomes increasingly likely that someone's actions will start a fire.
A variety of steps are being taken to try to deal with the spread of cheatgrass, including some use of herbicides, seeding competitive plants, and targeted grazing of cheatgrass during the window of time when the plants are green and the livestock are happy to eat it.
Deimel said there are currently several studies of targeted grazing in this area, including two programs within the Elko District and two larger-scale programs.
Deimel commented that some people say that we know that targeted grazing works, and we should just go ahead and send out the cows. However, Deimel said, the BLM has to follow rules and regulations, and the studies allow public input and make it possible to determine the best ways to use targeted grazing.
The April story in Bloomberg Environment quoted Jeanne Chambers, a research ecologist with the Forest Service in Reno, saying, "Cheatgrass is a tough nut to crack. I think that we are providing new tools to better target the work we do. … We still need more research on the effect of targeted grazing on native ecosystems over time."
The Bloomberg story ends on a positive note, with Alan Jenne, the habitat division administrator at the Nevada Department of Wildlife, saying, "I have seen more positive results, we've refined our techniques, we've learned lessons, we've improved our successes. Each year we will progress in this battle. Cheatgrass is a tough competitor, but I think we are gaining ground."
Gerald Miller, a conservation specialist with the State Conservation District Program, said the conservation districts in Elko County, along with fighting a wide variety of nasty noxious weeds, also work on the patches of cheatgrass, medusahead and tumble mustard found on private lands.
"We go out and seed the areas with crested wheatgrass and other fire-resistant grasses to help prevent the spread of fire," Miller said. "Because if you can outcompete annual grasses with a nice perennial grass, you really have done something fantastic."
He said the public lands are so vast, but the conservation districts do have partnerships with federal agencies to provide some help with weed control on these lands, also.
"We're moving forward on the fight against noxious weeds," Miller said. "We have lots of good cooperative agreements and memorandums of understanding."
The conservation districts also control weeds along the county road right-of-ways in Elko County.
Fuel breaks and green strips
Murphy said that two of the tools which the BLM and other agencies use to help deal with wildfires are fuel breaks and green strips.
Fuel breaks are stretches of land where the fire fuels on the ground are reduced.
"Primarily in the Elko District that means mowing, reducing that canopy of sagebrush, keeping the fuels a lot lower to the ground," Murphy said. "We do some discing to kill cheatgrass and some spraying to kill cheatgrass."
He said that in the Elko District the BLM has about 215 miles of linear fuel breaks. They are about 200 to 400 feet wide, so the total area covered by the fuel breaks is about 8,000 acres.
A lot of the fuel breaks go along road systems and some are in wildlands, but all are strategically placed.
"They are designed near or on a road system so we can mitigate that fire behavior, and reduce the flame length to something manageable so our engine resources, our dozers and the aircraft can utilize that fuel break and go in and catch that fire, can throw retardant from air tankers, so we can get boots on the ground around it."
In a green strip area the fuel is not necessarily reduced, but a variety of plants are planted which can outcompete cheatgrass and which hold moisture and stay green later in the season.
"They can hold a site together and give an opportunity to suppress the fire," Murphy said.
Green strips are often planted after a fire to help restore range health.
Last year the Martin Fire north of Elko burned 435,000 acres, making it the largest wildfire in Nevada's history. Murphy said green strips have been planted on the land that was burned.
"We're spending a lot of time and money and effort trying to rehabilitate the areas burned in the Martin Fire," Murphy said.
Summer of fire in Elko County
Ruby fire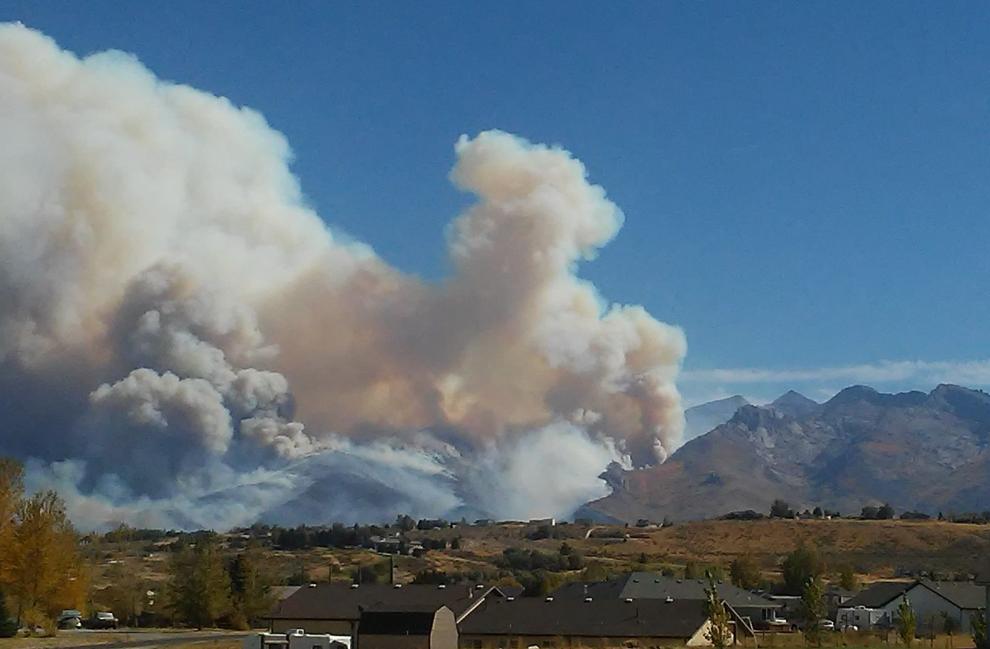 Ruby Fire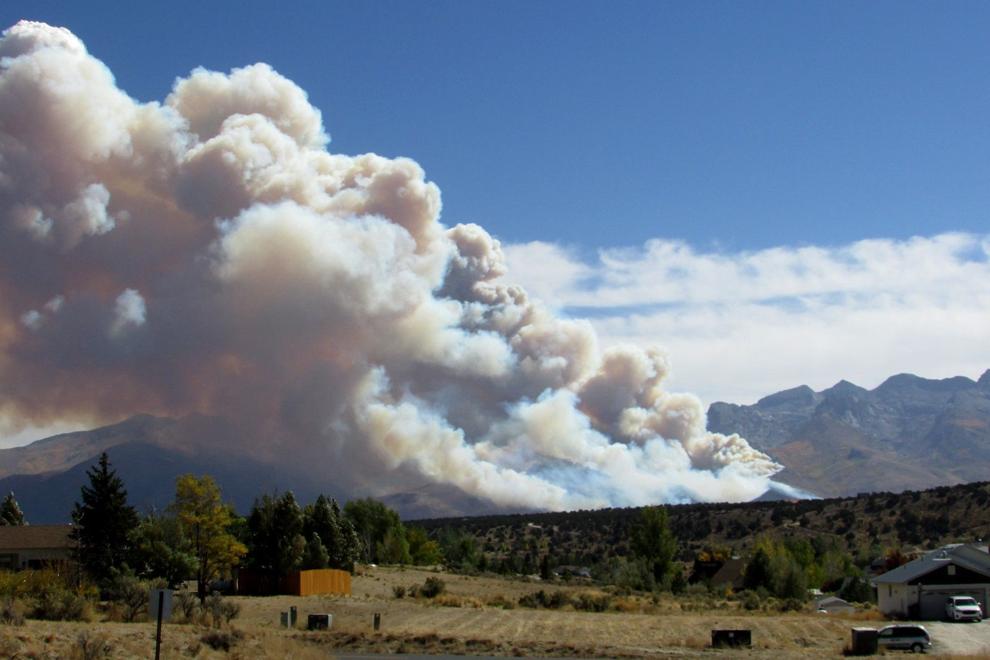 Ruby fire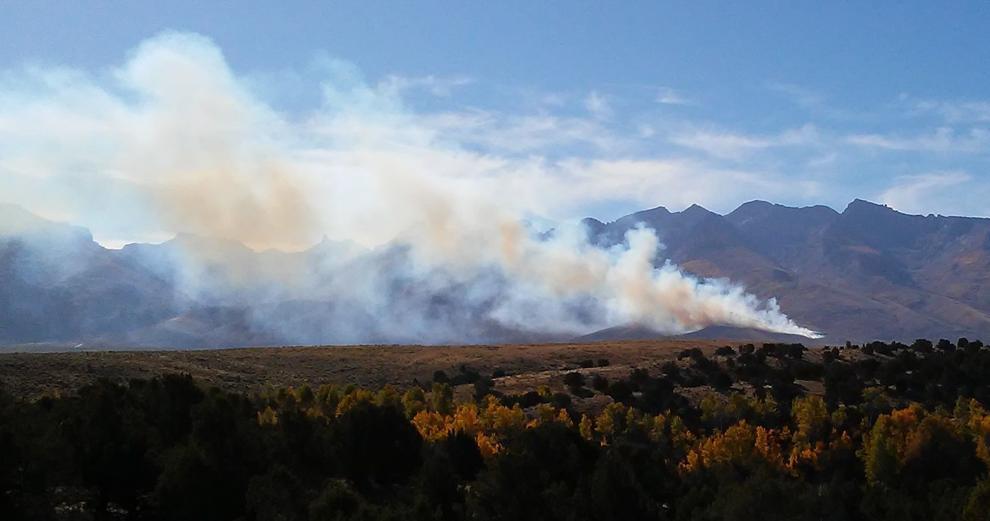 Ruby Mountain fire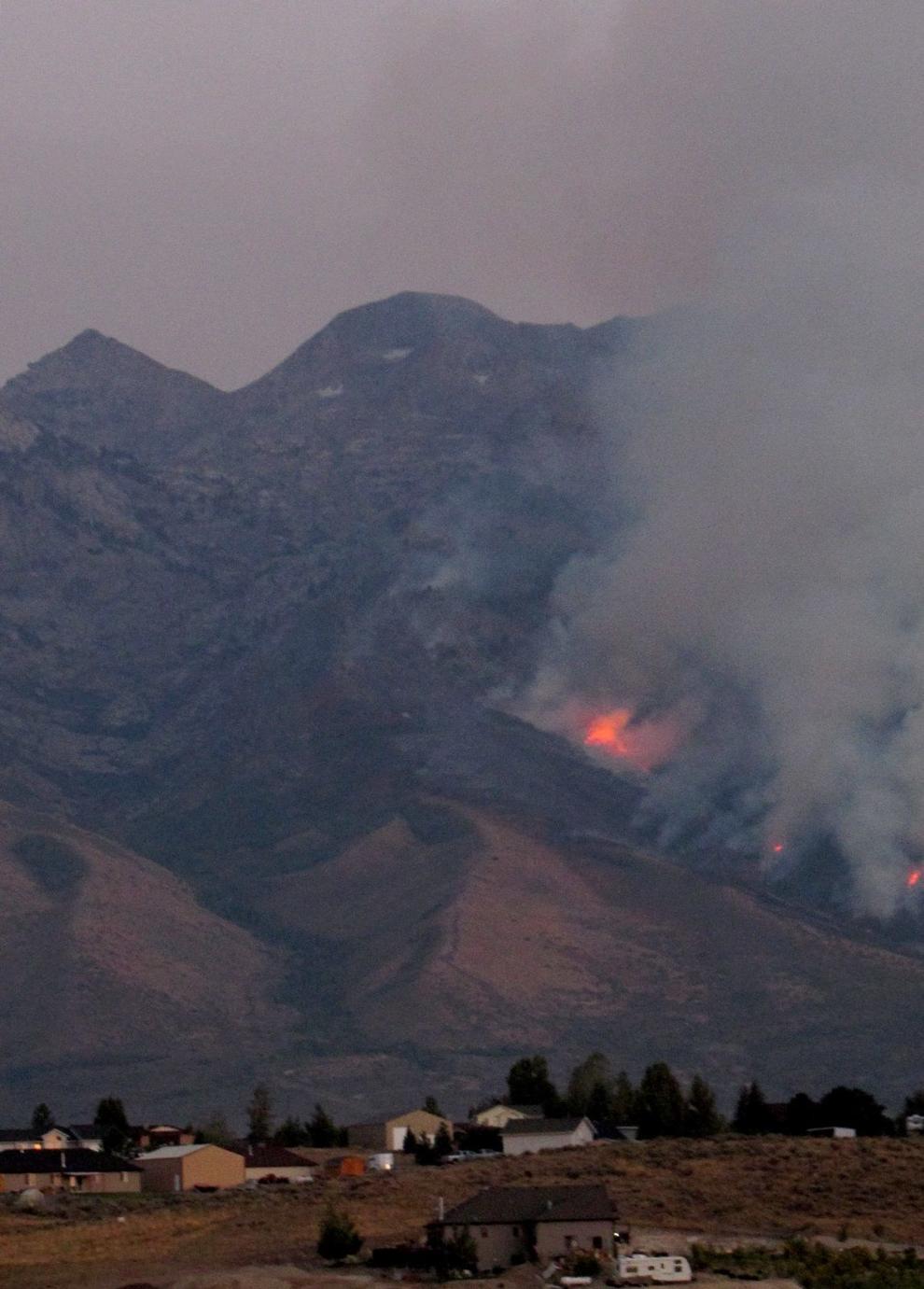 Ruby Mountain Fire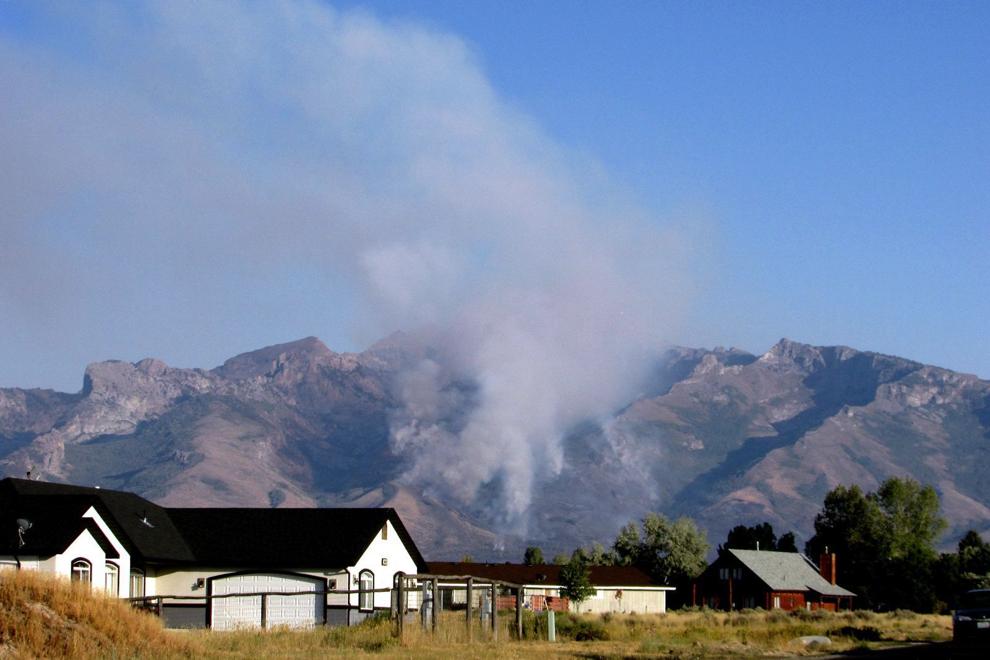 Ruby Mountain fire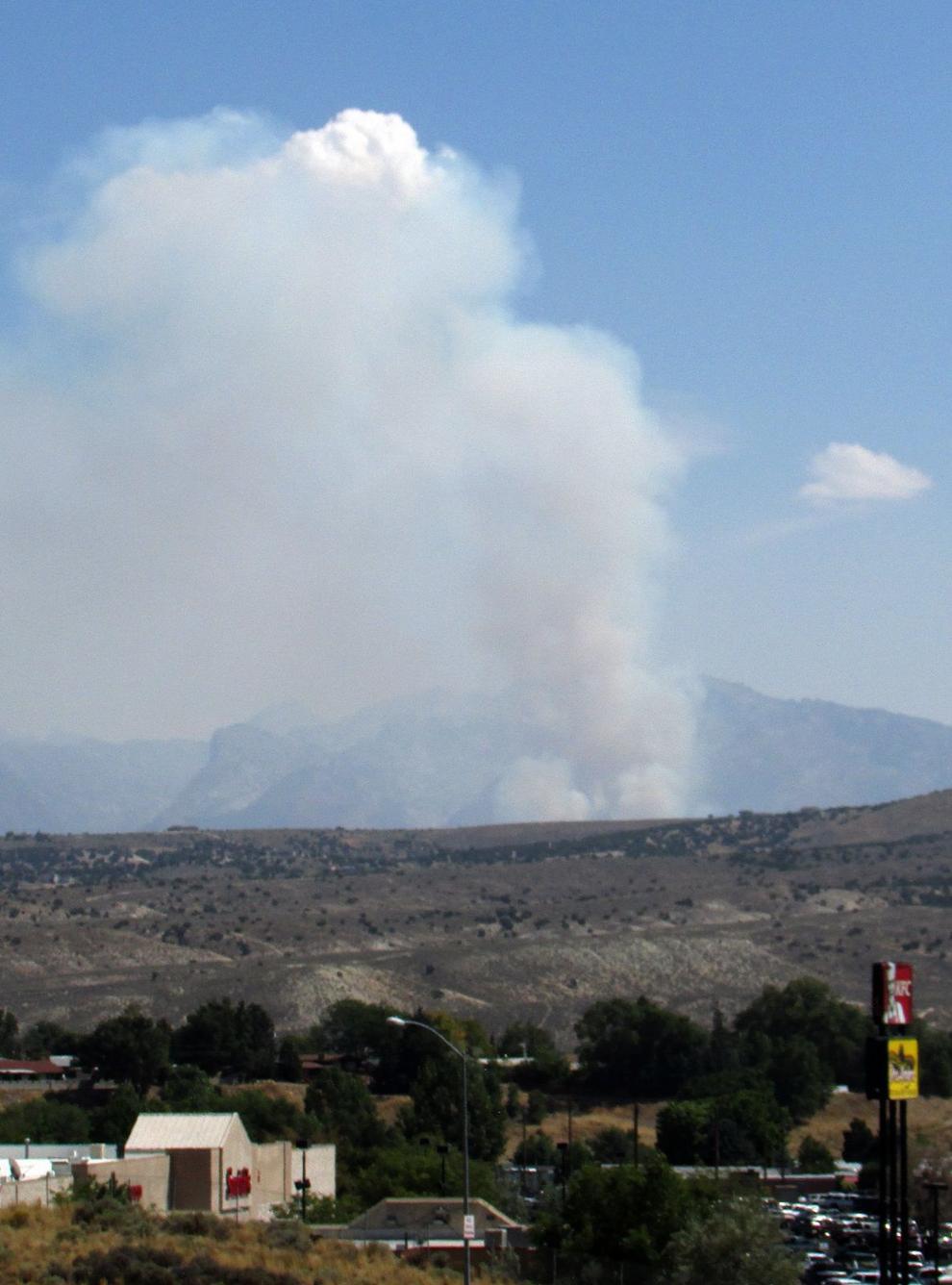 Ruby Mountains fire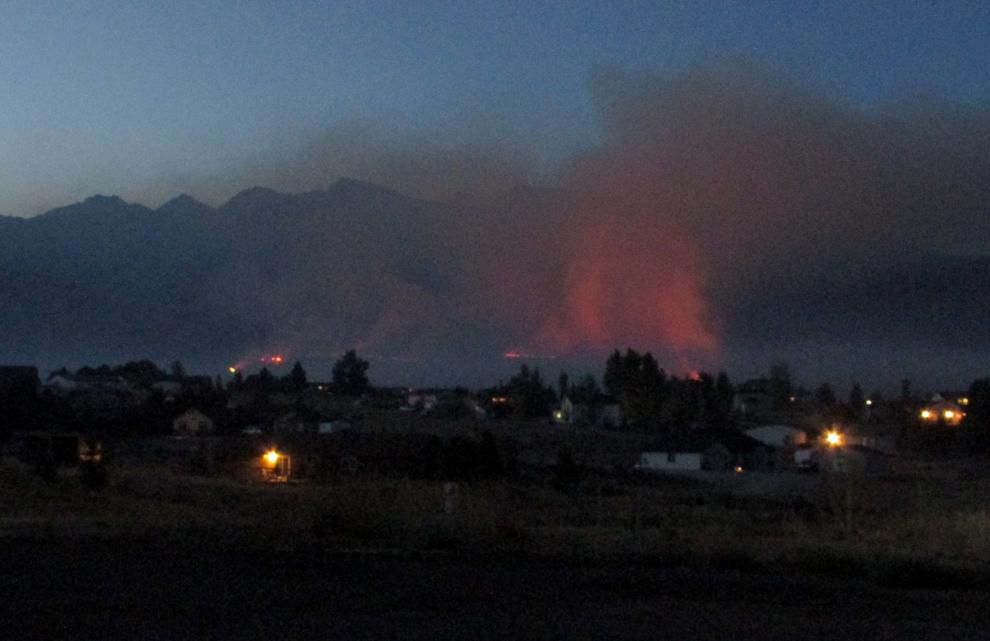 Fire at base of Ruby Mountains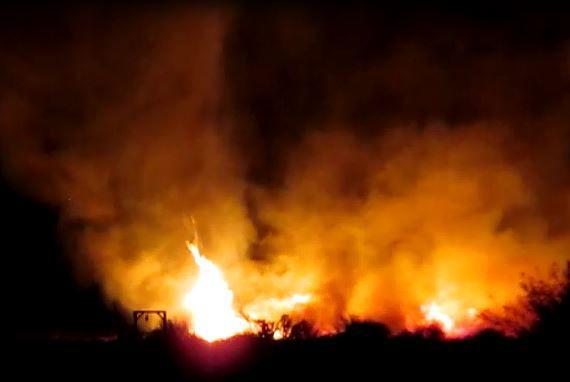 White Rock fire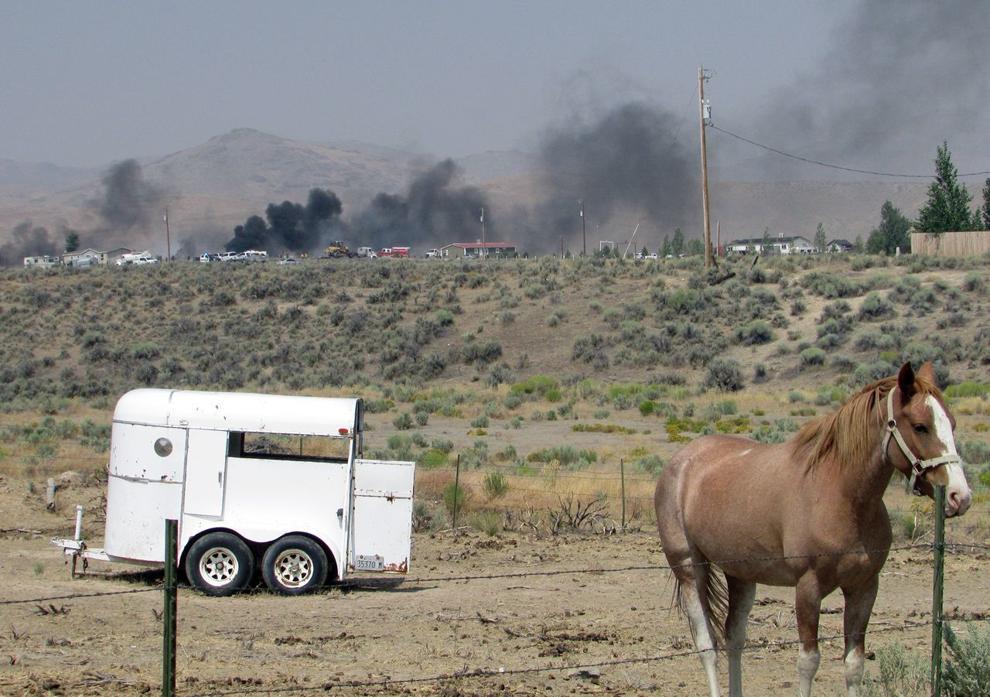 Last Chance Fire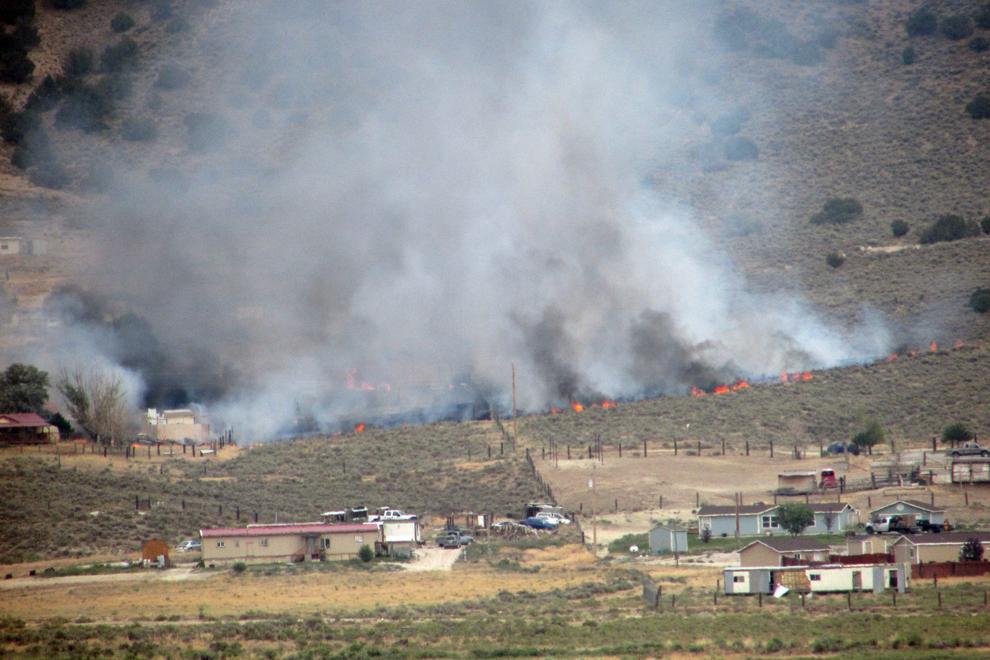 Silver State Fire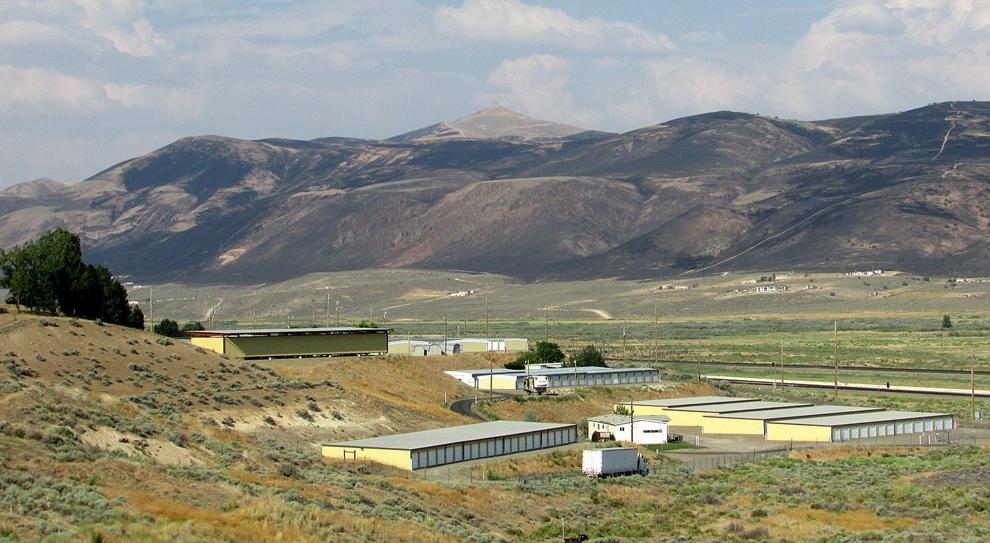 Elko fire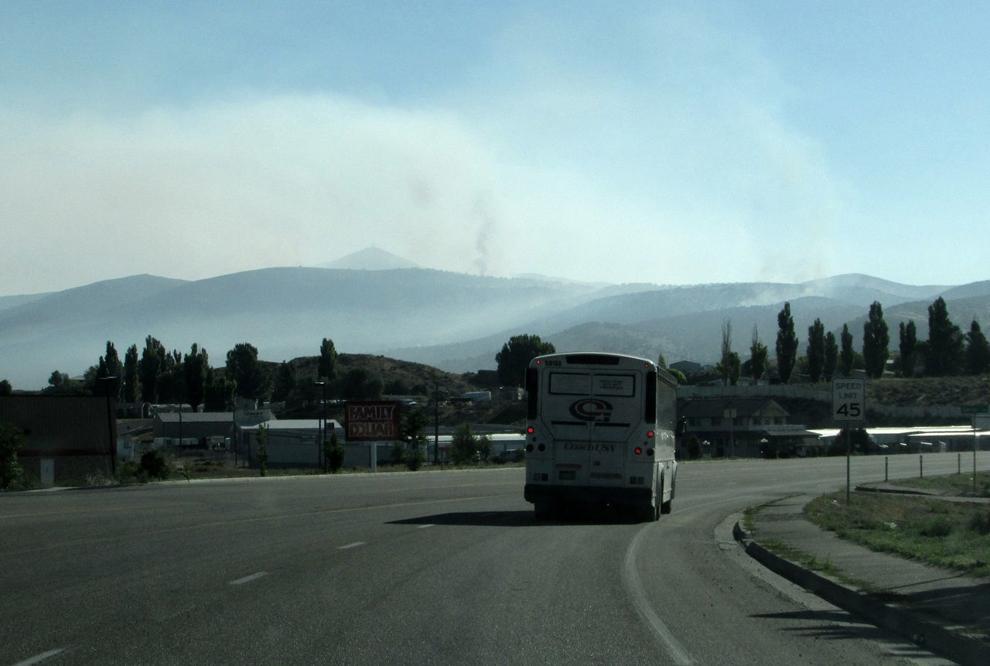 Elko fire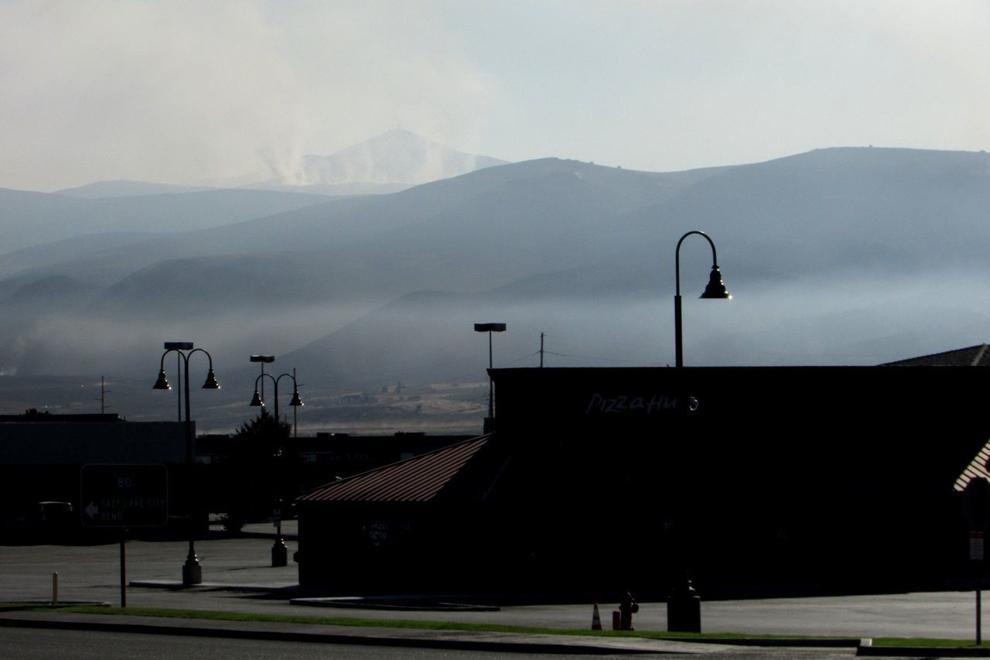 Saturday night fire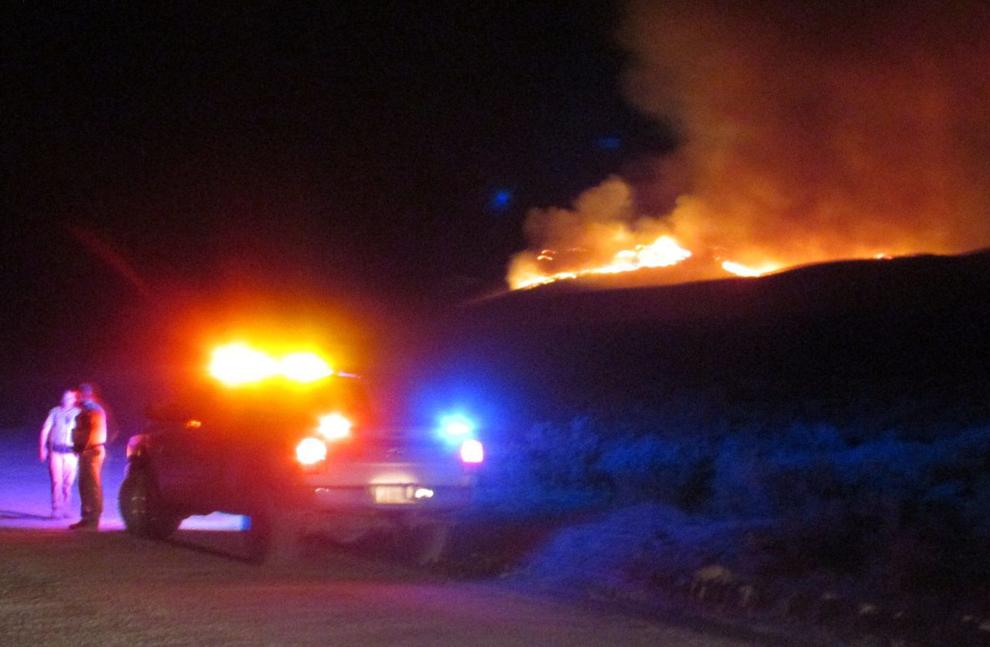 Fire near Wells sends smoke above Ruby Mountains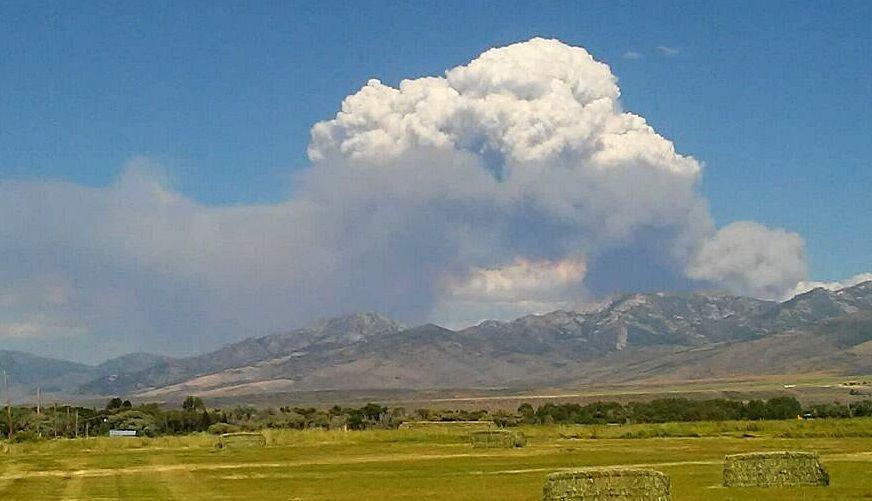 Echo Fire
marina-fire-03.JPG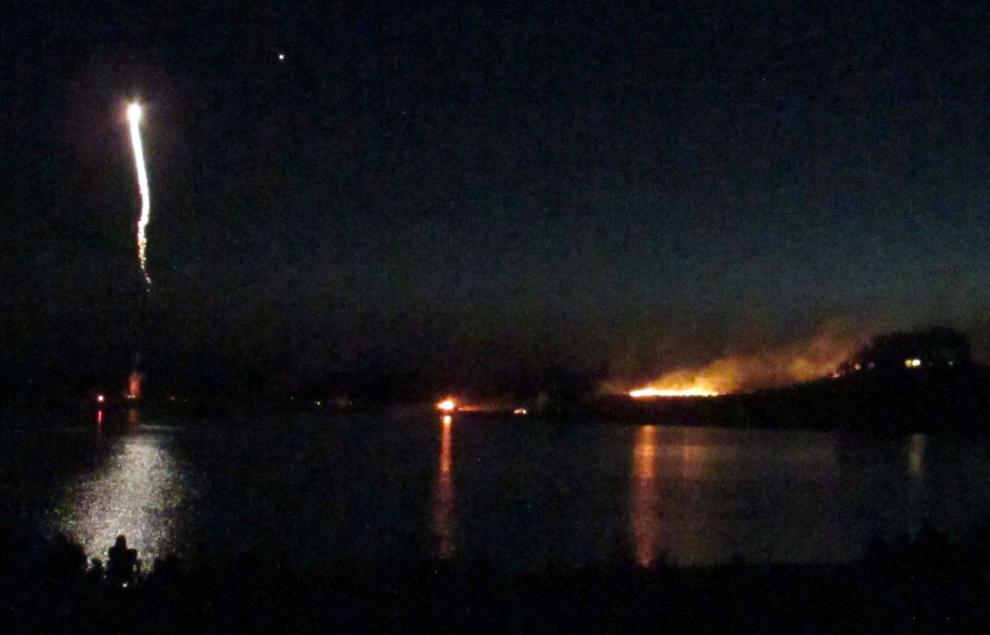 Lake of Fire