ELKO – September 30 is a day Chuck Stout will never forget.
Stout first noticed a large plume of smoke west of Lamoille Canyon around 11 a.m. on a breezy Sunday morning.
A few hours later, the Range 2 Fire was at the mouth of the canyon. Stout, full-time manager and chairman of Camp Lamoille, received a call at 3 p.m. from camp host Karen Taufer, who was checking out the last campers of the season. She reported that the U.S. Forest Service was evacuating the canyon as a precautionary measure as thick smoke was advancing toward the area.
Stout continued to receive reports on the wildfire by text and on social media. By mid-afternoon, he was told that the fire was moving quickly, driven by high winds.
By 6:30 p.m. the fire had advanced to the camp, which was defended by a small group of firefighters who were "doing their best to protect the camp," Stout remembered.
A couple of hours later he received a picture of the lodge fully engulfed by flames.
"Less than 12 hours from the start of the fire, the canyon and the camp, as we knew it, was gone forever," Stout said, his voice wavering. "My heart sunk."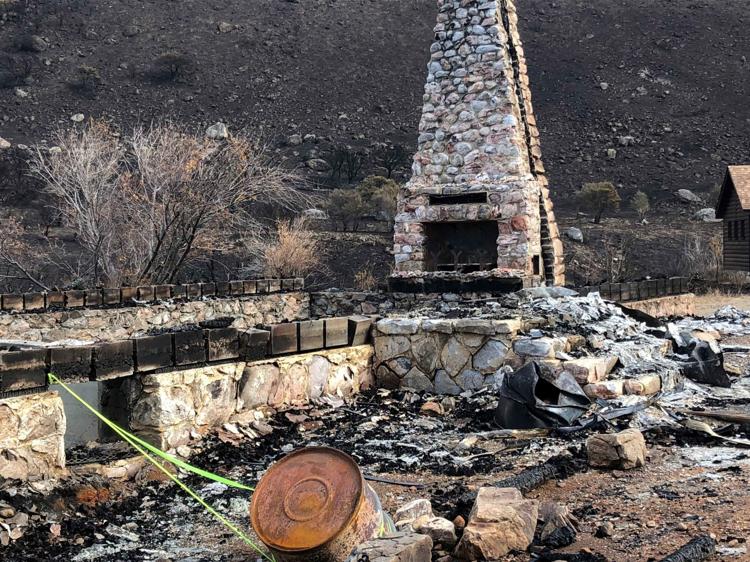 Ten of the 16 buildings were lost, including six A-frame cabins, the lodge and three storage units. The blaze also severely damaged electrical infrastructure and water systems.
What did survive, Stout said, were the administration building, three A-frame cabins, a restroom/shower house, a generator shed, "a chimney and a charred landscaped."
As photos of the fire circulated on social media, Stout received phone calls and texts from concerned residents. Many of them were asking two questions.
"Will you rebuild? And how can we help?" Stout recalled.
Stout had not seen the extent of the damage in person, but at the Lions Club meeting on Oct. 2 where the possibility of rebuilding was discussed, fellow Lions Club member and Elko County Commissioner Delmo Andreozzi brought a damaged sign from the camp that had been burned. The words "Lions Camp" were still visible.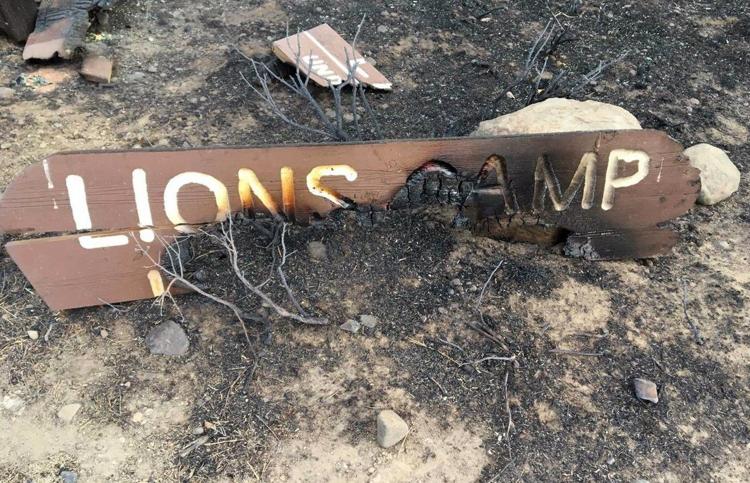 Looking at the sign, Andreozzi spoke. "From the ashes ..."
Stout quickly finished the thought.
On June 1 and 2, about 40 people, including members of Team Rubicon, a veterans group, will begin removing rubble in the first step of Phase 1. It also involves restoring power and water to the camp and repairing the restroom and shower. The work is expected to be completed by late summer.
With an eye on reopening the facilities next summer, plans for Phase 2 include constructing an open-air pavilion and repurposing the existing fireplace and chimney as an outdoor kitchen and barbecue. For lodging, three pre-fabricated cabins will be installed and eight RV parking spaces will be added to the camp.
The third and final phase is the construction of a new single-story lodge and storage facility. Although there are hopes it could be completed by late summer of 2020, all three phases are dependent on funding and the lodge's final permitting from the U.S. Forest Service, Stout said.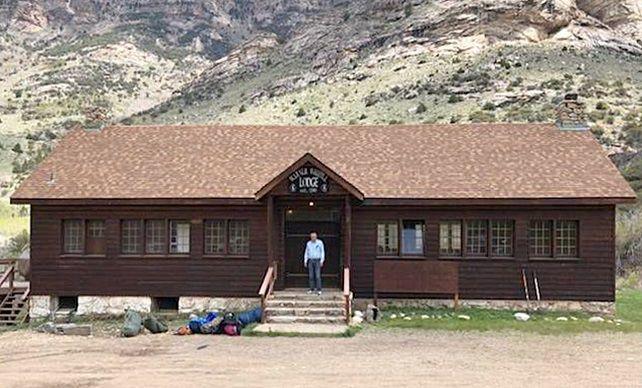 The camp was established nearly 80 years ago on July 1, 1939, when the Boy Scouts of America were issued a special use permit by the Forest Service. The camp opened a year later when Warner Whipple Lodge was constructed.
Since then, the camp has hosted 4-H clubs, Boy Scout and Girl Scout camps and many others who rented the facilities. The Lions Club became stewards of the camp in 1986 and Camp Dat-So-La-Lee was established four years later.
So far, estimates to rebuild Camp Lamoille in three phases come to about $1 million. Phase 1 is expected to cost $175,000; Phase 2 totals about $225,000; and Phase 3 is roughly $600,000.
To date, the Lion's Club has raised about $343,000 through fundraisers, insurance proceeds, and other individual and corporate donations, said Teri Gage, Lions club member and CPA with Eide Bailly.
Although the camp was insured, the policy did not cover replacement value, Stout said.
"There's no fire protection. You're in wildlands," he explained. "They absolutely would not insure for replacement value."
Being able to go forward on restoration within seven months of the fire is "a great start for us," Gage said.
"[We can make] quite a bit of headway this summer on Phase 1, and we're hoping to get a start on Phase 2 as well, depending on the Forest Service and permitting," she added.
In addition to various fundraisers, the Community Foundation of Elko County is accepting individual and corporate tax-deductible gifts on behalf of the Lions Club for Camp Lamoille.
Local contractors, engineers and architects have also donated their services, including A&M Engineering and Lombard Conrad Architects.
The Lions Club has also applied for a FEMA grant to receive about $170,000 for fire resistant siding and roofing for the existing buildings at the camp.
"We are in the top contenders in the state [for that grant]," Gage said. The club is also in the process of submitting a grant application to Lions Club International Foundation for about $100,000 that would need to be matched by the Elko Lions Club
Because of the deep connections many people have had to the camp over the years, donations are coming in from groups who have stayed at Camp Dat-So-La-Lee, including other Lions Club organizations, 4-H clubs, Boy Scouts of America and the Elko Rotary.
As the Lions Club moves forward, they are planning more fundraisers and they also welcome donations of time and materials. Anyone can become involved in the rebuilding process, Gage said.
"The community has been absolutely amazing at stepping up and saying, 'What can I do,'" Gage said. "It makes you proud to be part of Elko County and everything we've put together in such a short period of time."
The date of the fire listed in a photo caption has been corrected in the online version.