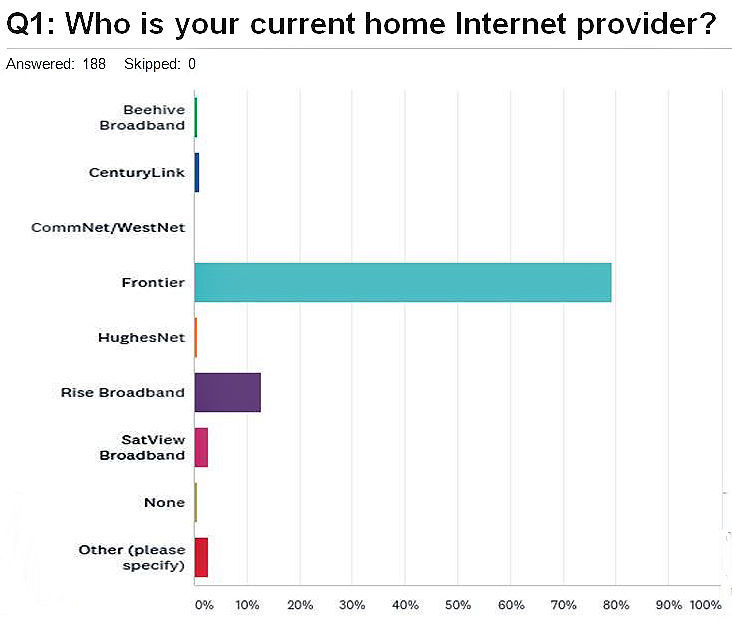 ELKO — Frontier Communications plans to continue efforts to enhance internet services, and any improvements would be good news to the Elko Broadband Action Team whose preliminary survey shows heavy demand for higher quality broadband service.
"Several areas of the network providing internet service to Elko have been and continue to be upgraded, providing enhanced service reliability, and ultimately will enable new and upgraded services," Javier Mendoza, director of public relations for Frontier's West region, said March 30.
The early survey results show 42.02 percent of residents responding were very dissatisfied with their internet provider, and 42.19 percent of businesses were very dissatisfied.
Frontier representatives provided an update on March 27 to the Elko City Council, which had questions and complaints on reliability of internet service.
"Frontier did recognize it could improve upstream and downstream flow and educated the council and the public on some of the issues," Elko Assistant City Manager Scott Wilkinson said the day after the meeting.
He said the company made assurances that it is committed to the community and to providing service.
"In the end, it was a great meeting with great questions from the council. We just have to see what Frontier comes back with," said Mayor Chris Johnson.
Mendoza said the Elko City Council invited Frontier, and "as the local telecommunications and primary broadband provider for the area," Frontier representatives "were pleased to share that Frontier has made positive progress and improved service to Elko and the surrounding area. We also wanted to affirm that Frontier is committed to its customers and the communities we serve."
The mayor said Councilmen Reece Keener and John Patrick Rice "asked very good questions."
Great Basin College has its own system, but students taking online courses have problems uploading their assignments, said Rice, who has experience teaching online classes at the college.
"We can get the classes out to the students, but the challenge is for students to get assignments back to the college," he said in a phone interview.
The community needs better internet service not only to help college students but for economic development and for current businesses and the mining industry, and Frontier should be a partner, Rice said.
Mendoza said Frontier "is pleased to support the efforts to recruit business growth."
Keener said on March 29 that "high dissatisfaction exists in Elko among broadband customers that are eager for higher quality service."
He said the dissatisfaction is the "reason why the Governor's Office of Science, Innovation and Technology prioritized Elko and White Pine counties" and is working in conjunction with the Elko team.
The team of community leaders, IT professionals and stakeholders has been inviting potential service providers to its meetings, and Keener said he is confident "we will see investment within the next few months in the Elko area. There are a lot of wireless solutions available now."
Frontier representatives at the council meeting made a couple of points that both the mayor and Wilkinson said helped explain why service could be slow or interrupted. If users have several apps open that can affect service. Also, rural users may have more problems.
Mendoza said in an email there are several factors than can influence online use, and the company has an online help center that features tips and simple instructions. The center is at https//frontier.com/helpcenter/categories/internet.
He also wrote that Frontier serves very rural parts of Nevada, so customers are "located many miles from the core Frontier network facilities used to provide broadband service, which makes it technologically and economically challenging to provide faster internet speeds. However, Frontier is continually evaluating and working to improve its network and has and will continue to undertake various initiatives at a customer and community level to enhance its internet services."
One solution Frontier is testing is using fixed-point wireless to serve rural areas, Mendoza said.
The company reported to the council that Internet traffic is up 25 percent in the Elko market, and a lot of that is due to video streaming that takes a lot of resources, as well as cloud services and social media.
Rice said Frontier representatives at the council meeting seemed more concerned about streaming Netflix than meeting the needs of the business community.
"I'm pretty disappointed in them," he said.
Frontier's council presentation showed improved service performance so far in 2018, up from the fourth quarter of 2017. Service orders meeting performance was at 98.3 percent, up from 94.37 percent, and commitments met was at 92 percent, up from 89.98 percent, while trouble tickets were down to 1,244 from 1,712 for all of Nevada.
"Frontier understands the unique nature of serving rural communities. Our system is constantly monitored, and our crews respond with urgency to troubleshoot and resolve all reported issues as quickly as possible," Mendoza said.
Keener said he was disappointed Frontier didn't have figures on Elko alone for the council presentation. He also said he believes Frontier has failed to invest enough in new equipment to provide good service.
Frontier, which has a presence in 29 states and is based in Norwalk, Conn., is looking for federal grants for service to rural areas, according to one of the slides presented at the council meeting.
The broadband team, meanwhile, is actively seeking more participants for its survey on broadband service, and Keener said he forwarded a copy of the survey results as of March 27 to Frontier.