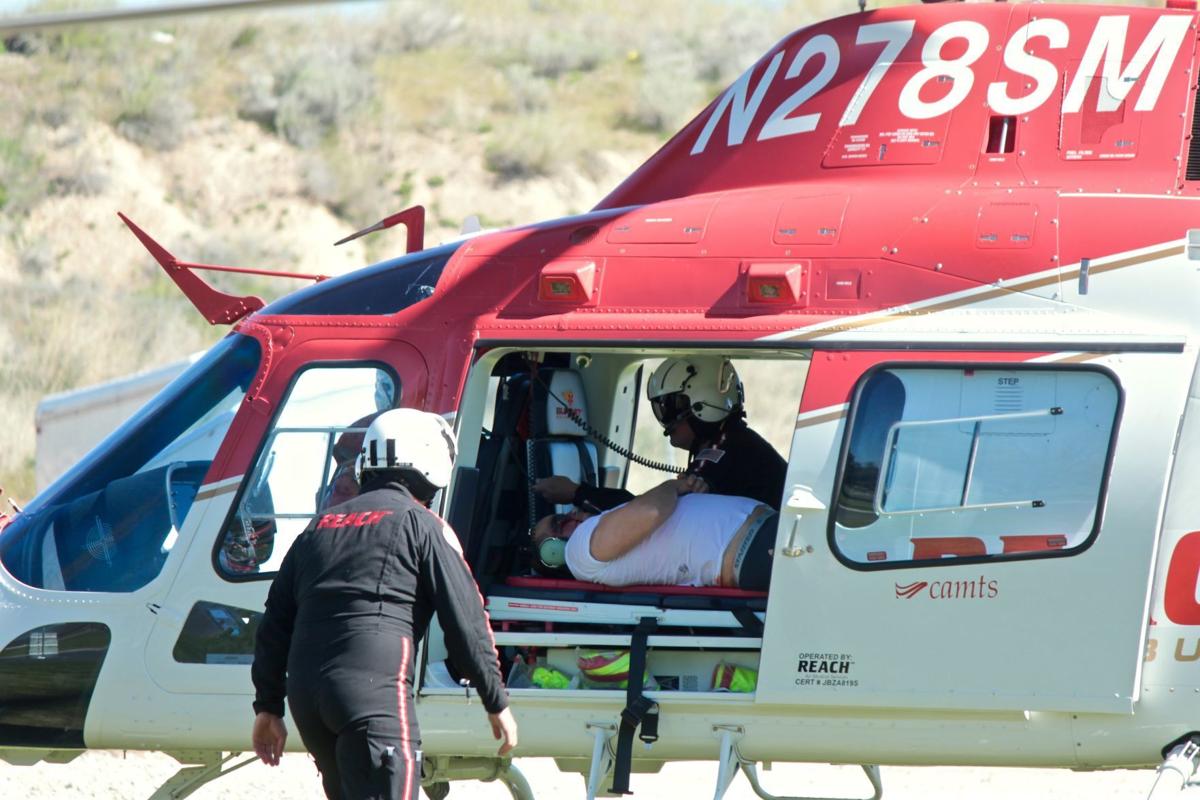 ELKO — A large number of frontline and other essential employees have "given their all" in Elko County throughout the deadly Covid-19 pandemic. Health care workers and law enforcement are among those tasked with some of the toughest efforts.
"We have seen an uptake in Covid-19 transports," said Bernice Jensen, Reach Air Medical clinical base manager. "The company follows all CDC guidelines to provide all of our teams with the appropriate transports."
Jensen is an established professional in her trade. She received her nursing education at Great Basin College. Prior to starting at Reach, Jensen worked at Northeastern Nevada Regional Hospital as an emergency room technician and a registered nurse.
Support local news coverage and the people who report it by subscribing to the Elko Daily Free Press.
"I have two bases here in Elko," Jensen said. "One is a fixed wing base and the other is a helicopter base. Then I work with another clinical base manager that oversees Ely and Reno. I cover the Elko services and intertwine with the other two."
In the Elko area alone there are 13 clinical staff members and eight pilots. Each flight requires one pilot and two staff members, according to Jensen. At times, more than one flight may be in transit.
"Our staff members are on call 24-7. Between the two bases it's a total of six people on duty at one time to staff both aircraft."
"You take an increase in stress just around the Covid-19 and transporting those patients," Jensen said. "And then you look at what it has done to our community. We've got employees who now have to go home and be home school teachers. Our lives, in general, as a community have changed."
All of these factors make a difficult job even more difficult.
Healthcare workers on the front lines of the coronavirus pandemic risk exposure to the virus daily. The public health crisis is also taking a toll on workers' mental health. This can contribute to anxiety, stress, depression and loneliness.
"You hear about "Covid fatigue," Jensen said. "We have peer support within the company. It's confidential. There are two other programs we have implemented in the company. We also have an employee assistant program that might help."
Healthcare workers are also functioning under situations that have been compared to a war zone. Many continuously witness the direct effects of the pandemic as it spreads, disables and kills.
Jensen could not give an exact number of patients that have been transported for Covid-19 because that number is confidential. She was also unable to state whether any local staff had contracted the disease. Nicole Lee, public relations manager for the company, confirmed that each crew member undergoes an ongoing evaluation, including a temperature check every 12 hours, along with other assessments.
"I will tell you that I have an amazing team," Jensen said. "They are caring, compassionate and knowledgeable. They really, truly care about this community. They are resilient and they work hard."
"We all want to make it through and support those who have gone through it," Jensen said.
Part of the stress of working with people who have this disease is the hugely diverse number of symptoms patients can experience.
"It's definitely a 'weird' virus. It affects everyone so differently."
During former pandemics, such as the H1N1 Flu (Spanish Flu) in 1918, Severe Acute Respiratory Syndrome (SARS) in 2002, and the H1N1 Flu in 2009, law enforcement agencies worked with government and public health officials to contain spread, serve community and maintain public order.
The 1918 outbreak was the worst pandemic of the 20th century as more than half a million people died in this country and approximately 50 million perished worldwide.
Covid-19 is quickly reaching similar lethal dimensions in the U.S., with deaths topping 473,000 this week.
Because the virus is primarily transmitted through respiratory droplets during person-to-person contact, law enforcement officers are at a high risk of exposure because of their direct contact with the public.
Elko Police Chief Ty Trouten said his department has been fortunate. A few people have tested positive for Covid-19 during the pandemic, but the disease has not spread very much.
According to the "Officer Down Memorial Page," more than 100 law enforcement officers — mostly police, sheriffs and corrections officers — died in 2020 from COVID-19 on the job. That number exceeds cases of gun violence, car accidents, heart attacks or other causes.
"I think, like all frontline workers and people who continue to work today, it's difficult not knowing what restrictions are coming next," said Trouten. "It is onerous and takes a toll on everyone. We, like everyone else, would long for a return to the pre-pandemic time. We are hopeful on the vaccine side and have had several staff vaccinated."
Even with the hope that a vaccine brings, Trouten's workforce is facing a lengthy haul.
"It just feels like this thing drags on and on," Trouten said. "The job is stressful as it is. I think we are rapidly reaching a point where people are burned out."
Trouten said the department has a system set up for treating stress, but nothing specific to Covid.
"One of the hardest things is that there is a division in the public itself," Trouten said. "There has been pretty good cooperation in so far as people can."
"I think one of the greatest frustrations throughout this whole thing is that there is not a single source of credible information with regards to the pandemic as to what does work, what doesn't work," he added. "We have confusion between the CDC and the World Health Organization. We have a multitude of legitimate experts and they can't agree on things."
"It contributes to an overall malaise," Trouten said. "We are pushing almost a full year into this pandemic and that is more than ample time to have some really good understanding of what does and doesn't work."
Battle Born Youth Challenge Academy opens in Carlin: