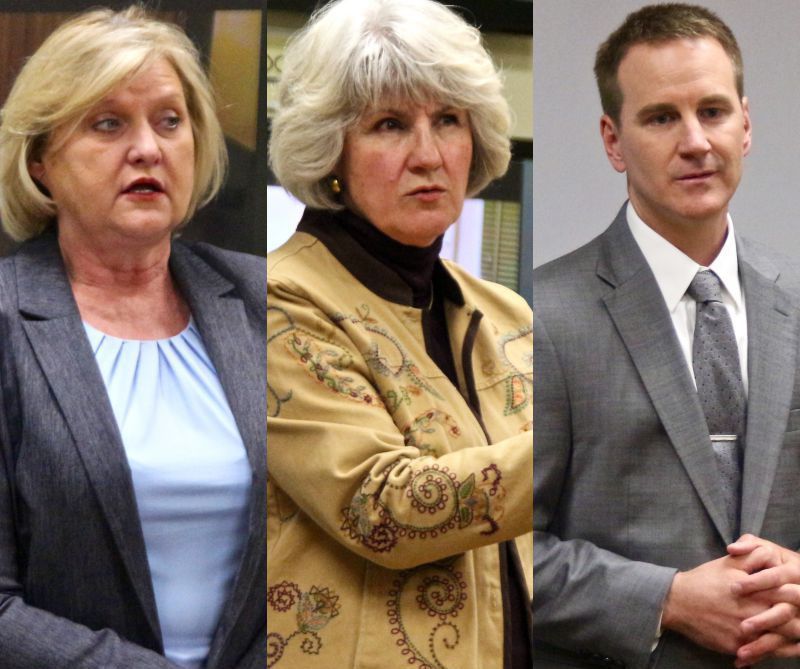 ELKO – Three candidates applying to become Great Basin College's next president began a week of meetings and interviews with a public forum Monday night.
Dr. Barbara Buchanan, Joyce Helens and Dr. George McNulty discussed their background and goals for GBC with the public, which included college staff, faculty and community members.
On Tuesday, the candidates met with Chancellor John White, President Mark Curtis, and Vice President of Academic Affairs Lynn Mahlberg, and participated in other public meetings on campus.
Dr. Buchanan has been vice president of academic affairs at Truckee Community College for two years, and explained her education background, "starting out at a community college smaller than this one in Carthage, Texas" where she was a professor of English and history.
"I do understand the system," Buchanan said, noting her experiences with Nevada System of Higher Education at TMCC.
"I do believe in pulling people together," Buchanan said, adding that "students win in the end."
Buchanan described "taking GBC to the next level" by building on the high school dual credit program, working with business leaders in the community to develop a trained workforce, and striving to keep "students on campus until they graduate."
"I'm honored to be here. You are doing great things here," Buchanan said in her closing remarks.
Joyce Helens is the current president of St. Cloud Technical and Community College and explained one of her "core values is to advocate for those who can't advocate for themselves."
When asked how she would utilize her core values to guide her governance at GBC, Helens noted that there is "shared governance" at her college and "some of it is because it is contractually issued" due to the unions in Minnesota.
"I have something called 'I live here, I work here,' by that I mean we know the atmosphere and what we have and we create that, we don't let outside do that to us," said Helens.
You have free articles remaining.
Helens explained, "We ask ourselves the hard questions first and then we say 'we're going to be proactive.'"
Answering a question about GBC's large service area and distance education, Helens explained she currently is "looking for different ways that we could provide" online classes for those who live in rural areas in Minnesota.
"I think it depends on the needs of the community," Helens said, adding that her passion has been to assist in rural areas.
Dr. McNulty told of working as an adviser at TMCC.
"My foundation is academic advising and counseling and navigating the numerous processes of higher education," he said.
As the Vice President of Student Affairs, McNulty is responsible for a broad range of services and operations at the college level and co-chairing the strategic plan for the Academic Counsel.
McNulty explained he is very interested in acting on data collection and answering the question in the value of the data, using an assessment approach in student affairs.
McNulty said that for workforce development at GBC, he would look at the national perspective as a start, noting that the amount of degrees and certificates coming out of the college was "pretty outstanding. Something good is going on here."
"The first thing I'd focus on is an evaluation," McNulty said. "I'd ask a lot of questions to get a baseline where are we at and where do we want to go."
Chancellor John White said a decision could come on Thursday after the search advisory committee and the Board of Regent's ad hoc GBC President Search Committee meet on Wednesday and interview the candidates, making a recommendation to the board.
"The board will have a meeting on Thursday and select a president," said White, explaining that "it is possible the committee could send more than one recommendation and then the board would have to decide."
According to White, about 40 applications were received and were narrowed down to four candidates, with three accepting the invitation to come to Elko.