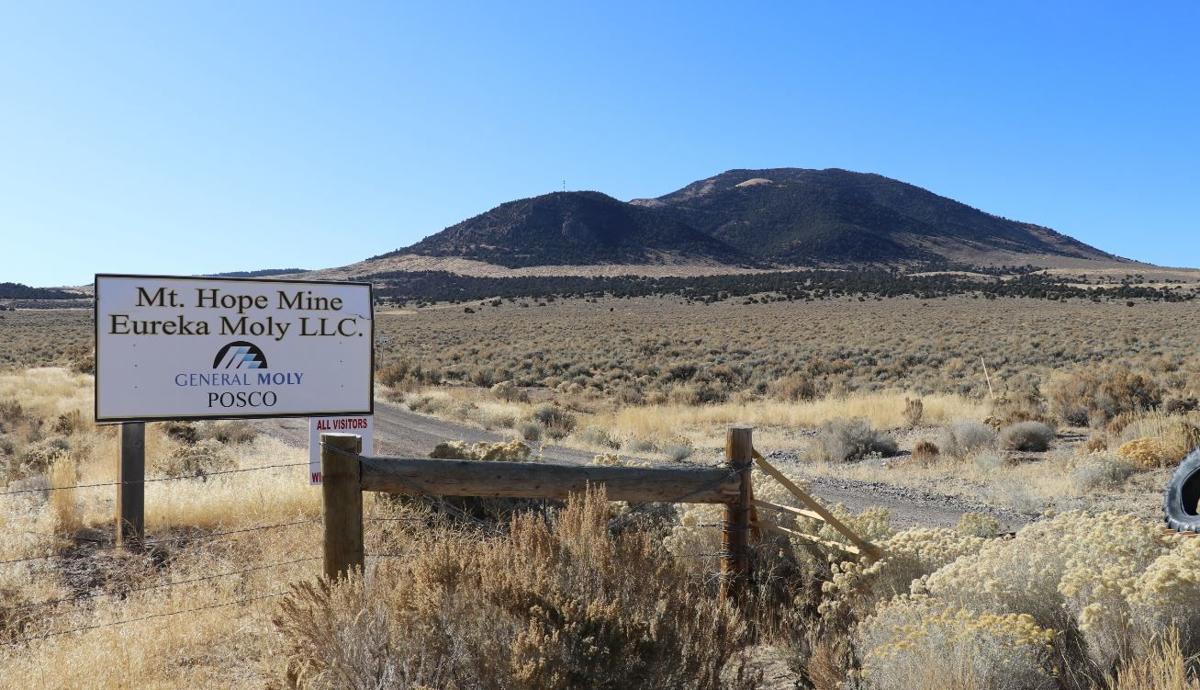 After a variety of good news and bad news throughout 2019 about the Mount Hope molybdenum mine project north of Eureka, General Moly Inc., the company developing the project, issued an update on Jan. 21.
"The company will enter the next phase of its evaluation of strategic alternatives," General Moly said in the press release. "This initiative will be supported by the backdrop of a positive molybdenum market outlook and by the benefit of the company's many accomplishments of 2019, underscored by the Mt. Hope project having become fully permitted."
There will be a story about General Moly and the Mt. Hope project in the spring issue of the Mining Quarterly, which will be published in early March.
The Mt. Hope project became fully permitted in 2019 with the receipt of the Record of Decision from the federal Bureau of Land Management in conjunction with approval of the Supplemental Environmental Impact Statement by the Bureau of Land Management in Sept. 2019. Also, the Nevada state engineer issued the water permits for mining use at the Mount Hope Project in July 2019.
There could still be some potential hurdles. Great Basin Resource Watch, which has been challenging the Mount Hope project for years, along with the Western Shoshone Defense Project filed a lawsuit on the Mt. Hope project on Dec. 17, 2019 asking the court to "to declare that the ROD (Record of Decision), FSEIS (Final Supplemental Environmental Impact Statement), and Project/ROW (Rights-of-Way) approvals and decisions signed and prepared by DOI (Department of Interior) and BLM for the Project (including reliance on the still-inadequate 2012 FEIS upon which the new analysis and approvals rely on) are in violation of federal law."
Last summer General Moly announced that its partner company Amer had not made a stock purchase which was expected at the end of July. General Moly and Amer had entered into an Investment and Securities Purchase Agreement in 2015, and as part of the agreement, General Moly said, after the Mt. Hope project received its water permit approvals on July 29, Amer was supposed to purchase 20 million shares of General Moly common stock for $10 million within two days, which did not happen.
General Moly announced in December that the dispute with Amer International Group had been resolved.
"Amer invested $4 million in a private placement at $0.40 per common share in December 2019," General Moly said. "Amer agreed to use its reasonable best efforts to assist the company to obtain up to $700 million of Chinese Bank financing toward the funding of the Company's 80% membership interest contribution for the construction and development of the Mt. Hope Project."
General Moly said this week that it is working with its "financial advisors on securing incremental financing and evaluating other strategic alternatives, including the potential addition of new Mt. Hope project partners, additional corporate strategic investors, merger opportunities, and/or the possible sale or privatization of the company."
General Moly also said there is a strong market outlook for molybdenum.
"According to projections by the CPM Group, a metals research, econometrics, and consulting firm, based in New York, moly is anticipated to run into a deficit over 2020-2024," the press release said. "CPM anticipates the sharpest supply deficit in 2021 and 2022. CPM is forecasting moly real prices to increase by more than 30 percent in 2020 to average above $12.50/lb., compared to the current price of $9.60/lb., with a further increase to over $13.50/lb. in 2021."
Molybdenum is a metallic element used primarily as an alloy agent in steel manufacturing. When added to steel, molybdenum enhances steel strength, resistance to corrosion and extreme temperature performance. In the chemical and petrochemical industries, molybdenum is used in catalysts, especially for cleaner burning fuels by removing sulfur from liquid fuels, and in corrosion inhibitors, high performance lubricants and polymers.
Get local news delivered to your inbox!
Subscribe to our Daily Headlines newsletter.