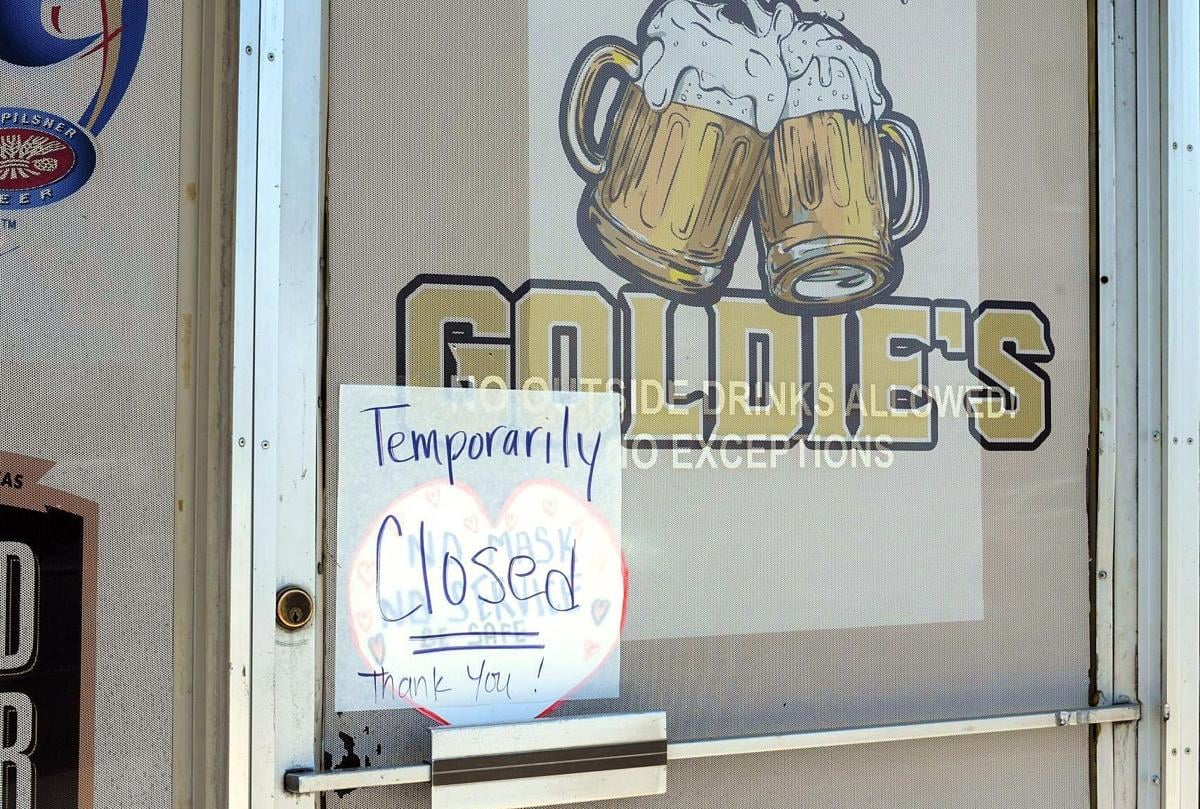 ELKO – A downtown bar that remained open following Gov. Steve Sisolak's closure order of July 10 has had its business license revoked.
Ron Goldie, owner of Goldie's bar downtown, went before a business license revocation hearing with the Elko city manager and other city officials Aug. 6 after being warned several times about disobeying state emergency directives during the Covid-19 crisis.
"There was a hearing and they [the owner] came in and they were given probably an hour and a half to two hours to tell their side of it," said Elko City Manager Curtis Calder. "We had witnesses that testified on various subject matters both from their side as well as our side. Ultimately, I upheld the city clerk's original decision to revoke [their business license.]"
Calder said the owner has a right to appeal his decision before the Elko City Council on Aug. 25.
Ron Goldie said he is going to appeal.
Calder said the main reason the license was revoked was because Goldie's remained open when they should have been closed pursuant to Gov. Steve Sisolak's Directive 027, which requires all bars that are not licensed to serve food to be closed.
According to Calder, shortly after the directive came out the Elko Police Department informed the various bars in town, making sure they knew about the directive and what it required.
"All bars that are not licensed to serve food, with the exception of Goldie's, closed," Calder said. "Goldie's remained open then they received a written notice of violation around July 18. This is the only instance where we have issued one of these and the business hasn't complied. They were arguing that they do have a license to serve food."
Calder explained that the bar only has the basic bar/service bar permit from the Nevada Department of Health and Human Services. That permit only allows for alcohol, ice and items like chips or pretzels.
Calder said the bar had a menu which included things like meatball sandwiches, enchiladas and other meals.
"They had been serving food illegally for God knows how long without proper licensing," Calder said. "We did have the health department at the hearing and they testified to that."
"I have a health department license food establishment license that says 'no restrictions' on it," Goldie told the Elko Daily. "I have had it for 28 years. I have been operating off of that license all these years serving food off and on and it's never been a problem until now.
"I did not know that I had to have an additional license and I didn't know that was the wrong license," he said. "And furthermore, back in June, the health department came in and did an inspection and we got a 96 out of 100. On the inspection sheet they used it says 'Food Establishment Inspection.' I was staying open because I thought I had a food establishment license and I still believe I do."
According to Calder, another issue occurred earlier this year.
"There were some issues brought up during the hearing with regard to the initial closure back in March and April," Calder said. "We had heard a rumor that they were not in compliance and sent the police department over there and they refused entry, which is a violation of the liquor code."
Calder said Goldie's has closed since the hearing, pending the appeal.
"I wanted to stay open because I have seven employees, some of them single mothers, some of them live from paycheck to paycheck and now they are all out of work," Goldie said. "I got word of it not being the right license [about] two weeks before I had to go to the hearing."
Goldie said he has applied for the correct license and it is now being processed.
"It is a serious matter when you have your business license revoked," Calder said. "It's not something we take lightly. It's not something we like to do. But, when we have a business that is operating in the City of Elko and not complying with our police department or our city clerk, that's going to be a problem."
"I deserve the opportunity to do the right thing after all these years," Goldie said. "I never meant to do anything wrong."
Comments on Facebook varied, mainly in support of the business.
One woman posted over the weekend that Goldie's had lost its license after being in business for 28 years.
"I was in there with friends Monday evening," wrote another. "I had a hot dog and chips, and a friend of mine had a burrito. They do serve food."
Several dozen bars in Las Vegas have sued over the closure order, according to The Nevada Independent.
"The disparate treatment of bars and taverns is unreasonable because there is no rational basis for treating bars and taverns differently than other, similarly situated, non-essential businesses," the lawsuit states.
Downtown emerges from lockdown: