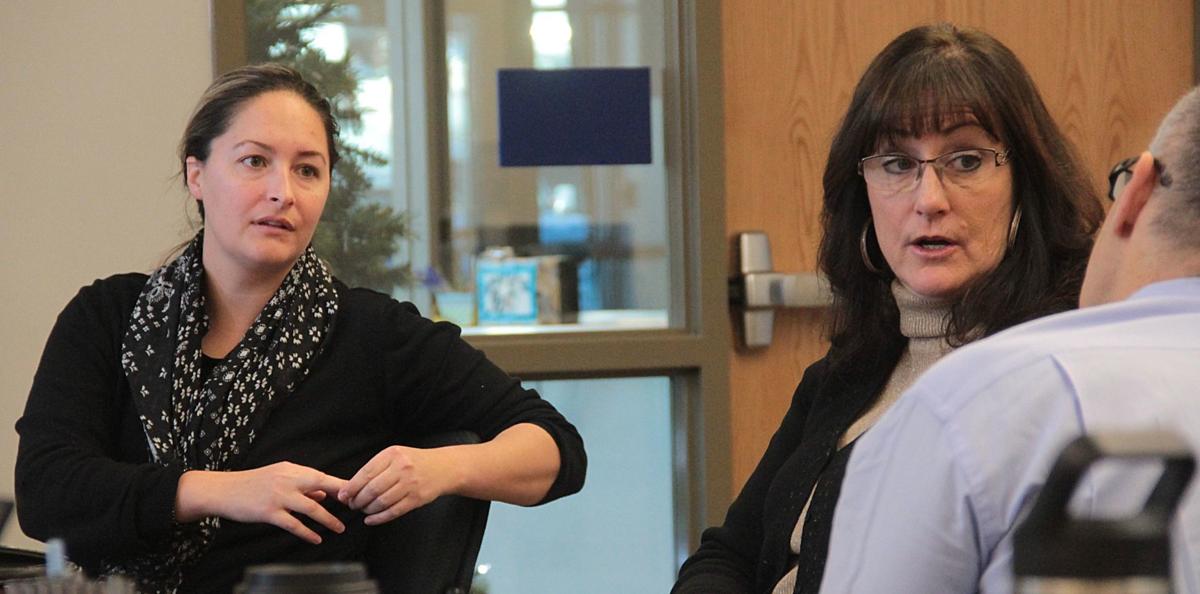 ELKO — Slow internet speeds affecting Spring Creek customers were brought to the attention of a team from Gov. Brian Sandoval's office Wednesday, who are searching for ways to improve data service to the growing community.
At a meeting of business and government leaders Dec. 6, Jojo Myers Campos, broadband manager for the Governor's Office of Science, Innovation and Technology, and members of the E-Rate Central Nevada team discussed options for Spring Creek and Elko County residents to receive high-speed internet.
The goal for the meeting was to examine "a whole community approach," Myers Campos said, and lay a "strong enough foundation and a thick enough foundation … for our future progress."
Including Spring Creek in the discussion was important to "tie in … and connect the dots" to prevent having a "fragmented" community, she said.
Myers Campos also cautioned that it could take some time before results of the meeting could be seen.
"Nothing in broadband happens fast," she said. "We're just now starting this journey."
Jessie Bahr, Spring Creek Association president and general manager, said Spring Creek residents have been dealing with slow internet speeds for years and asked the team for guidance in resolving problems with Frontier Communications, the area's main provider.
"We have a population that's growing," Bahr said. "[The population] is rivaling Elko. It's coming up quickly."
Currently, an urgent care is under construction and a new elementary school — both in the Marina Hills area — is set to break ground next year. The projects increase the need for stronger internet service, along with homeowner and business owner needs, Bahr said.
"What can we do? Our homeowners are crying out to us and they are in such frustration," Bahr said.
"It's a constant headache" for some residents who take online classes, she said, explaining that she has met with Frontier representatives and is working with the Attorney General's Bureau of Consumer Protection to resolve the matter.
More than 50 complaints about Frontier have been received by the BCP, Bahr said. "We don't know what route to go."
Myers Campos said Frontier Communications provides a four-gigabyte circuit to Spring Creek, "but they don't have the equipment on the other end for that four-gig circuit."
M. Duane Barton, computer systems director for the Elko County School District, told the team that potential fiber optic cables needed for the schools could be used by other businesses "as a transport back into town."
The cables would go up to Spring Creek High School, Barton said; however, there were plans to extend it to the new elementary school in Marina Hills.
Rise Broadband is another option for Elko/Spring Creek customers, Bahr said, but she wasn't sure about their capacity.
"Rise is in the process of building an enterprise system," said David Kirkham, vice president of information technology at the Elko Federal Credit Union, adding it would service business customers in Elko. "Where that project is right at the moment, I have no idea."
Ken Krater, owner and developer of Ruby Vista Ranch in Spring Creek, said he has been in talks with Southwest Gas Corp. for a natural gas pipeline to service a planned residential area next to the association, and believes the trench could be used for a fiber optic cable.
"[It] affords the opportunity to jointly trench and put in a conduit for fiber optic lines and bring that right into the heart of the Spring Creek area,' Krater said.
Another goal is to find out who wants to be a player in talks to be an internet provider. Myers Campos said AT&T is not interested because Frontier is the primary in the area, leaving AT&T a wireless solution only, and "I would be shocked if Frontier wants to be a player."
Myers Campos said she attended the consumer session in September and said she wanted to help.
"Right now, we want to keep the whole community approach," she said.
The team is in Elko for two days of meetings with community members who represent public safety, health care and businesses.
Clarification: This article has been changed to explain how AT&T serves the area.
See Friday's Elko Daily Free Press for more on the internet issues being addressed by the governor's office.