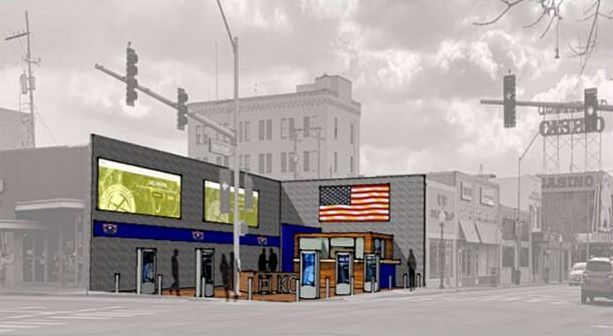 ELKO – An innovative "advertising plaza" could be coming to one of the busiest corners in downtown Elko, after the idea was initially rejected by city planners.
Part of the now-vacant lot at Fifth and Idaho streets was home to the Elko Daily Free Press a century ago. With additions it eventually became the bustling DuPont Pharmacy, and nearly 70 years later it was converted into the Cherished Friends consignment shop.
Age took its toll on the building, and owner Sonora LLC offered to donate it to the city. When that didn't pan out it was demolished in 2018, and a chain-link fence was placed around the lot.
Controversy over the site prompted the Elko Daily to ask readers to suggest what they would like to see built there, and dozens responded. Now, three years later, a solution may have been found.
Jorge Robles and Adrian Gonzalez of Downtown Advertising Group (DAG LLC) are under contract to buy the property from Sonora. They hope to put up digital billboards and a small, walk-up restaurant serving "street food."
ELKO – What would fill the heart of downtown Elko?
"The advertising plaza is an open-air design equipped with digital signage that will allow the individual businesses of Elko to promote existing, new products, services, events and job vacancies within a public medium," Robles told the Elko City Planning Commission in July.
He said the project will attract business, add curb appeal, and will not distract passing traffic.
"To put up anything else would be a hardship to the owners," Robles said, adding that there are already enough bars, banks and office space vacancies downtown.
DAG conceded that the project does not meet the city's signage code. There would be two 256 square foot digital signs, one 128 square foot digital sign, and five 15 square foot "pedestrian signs" not intended for viewing from the street.
"Our idea is very unique," Robles said. "Our success is directly tied to our clients' success. If our clients get walk-in traffic based on the signs — the neighbors too – everybody's business goes up. Our location could be their location."
Longtime Realtor Kathleen Algerio told planning commissioners she thought the idea was "stupendous." The "unseemly" lot is currently not very attractive considering it is one of the busiest intersections in town, she added.
"There's no way to put a building on that lot," she said. "It's very, very small."
But the city's development manager, Michele Rambo, said the lot is larger than most others on the block.
Lina Blohm of Blohm Jewelers, which is directly across Idaho Street from the project, was enthusiastic about the proposal and proud of DAG's ability "to finally see the potential of downtown. … I've looked at a chain-link fence for how many years now?"
ELKO – The boarded up building on the corner of Fifth and Idaho is coming down beginning next week.
Police Chief Ty Trouten expressed safety concerns, saying the intersection has the second-highest number of crashes in town, after 12th and Idaho. In 2020 there were 10 accidents at Fifth and Idaho and 12 at 12th and Idaho.
Blohm said she believes most crashes at the intersection are due to speeding and drunken drivers, but Trouten said only one of the 10 crashes last year was alcohol-related.
"I am concerned that the reader boards will constitute an unnecessary diversion for drivers," Trouten stated, particularly if they are as bright as one recently installed on 12th Street.
Robles said DAG's large signs would automatically dim, based on ambient light.
Catherine Wines, chairman of the city's Arts and Culture Advisory Board, lamented what would be the loss of one of the most prominent and colorful art murals painted two years ago on one of the walls.
"It would be a sacrifice, but I think it would be a good sacrifice maybe," she said.
City Planner Cathy Laughlin said the project would be in conformance with land use for the commercial zone, as well as transportation components of the city's master plan, but not the city's signage code.
She pointed out that the Nevada Department of Transportation has jurisdiction over that portion of both Fifth Street and Idaho Street. According to NDOT, the owners would need a billboard permit for signs that advertise any goods or services not sold on the property itself.
Laughlin said the city's signage code would allow for any sign the related to a business on the premises, such as the proposed walk-up restaurant, but signs advertising off-premise businesses would need a billboard permit. Such signs would need to be 600 feet apart.
Putting in the restaurant and one digital billboard could be done without a variance or other action by the city, she added. NDOT would need to approve the billboard.
Laughlin said proposals for a variance need to meet six criteria, and this project met only one of them. She and Rambo both recommended denial of the variance, as did Assistant City Manager Scott Wilkinson.
Robles suggested that the city's regulations might be outdated.
"Nothing is really going on in the downtown area," he said. "I feel like we have a niche right there."
Planning Commissioner Mercedes Mendive said she thought the advertising plaza was "a brilliant idea." One of her biggest concerns would be people causing vandalism to the signs, as they have done with the large cowboy boot displays around town. She said there aren't many places for people to just sit down, eat food and be social.
Commissioner Gratton Miller opposed the project, saying he thought it would be in direct competition with the Chamber of Commerce. He said putting food trucks on the lot would be feasible, but the signs would likely be destroyed by cars or pedestrians.
Commission Chairman Jeff Dalling and Commissioner Stefan Beck both thought it was "a great idea," but the board unanimously rejected the variance because it does not conform with sign code and variance policies.
DAG appealed the decision, which was reversed Tuesday by the city council.
"I tend to agree that it's not economically feasible to develop this lot," said Mayor Reece Keener. "And I tend to favor this proposal."
Councilman Clair Morris, a former police chief, agreed the advertising plaza was "a good idea. It will improve the downtown. But I still have some concerns about the safety issue and I think we're going to see more accidents."
Businessman W.S. Dupont served as Elko's third mayor and launched Dupont Pharmacy, a mainstay at the corner of Fifth and Idaho Streets for nea…
Blohm again spoke in support of the project. Wilkinson said a property owner on Fifth Street opposed it but was ill and unable to attend the public hearing.
Resident Dean Brown told the council he thought the project would be a "shining star."
"We need that," he said. "We need something to show this town – especially the downtown – how bad it's dying … it's just falling apart."
Laughlin outlined the planning department's objections but also said, "We love the idea of the plaza. We love the idea of the restaurant. We want to see that property redeveloped."
Even with the council's reversal, several hurdles remain before the advertising plaza could be installed. One involves the wall shared with Carlin Trend, which needs to be replaced or certified by an engineer as structurally stable.
Tuesday's unanimous decision puts the project back on track, and DAG is hopeful that other hurdles will be cleared.
"Our advertising plaza is something for the community," Robles told the council.