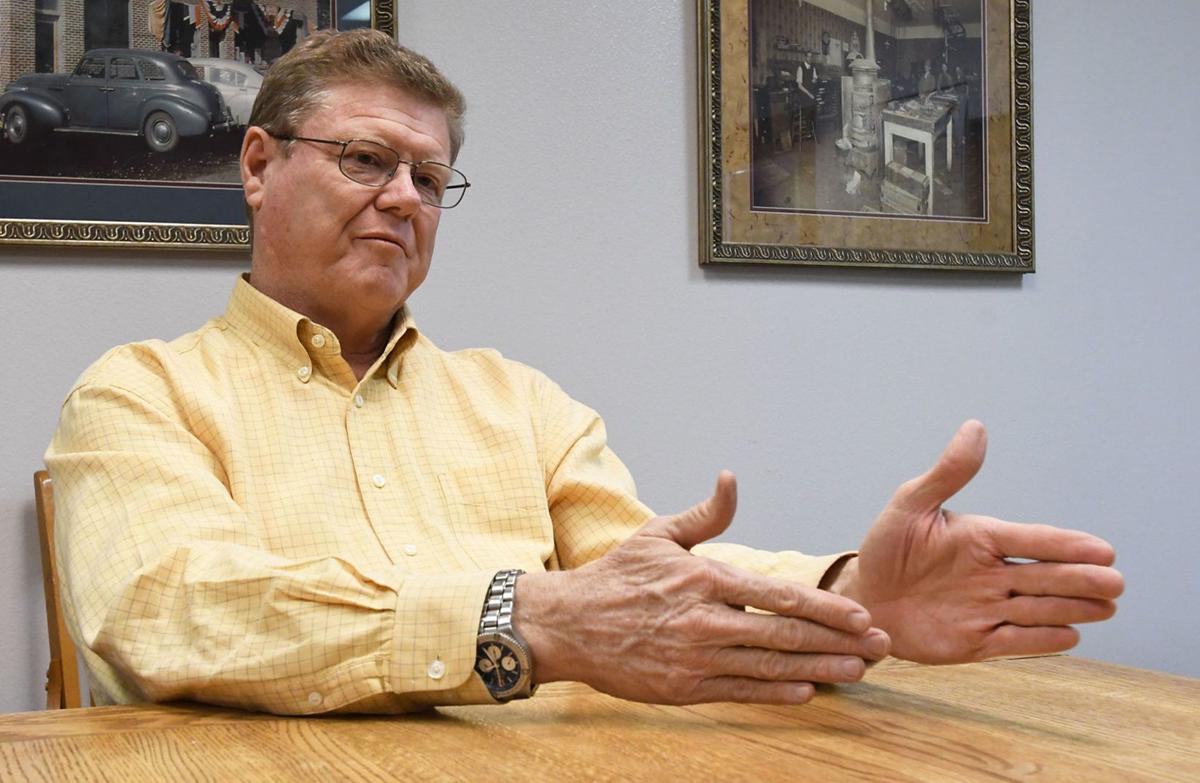 A decision on the controversial proposal to drill for oil in the Ruby Mountains should be coming from the U.S. Forest Service soon, according to U.S. Rep. Mark Amodei, R-Nevada.
Amodei spoke with the Elko Daily Free Press in early February before attending the Elko County Republican Party's Lincoln Day Dinner. He addressed the impact of the federal government shutdown on rural Nevada, and the Ruby Mountains Protection Act introduced by U.S. Sen. Catherine Cortez Masto, D-Nevada.
Q: What is your stand on oil permitting in the Ruby Mountains? A: "If you want to do any activity, whether it's grazing, minerals, oil and gas development, geothermal, you have to apply to use it, and so — I'm not familiar with who — but there's been an application in your neighborhood to do oil and gas exploration, and so obviously that engenders people with strong feelings," Amodei said. But the environmental review process is a pretty good process, so "why don't you let it run its course, and see what they say?"
Amodei said Humboldt- Toiyabe National Forest Supervisor Bill Dunkleberger told him the agency is close to issuing a decision.
Meanwhile, Masto's Ruby Mountains Protection Act would withdraw approximately 450,000 acres in the Ruby Mountain Ranger District from any eligibility for oil and gas leasing under the Mineral Leasing Act.
"OK, if that's the judgment they want to make and it gets through Congress, then OK," Amodei said. "But it's a little bit disconcerting to hear, 'we want you to ignore the process because I feel very strongly about this one,' and it's like, 'well, there's things I feel strong about too, and maybe it's one of these.' But to come in and say, 'forget your process, just do what I tell you to' is kind of the antithesis of the National Environment Policy Act. It requires a transparent public participation process to decide what multiple uses we're going to do with our land.
"And by the way, the Nevada that we all live in, including this part, is what it is today because that process by and large has been successful in protecting resources and allowing multiple use — whether that's cows, whether that's mines, whether that's geothermal, whether that's oil and gas in this case."
Q: Do you support Ruby Mountain Protection Act? A: "Obviously, we'll look at," Amodei said. "We haven't looked at it yet, because — I want to be careful — but quite frankly, there's been a lot of public lands legislation that the House has sent to the Senate in the time I've been there, which didn't even get a hearing. Now that's not Catherine's fault, but my history with the thing is, as soon as it comes over, we'll take the deep dive, we'll see what it says …
"I've got no predilections, we'll do with it the way we do everything. Do your homework, talk with people in the region, see what they've done in other areas. I think there are other areas that have been protected. If that's what's appropriate for this, then I'll get behind it. We just haven't taken a look at it for the only reason that it's pretty early in the process. The 116th congress is a month gone of the 24 that it is. But I assure you if it gets to the point I have to take a vote on it, we'll turn over a lot of rocks in Elko County, Northern Nevada and the rest of the state, too, to go, 'Hey, is this one of the areas where it's good public policy to say, we're going to curtail some of the public uses in there?' It's certainly something that doesn't strike me as ridiculous. I mean the Rubies, Ruby Marshes and all that are phenomenally special to everybody in the state. The Alps of Elko County, it's certainly a special place. I wouldn't disagree with anybody about that."
Q: What was the impact of the shutdown on rural Nevada? A: "I'll say this, with respect to the Rubies stuff, the Forest Service, in my opinion, did a pretty responsible job during the shutdown. They didn't just hang a 'closed' sign up and tell everybody to go home and wait until we call you. The Humboldt-Toiyabe and the whole region … those folks had their district rangers on duty. You could get a hold of Bill Dunkleberger, so it wasn't business as usual, but if you had an issue with the Forest Service, you didn't have to try to find somebody who knew where they lived and go hang a sticky on the door saying, 'Will you call me please' or something like that …
"With respect to BLM … the Department of the Interior took a different approach, and I can tell you at the beginning of the shutdown, no district managers were considered key personnel, there were no field office managers and in order to get ahold of the acting state director — who by the way wasn't the problem – you'd had to have his cellphone number. And for an agency that owns two-thirds of the state … to take the view that nobody is key when you're basically responsible for two-thirds of it?"
Do you know how much the shutdown impacted fire rehabilitation or firefighter hiring?
"I can tell you everything came to full stop. Full stop."
Q: Is another shutdown going to come up? "I don't know," Amodei said. "... First and foremost, it is Congress' job to appropriate, so you can say what you want about the president, until Congress puts a bill on his desk, he can't go 'under this administration, here's your money.' … I'll give you a premise, too, which is I can't remember a shutdown since I've been there that accomplished anything. I've been there for seven years plus. The healthcare one didn't change anything … the DACA one didn't change anything …"
Amodei mentioned news reports about a compromise that may be in the works before the Feb. 15 deadline.
"I'd love to tell you I understand where they're at, but out of the 435 of us on the south end of the building, I'm guessing there's 400-plus that don't even know where they're at exactly …" he said. "I hope the rumors are right, that there's something where they do something that makes some sense, and takes care of issues, maybe not all the way, one way or the other …"
Do you think an executive order might be the answer?
"My first pick is that that the committee, those appropriators from both sides, do something. Second pick is, rather than continue nothing, and rather than shutdown again, I'd pick executive order. So, I think that's a yes."