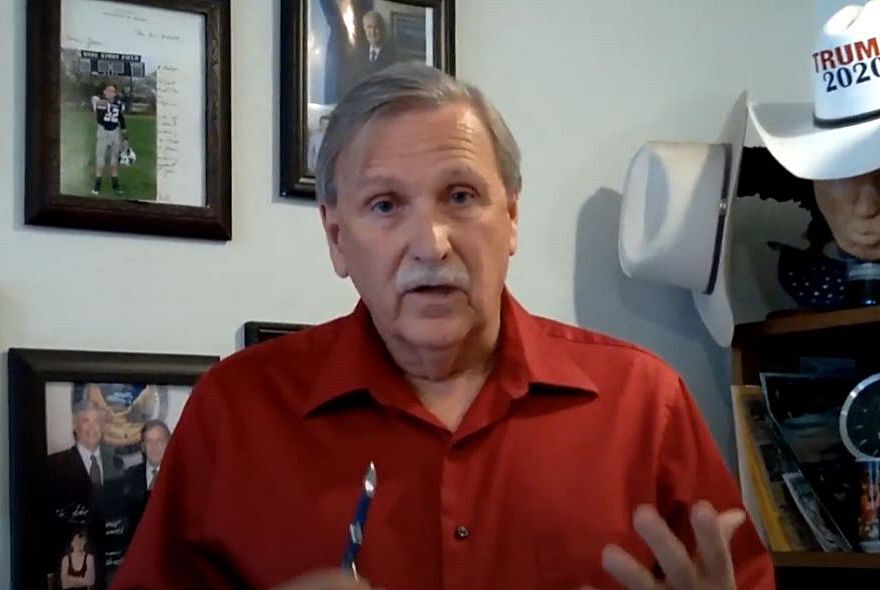 ELKO – Assemblyman John Ellison, R-Elko, expects there to be at least one special session of the Nevada Legislature that worries him before he terms out, although the 2021 legislative session that ended May 31 was his last regular session.
"I am a sitting assemblyman until after November 2022. There will be subcommittees and special sessions. One of them will be redistricting, and I heard this will really turn things around. It will change boundaries, and all of rural Nevada will feel the hit bad," he said.
With new figures from the 2020 U.S. Census, the Nevada Legislature will be establishing new state senate and assembly districts based on population, and Ellison said Tuesday that he did not think "anyone in rural Nevada will like it."
He said that with so many people moving to the Las Vegas area from California, that just pushes Clark County's population up more, meaning more representation for Clark County rather than rural northern Nevada.
Ellison said in a phone interview that he expects a special session on redistricting in late summer or in the fall. The Nevada Legislature's website reports that the U.S. Census Bureau will release redistricting data in legacy format by Aug. 16 and in final format by Sept. 30.
Census figures for 2020 released earlier state that Nevada's population grew 15% to more than 3.1 million and the reapportionment continued to allow Nevada four seats in the U.S. House.
Nevada's last redistricting ended up in court in 2011, and the Nevada Legislature remained at 21 senators and 42 assembly members, with two assembly districts within each senate district.
Ellison's district current extends to the Idaho and Utah borders, to Golconda to the west and includes White Pine County to the south, including Ely and ending in Caliente, with pieces of the district reaching to Lincoln and Nye counties.
Driving to Ely takes three hours and to Caliente, five hours, It also takes a long time to reach places like Jarbidge for special events, but Ellison said state Sen. Pete Goichoecea, R-Eureka, has an even larger district and "he's on the road constantly."
Meanwhile, Ellison said he is still awaiting interim legislative committee assignments, and he is continuing to help people in his district with their concerns, especially unemployment compensation issues with the state.
"I'm still doing my job seven days a week until after the election," Ellison said.
A posting on his legislative page that said he was "honored and privileged to have been your sitting Assemblyman for the last 12 years" raised concerns among those he had been helping in the district that he would no longer be active, according to Ellison.
"I couldn't have done this without your continued support. I will miss being your Assemblyman and representing you in the Nevada Assembly," the posting also says because it was his last regular session.
Ellison said he already has heard from several people who have talked to him about seeking his two-year assembly seat when his term is up. He also heard from supporters who want him to seek Goicoechea's seat when the senator is termed out. Goicoechea was re-elected for a four-year term in November 2020.
Ellison said serving in the Nevada Legislature is not a money-maker. He estimated he has spent $12,000 out of his own pocket already this year. He said freshmen lawmakers are often stunned to realize that legislators are paid a salary for only the first 60 days of a regular session, which runs 120 days every other year.
"If they are in it for the money, they are in for a rude awakening," he said.
According to the Nevada Legislature's website, the minimum daily salary for legislators is $130 with increases equal to a percentage increase for classified state employees. They also receive a per diem allowance paid every day the Legislature is in session that is intended to cover lodging, meals and incidental expenses equal to the federal rate for the Carson City area.
"That's why I live in my fifth-wheel" during legislative business in Carson City, Ellison said.
In addition, legislators receive a salary and a per diem allowance and travel expenses for attending conferences, committee meetings, training sessions and seminars where the legislator officially represents the state or its Legislature, the website states.
Looking back at the 2021 session, Ellison said he was thankful that the compromise on mining taxes kept the net proceeds tax in place because small towns need that money for their infrastructure.
"Mining stood firm. They did a great job," he said.
The compromise adds an excise tax of 0.75% on mines with gross revenues between $20 million and $150 million and 1.1% on mines making more than $150 million, as well as maintaining the net proceeds tax on minerals capped at 5%.
Ellison also said there "are so many issues out there" that impact citizens, and now that the Democrats control both houses in the Nevada Legislature "everything is about green" issues that often overlook rural concerns.
"The people have to get educated on what's going on," he said, adding that he tried to keep those in his district updated but the 2021 session was "so screwed up" with so many freshmen, COVID-19 restrictions, and committee meeting delays.
He said Republican lawmakers fought threats to people's rights and were able to kill bills that were money bills requiring a two-thirds majority.