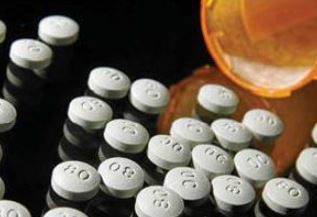 ELKO — After a discussion about a nationwide class action lawsuit currently in progress against opioid manufacturers, distributors and sellers, Elko County commissioners this week reluctantly approved a motion to do nothing.
"That's what us politicians get accused of, anyway," Commissioner Cliff Eklund joked after the vote.
Their motion to do nothing means that the county will remain part of the class action lawsuit, and the county and the cities in the county will receive some money if there is a settlement.
The three commissioners at Wednesday's meeting all expressed their misgivings about holding manufacturers responsible for the actions of those who use their products, but they also agreed it would be irresponsible to local taxpayers to refuse money that could come from this lawsuit.
Back in February the commissioners decided not to join a class action lawsuit which a Las Vegas law firm was planning to file against opioid manufacturers.
Then on Sept. 12, a nationwide opioid lawsuit took an unprecedented step when U.S. District Judge Dan Polster of Cleveland certified what news reports called a "first of its kind" negotiating class which sweeps all cities and counties in the U.S. in as class members in the lawsuit unless they opt out.
A variety of people have taken issue with Polster's decision on a global settlement negotiating class. A Reuter's story by Alison Frankel said that attorney generals from 37 states and the District of Columbia issued a letter on July 23 which "argued that the negotiating class mechanism is both unconstitutional, because it impinges on state sovereignty, and unworkable, because Judge Polster cannot approve a settlement that purports to allocate settlement money among local governments without the states' approval."
Some people are advising counties to opt out of the nationwide lawsuit, because if the counties remain as class members in this lawsuit that might prevent them from being able to join other lawsuits against opioid manufacturers that might bring bigger settlements.
Commissioner Rex Steninger said the reason the opioid lawsuit was on this week's agenda is because the previous week he was contacted by a friend who said a Reno law firm wanted to give a presentation to the commissioners to advise them to opt out of the national lawsuit and hire the Reno firm to pursue a bigger settlement. Steninger said he has not yet been contacted by the Reno firm.
Elko County Manager Rob Stokes said he had talked with Nevada Association of Counties Executive Director Dagny Stapleton, "and the information she had was that they would recommend that we opt out so that down the road the county could perhaps participate in other class actions lawsuits."
Stokes said information provided by the national lawsuit said that if the suit were to result in a hypothetical $1 billion gross settlement for the counties and cities in the United States, Elko County would receive $70,922, the City of Elko would receive $26,630, West Wendover would receive $9,575, Carlin would receive $2,606, and Wells would receive $1,178. This settlement would be about $2.18 per person in Elko County.
You have free articles remaining.
Steninger said that in some ways he felt inclined to opt out of the national lawsuit, not to try to pursue some other possibly larger settlement "but to just walk away from the whole thing."
"I really don't believe in holding the manufacturers of something responsible for the misuse of whatever they produced," Steninger said. "I don't blame the gun manufacturers for the misuse of guns. I don't blame the opioid manufacturers for the misuse of opioids. It's crazy.
"Like I said, I wouldn't mind just walking away from the whole thing other than the fact that we would be leaving $100,000 on the table, and I think we've got a responsibility to the taxpayers. That's $100,000 that they don't have to pay."
"I fear the consequences of these lawsuits, too," Steninger added. "At best, they're going to make pain medication harder to come by, and there are people that are very dependent on pain medication. I've got a doctor friend that told me that his professor at medical school told him that he had better not catch any of those docs under-prescribing pain medication. Because, he said, that's the one thing that we can do in all medical cases is eliminate pain. I take that to heart.
"And he also said that he fears that if this continues, the whole medical profession is going to be destroyed by the control of politicians and lawyers.
"So I personally feel that we should do nothing. That will give us $100,000 if this class action is settled, and we don't participate in any further lawsuits."
The other two commissioners at Wednesday's meeting, Cliff Eklund and Jon Karr, said they basically agreed with Steninger.
"I personally don't know if big pharm purposely were adding something to cause an addiction," Karr said. "It's my understanding, from the little bit I've researched, they haven't. So I'm not really a big supporter of going after them, either, especially when doctors were the ones over-prescribing it."
"These lawsuits, to me, are getting out of hand," Eklund said. "They're going after car manufacturers for how people use their cars, gun manufacturers on how criminals are using their guns.
"The manufacturers, to me, manufacture for a purpose, and the purpose of the opiates is for medical purposes for the alleviation of pain."
Eklund said some people have argued that it was the manufacturers' responsibility to properly educate doctors on what to prescribe and how to prescribe. But Eklund said he feels it is the responsibility of the doctors to get the education they need about the medications they prescribe.
"If you don't know, you shouldn't be prescribing it," Elkund said. "So to hold the manufacturers liable, I'm not sure that I can go along with that."
"I really don't believe in holding the manufacturers of something responsible for the misuse of whatever they produced. I don't blame the gun manufacturers for the misuse of guns. I don't blame the opioid manufacturers for the misuse of opioids."

-- Rex Steninger

Elko County Commission chairman