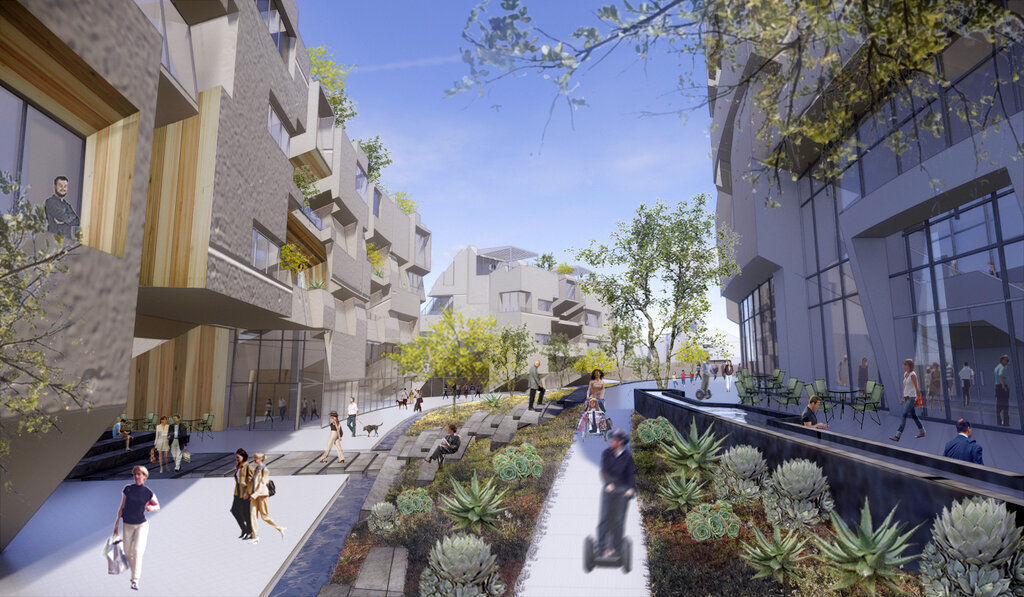 Many leaders in rural Nevada counties like the idea of a tech company coming in and building a futuristic city on rural Nevada land. But do they like the idea of that city eventually forming its own independent government? Not so much.
Blockchains LLC, a company which promotes the use of cryptocurrency and other blockchain technology as the wave of the future, is proposing to build a city of about 35,000 people on uninhabited land in Storey County east of Reno in the years ahead. The company is working with Nevada Gov. Steve Sisolak's office to promote the idea of turning the city into an "Innovation Zone" which will eventually have its own separate local government.
On March 7 the Storey County commissioners' office sent a letter to Sisolak supporting the idea of Blockchains LLC or other companies building residential "smart cities" in the area, but opposing the idea of allowing separate local governments.
The Elko County commissioners approved a motion at their March 17 meeting to send a letter to the governor's office in support of Storey County's letter.
The Storey County letter says, "Storey County is Nevada's forerunner in embracing and utilizing new technologies, and the board finds that new digital platforms such as stable-coin and Blockchain to be the potential digital capital of the future."
"Graphic renditions by Blockchains, LLC and R&R Partners illustrating highrise buildings clad in stainless-steel and glass, situated within clustered high-density nodes, and supported by multi-modal transit and 'Smart' infrastructure are aligned with the goals and objectives of the plan for this area," the letter says.
However, the Storey County commission argues that "Carving out a separate government within Storey County is not necessary for the advancement of technology, innovative industries, or residential 'smart city' development."
"I thought they did a great job with that letter," Elko County Commissioner Rex Steninger said at the commission's March 17 meeting. "It didn't say no. It said, these are great ideas, but why are you bypassing the local government? I think that's precisely my opinion."
The Elko County commissioners said they were concerned that if the Innovation Zone concept is approved by the state legislature, portions of Elko County could be carved off in the future to become separate governments.
"If they're successful in this, we don't know when we're next," Commissioner Cliff Eklund said.
"That's a good point," Steninger said. "They never use the singular when they talk about an Innovation Zone. It's always Innovation Zones, plural."
"It seems like a social experiment that hasn't been very well vetted out," Commissioner Delmo Andreozzi said. "I don't know if this has ever been done in any other state. It would be interesting to see if there's anything else like this out there."
"I think they said South Korea has one, and Disney World is one" Steninger said.
"The other example is Disney World?" Commissioner Jon Karr said. "Wow. Well, there you go."
Ongoing questions
A lot has been written about Blockchains LLC and Innovations Zones over the past few months, but many people are still perplexed by the news. Blockchains purchased about 67,000 acres in and around the Tahoe-Reno Industrial Center for a reported $170 million in 2018, and hopes to break ground in 2022 and build the Painted Rock Smart City over the next 75 years. In the city, blockchain technology will be used for all kinds of transactions, from personal finances to medical records to e-gaming.
Blockchains CEO Jeffrey Burns has purchased a bank which he intends to make the most blockchain-friendly bank in the world, and he is creating a new business model, the "distributed collaborative entity."
At the Blockchains, LLC Global Launch Event in Prague in November 2018, Berns talked about his vision of "trying to create a movement to use the public blockchain to re-empower the individual, to change the way we do things."
"In all of my life, in all of my career as a lawyer, I never saw a technology that I believed in more, or one that I thought could really change the balance of power back to us instead of corporations and instead of Wall Street," Berns said.
In late 2020 Blockchains purchased water rights in northern Washoe County, but there are still questions about whether it is feasible to get enough water to Storey County to fuel the proposed smart city.
The Nevada legislative bill authorizing the creation of Innovation Zones has not been finalized, but the draft version of the bill says Innovation Zones could be used to promote the development of all kinds of innovative technology in Nevada, including blockchain, autonomous technology, robotics, artificial intelligence, and biometrics.
In order to create an Innovation Zone, the developer must meet a list of criteria. They must own at least 50,000 acres and promise to invest at least $1 billion over ten years in the smart city.
The government of the Innovation Zone would collect taxes, but some tax money would continue to go to the surrounding county which the Innovation Zone was originally in.
The draft bill on Innovation Zones says the creation of an independent government for the Zone is necessary because "the traditional forms and functions of local government political subdivisions existent under Nevada statute are inadequate alone to provide the flexibility and resources conducive to making the state a leader in attracting and retaining new forms and types of businesses and fostering economic development in emerging technologies and innovative industries."
A Feb. 13 Associated Press story quoted Berns saying, "For us to be able to take risks and be limber, nimble and figure things out like you do when you're designing new products, that's not how government works. So why not let us just create a government that lets us do those things?"
Many people have not bought this argument. During a special meeting of the Storey County commission on Feb. 16, Storey County resident Steven Ayer told the commissioners, "I don't understand how you could even consider this. Somebody is trying to take our land from us. It's ridiculous. … These companies need to deal with Storey County the way that we are. You guys are competent, and we know that you're going to hire more competent people to deal with the kind of issues that they have to deal with technology-wise. Are we not smart?"
"How is it in Storey County's interest to allow Blockchain's fiefdom to remove this land from the county oversight and fiscal involvement?" Storey County resident Eileen Gay asked. "What is to prevent this 800-pound gorilla of a neighbor from swallowing our small neighborhood up?"
During a legislative conference call on Feb. 19, while talking about the Innovation Zones bill Sen. Ira Hansen said, "My gut tells me the governor is really going to have to twist some arms to get that thing through. There is strong backlash against it from just ordinary folks who say, 'What in the hell is going on down there?'"
Talking about the legislators pushing the Innovation Zones concept, Assemblyman John Ellison said, "They've got to be careful what they ask for, because that might just open up Pandora's box."
Some commentators have expressed enthusiasm for the Innovation Zones concept. Jeffrey Mason, a researcher at the Charter Cities Institute, wrote on Feb. 5 that "It is always exciting to see a zone-based approach to economic development in the United States, given the country's relatively limited experience with the use of special economic zones and other special jurisdictions.
"The extent to which Innovation Zones are similar to existing county governments is actually a bit of a disappointment and left me feeling underwhelmed given the social media excitement," Mason wrote. "Greater regulatory and administrative freedom in particular would have been nice to see. However, Innovation Zones are still a welcome development and there is room for significant improvement in local governance under the proposed framework."
Looking at the plan
Sisolak promoted the Innovation Zones concept during his January State of the State address, and again during an online roundtable discussion on Feb. 26.
During his introduction to the roundtable discussion, Sisolak said after the economic downturn of 2020, "Nevada must look for unique and different ways to improve, expand and yes, diversify our economy."
"Innovation Zones are a unique and bold idea that I understand would not be immediately received with open arms," Sisolak said. "But it is my hope that starting today, we can have open, honest, constructive conversations about how this could work to help Nevadans. Not simply to write it off before the legislation goals, mechanics and consequences can be discussed and debated in the traditional legislative process."
"I'm not afraid of the hard questions," Sisolak said. "And I'm not afraid to listen to those who believe the concept as proposed is flawed. I just ask that all involved understand that the end goal is a massive economic development investment in Nevada. And a chance to set down a marker that Nevada is the blockchain center of the world."
During the discussion, Sisolak, Michael Brown, director of the Governor's Office of Economic Development and Jeremy Aguero of Applied Analysis talked about some of the details of the Innovation Zones concept. But Elko County Commissioner Steninger reported to the commission at their March 3 meeting that the discussion left him with more questions than answers and with many concerns.
Blockchains LLC and Berns have made many political contributions in recent years, including $60,000 to Sisolak and his political action committee in 2018, as well as contributions to the Nevada State Democratic Party and to some Democratic and Republican legislative leaders.
"If it's such a good idea, it should stand on its own merits," Steninger said. "You shouldn't have to be buying people off."
"Secondly, companies like Twitter and Facebook have proven they're not supportive of our individual rights," Steninger added. "I don't trust a big company to come and take over the aspects of local government."
Steninger also criticized Aguero's response to the question of why counties can't handle supervising an Innovation Zone.
"He said, well, you know, it's too big for them, it's just too much," Steninger said.
Steninger said the Las Vegas Strip is in Clark County, not in the city of Las Vegas, and it is an example of what a county can accomplish.
"Clark County has put together a world-class tourist attraction on its own," Steninger said. "So I don't see why a county can't handle these Innovation Zones similarly."
"At the end, the governor said, please don't reject it outright, let us develop the plans," Steninger concluded. "I'm open to the plan, but if you asked me today, I'd give it a thumbs down."