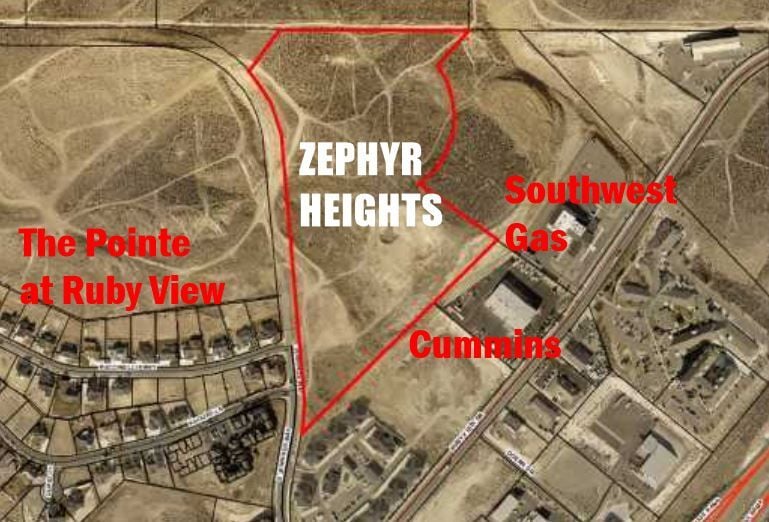 ELKO – Jordanelle Third Mortgage LLC plans to develop Zephyr Heights Subdivision with 70 residential lots on 26.6 acres on the east side of Jennings Way, if Elko City Council approves a zoning change and tentative map for the project at its Tuesday meeting.
Elko Planning Commission recommended conditional approval to the council of the zoning change and tentative map for the subdivision north of the intersection with Puccinelli Parkway, with conditions that included renaming two of the proposed streets in the final map because they are too much like the names of current streets.
The street names on the preliminary map included Virginia Lane and Paradise Way, but there already are streets named Virginia Way and Paradise Drive, the city's civil engineer, Bob Thibault, told the planning commission.
Thibault provided a copy of the new tentative map from the developers on Monday that shows the two names in question have been changed to Orovada Lane and Mesquite Way. The other two planned names remain the same – Incline Avenue and Tahoe Road.
Assistant City Manager Scott Wilkinson told the planning commission at its Feb. 2 meeting that the street-naming would need to be addressed "before the council can consider the preliminary plat."
Modifications the planning commission required also include that there would be no direct access from homes to Jennings way. Rather, cars would need to go through the subdivision to get out.
Jordanelle Third Mortgage needs to modify lots 47 and 48 to allow for shorter-than-required lot widths and a modification of standards allowing for double frontage lots along East Jennings Way as part of the restriction, according to the proposal headed to the city council.
Rezoning for Zephyr Heights would be from R, which is single family and multiple family residential zoning, and R1 single family residential to only R, according to the agenda for the council meeting that includes a public hearing at 5:30 p.m. on the zoning change.
Elko Development Manager Michele Rambo said at the Feb. 2 meeting that Zephyr Heights would comply with the city's master plan after the zoning change.
She also said the subdivision would be built in four phases, with 2.8 units per acre.
City staff additionally found that when the subdivision is fully developed there would be an estimated 666 more trips onto Jennings Way, which does not require a traffic study.
The subdivision would receive water and sewer service from the city.
Elko City Council will meet at 4 p.m. Feb. 23 in Ruby Mountain Room 3 at the Elko Conference Center, and the meeting also will be available online.
Elko Mayor Reece Keener welcomes Battle Born Youth Challenge Academy: