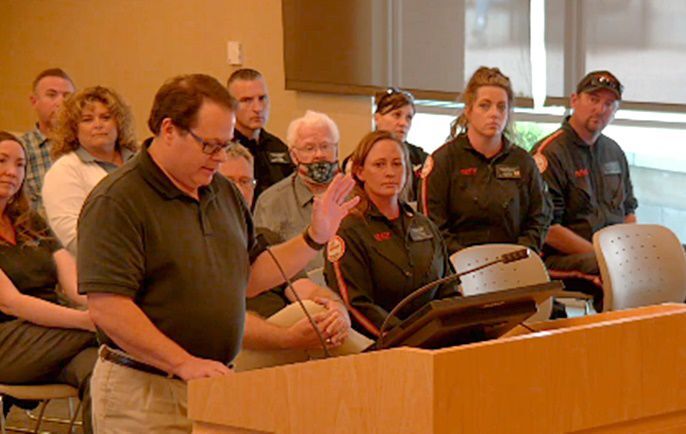 ELKO – REACH Air Medical Services' franchise agreement with Elko County has been extended for two years rather than the usual seven years, opening the way at the end of two years for a newly worded agreement, competition, or a decision to end the franchise.
"We are excited to be able to continue to serve the Elko community," Tom Liebman, northern Nevada regional director for REACH Air, said after Wednesday's Elko County Commissioners meeting.
Commissioners voted for the two-year extension and instructed county staff to come back in two years with a proposed update to the contract that was slated to expire on July 1. Commissioner Rex Steninger cast the lone vote against the motion.
"I'm against franchise agreements," he said. "It's our job to provide a level playing field."
REACH Air, however, contended that without the franchise the company would not have a fair field of play because MedX Air One has a contract with Northeastern Nevada Regional Hospital for the transport of patients to larger hospitals for health care.
"Renewing would protect this market and continue to create a competitive market and create a level playing field," said Liebman. He told commissioners renewal would ensure that REACH and competitor MedX Air One would both continue serving Elko County.
REACH responds to accidents and medical emergencies under the agreement that the company and earlier Summit Air have had with Elko County for 20-21 years. The county initially offered the contract to entice the air ambulance service. REACH later absorbed Summit Air.
Commissioner Wilde Brough, who offered the compromise motion, said "competition is good," but current issues make it "impossible to have pure competition between the two companies. I just don't know how to do it without giving REACH a contract."
Commissioner Cliff Eklund, who later voted for the two-year franchise, said he has "made no bones about being anti-franchise," and he supported competition, however, he questioned whether MedX and REACH could compete for the hospital contract.
Liebman said he has not heard of any opportunity to pursue a contract with the hospital, but the "reality today" is that MedX has one. The companies cooperate, however, when needed. REACH transports patients when MedX asks, and MedX goes to accident scenes when REACH is not available.
MedX's executive director, Paul Ward, asked in a letter he read to commissioners that they "do not commit Elko County to another seven-year agreement without exploring all of the options and possibilities available. I urge the commission to vote in favor of the Elko County patient by not renewing the franchise under pressure today."
Elko City Manager Curtis Calder, however, urged commissioners to renew the franchise, citing factors such as the city owning Elko Regional Airport and counting on revenue from leases, fees, and fuel to ease the amount the city must subsidize to keep the airport operating.
He said REACH has been at the airport many years, employs 20-25 people and is "considered one of our major tenants." If REACH goes, there will be a loss of jobs as well as the lease, he said.
"Based on their solid performance to date, I can't see why the county wouldn't renew the contract," Calder said.
He also said REACH is looking at investing $1 million in a new facility at the airport, and a two-year lease may not provide time for capitalization to start the project.
Liebman said in a phone interview before the Wednesday meeting that the company is prepared to invest $1 million for a "super base" at the airport for fixed wing aircraft and helicopters, including building a hangar and crew quarters, but probably would not do so without a franchise.
Bernice Jensen of REACH stressed the importance of the air ambulance service when people are in remote areas.
"If something happens, guess what? It will be a long time before medical care comes. It can be a bad situation to be in," she said at the meeting.
Commissioner Delmo Andreozzi said that if anyone did not think the air ambulance franchise issue was not serious, "just look at this room," and he urged caution, telling the board he found value in Calder's comments. "Personally, I think the franchise is warranted."
Andreozzi said the hospital also believes a contract is a "valid operating procedure," since the hospital has a contract with MedX.
Steninger said the county is not in charge of the hospital and the MedX contract, but "two wrongs don't make a right."
Chairman Jon Karr said he likes Steninger's beliefs but "the hospital creates a hostile environment in this case," and he would vote for the two-year extension.
MedX raised questions at the county's April 7 meeting about billing and REACH's membership program, but Ward's letter read at the May 19 meeting only hinted at the question.
"Twenty years ago, the franchise agreement was an excellent option for Elko County. Today, this option is outdated and limits the possibilities available to Elko County community members needing out-of-hospital medical care and transport solutions," he said. "The original franchise agreement does not address the air medical industry's current market forces, including billing and business practices," Ward said.
REACH Air does not require memberships to transport patients from emergency scenes, but the company offers memberships to individuals and to companies that in turn provide the coverage to employees.
REACH Air memberships provide "peace of mind" at a time when members need it most, assigning a patient advocate after a medical emergency "to help the patient navigate the insurance process," Liebman said.
Membership in AirMedCare Network covers out-of-pocket expenses for medically necessary flights by AirMedCare providers. According to the REACH website, whatever benefits the patient's insurance pays will be considered payment in full.
Members are covered when they travel elsewhere, too, through sister companies.
Jared Sherman, vice president of operations for REACH parent Global Medical Response, told the Free Press that there is no surprise billing, and with new federal legislation there can be no more surprise or balance billing.