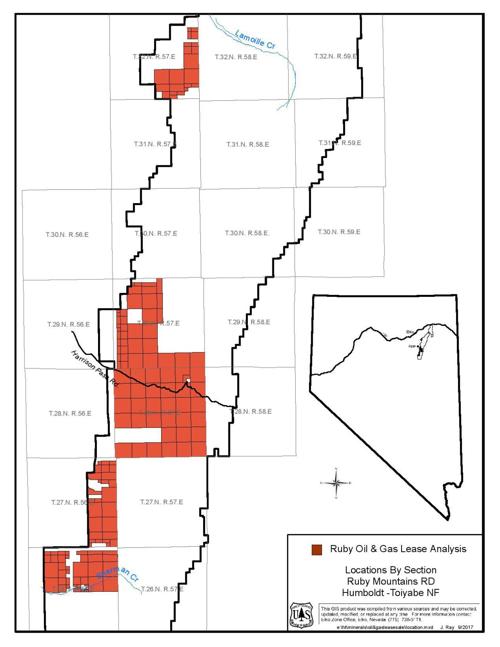 The U.S. Forest Service has rejected a plan to pursue oil and gas drilling in the Ruby Mountains, following nearly two years of protests from a variety of groups and individuals both locally and nationwide.
Forest Supervisor Bill Dunkelberger said his decision is the result of detailed analysis and extensive involvement of citizens and communities. The analysis revealed unfavorable geologic conditions in the area, meaning that there is little to no potential of oil and gas resources in the area. This, coupled with concerns over potential impacts to wildlife and to the recreational and scenic values of the iconic Nevada landscape, led to the No Leasing Alternative.
Dunkelberger added that camping, hunting, fishing and motorized recreation are popular activities in the proposed lease area and represent part of a $12.5 billion recreation industry in Nevada — an industry that supports 87,000 jobs statewide.
U.S. Sen. Catherine Cortez Masto, D-Nev., praised the decision Thursday morning.
"I commend the Forest Service for recognizing what the majority of Nevadans have loudly said: oil and gas drilling has no place in the Ruby Mountains," she said. "The Rubies are a sacred treasure and economic driver for local communities in White Pine and Elko Counties. I'm glad the Federal government listened to the voices of more than 14,000 Nevadans who asked for these precious public lands to be off-limits to oil and gas drilling."
As the manager of subsurface minerals in public land, the BLM has the authority to lease land for oil and gas once a quarter. Companies or individuals can request that parcels of land be made available for lease through an expression of interest.
In April 2017, the Bureau of Land Management received an expression of interest in leasing 54,000 acres in and around the Ruby Mountains from Ethan Murray of Murray Land Service. The land in Elko and White Pine counties — south of Lamoille Creek and north of Sherman Creek on the west side of the Ruby Mountains — was classified as available for such use.
Because the land is under the jurisdiction of the National Forest Service, the state BLM office had to receive an environmental assessment from the Forest Service regarding the land in Elko County. The analysis sought to determine if the lands can be made available administratively, and what stipulations would be included to protect surface resources.
The Forest Service began accepting comments on the plan in the fall of 2017, and eventually extended the comment period through April 2018.
Sportsmen, environmental and tribal groups were among the many who announced their opposition to the plan.
"Drilling for oil in the Ruby Mountains is an extremely foolish and impractical idea that would further the climate crisis that we are experiencing, while destroying some of the most beautiful land that our nation has to offer," said Rebekah Stetson with the National Wildlife Federation. "We have the greatest potential for solar energy of anywhere in the United States and this type of renewable option is where our efforts should be focused."
You have free articles remaining.
Nearly 70 people attended a January meeting in Elko that included representatives of Trout Unlimited, Sierra Club, the Center for Biological Diversity, and the Te-Moak Tribe of Western Shoshone.
Cortez Masto said Thursday that she will continue pursuing protection for the Rubies.
"While today's decision is a significant victory for the coalition of conservationists, outdoor enthusiasts, small businesses and Nevadans who stood up, there is still more we must do to prevent any future attempts to develop these lands for potential oil and gas leasing," she said. "I will continue to fight in the Senate for the passage of my Ruby Mountains Protection Act¸ which would write into law that oil and gas leasing in the Rubies is prohibited and specifically ensure the protection of those beautiful public lands for generations to come."
Exploratory drilling has already taken place near the Ruby Mountains and elsewhere in Elko County following a rise in oil prices that led to a boom in fracking.
Noble Energy extracted 3,831 barrels of oil in 2014 and 2015 from Huntington Valley near Jiggs, according to the Nevada Division of Minerals. Oil prices fell, and the wells were plugged and abandoned in early 2017.
The Forest Service's decision announced March 14 is in line with comments made last year by Nevada Department of Minerals Administrator Rich Perry, a former Elko resident.
"I know of no targets for oil in the Rubies. It's a metamorphic core complex. There's no sedimentary rock that would contain oil," he told the Elko Daily Free Press in January 2018.
Perry said he did not understand why anyone would request to drill in the Rubies, as the geology makes the likelihood of finding oil practically nil.
The Forest Service announced its mapping found that "nearly all of the analysis area has very low to no oil and gas potential because of unfavorable geologic conditions."
Still, the agency's decision is open to appeal.
The Forest Service said objections will be accepted for 45 days following publication of the legal notice of its decision in the Elko Daily Free Press.
Objections must be submitted to Reviewing Officer, Intermountain Region U.S. Forest Service, 324 25th Street, Ogden UT, 84401, or hand-delivered during normal business hours from 8 a.m. to 4:30 p.m., Monday through Friday, excluding federal holidays. Faxes can be sent to 801-625-5277.