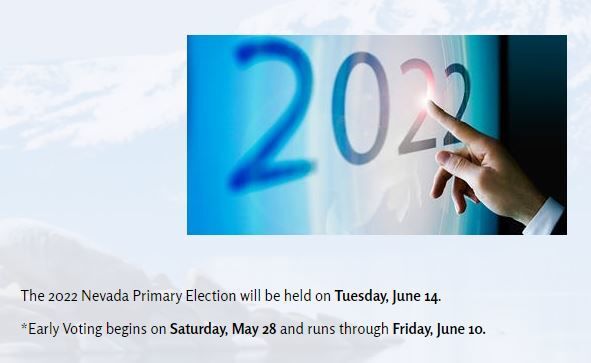 ELKO – Nevada's Secretary of State Office is reaching out to local and state officials, school boards, legislators, and advocacy groups to provide clear details about future elections and changes following legislative bills passed earlier this year.
"I am firm in my belief that our process is firm and secure," Deputy Secretary of Elections Mark Wlaschin told Elko County Commissioners this month.
He said in a phone presentation that a voter outreach campaign will "provide facts to voters and future voters." He said there has been "significant confusion" that he hopes the campaign can clear up.
ELKO – Numerous public offices will be on the ballot in Elko County next year, including two county commission seats and five positions on the…
Wlaschin also asked commissioners through Elko County Clerk Kris Jakeman to provide the names of people and organizations for future discussions of their concerns in person or via Zoom.
He said he planned to have an in-person meeting with county commissioners later.
Kim Starr, who said she worked at the polls in Carlin in the last election, told commissioners and Wlaschin she believed the voting machines were online because Carlin had a problem at the same time as Elko, but Jakeman said the machines are not on the internet.
The clerk said voting poll books are online, but not the Dominion voting machines, nor the tabulation machines.
"They all stand alone," Jakeman said, and she agreed at Chairman Jon Karr's request to look further into Starr's question for commissioners.
Under the latest Nevada election laws, county clerks will send every active registered voter in their counties a mail-in ballot unless they opt out, making the change temporarily in place due to the COVID-19 pandemic now permanent.
Nevada law also authorizes using electronic devices to approve signatures on mail-in ballots, but with additional security measures in place.
Other changes require drop boxes at every polling place and allowing ballots postmarked by Election Day to be counted as much as four days after the election.
Also new is the expansion of automatic voter registration beyond the Nevada Department of Motor Vehicles to the staffers who handle Medicaid applications, the Silver State Health Insurance Exchange and additional state and tribal entities approved by the governor.
Nevada's new election laws went into place even as parts of the country were adding new voting restrictions because of Republican-led claims of widespread voter fraud last year. Recounts in several states found no credible evidence, however.