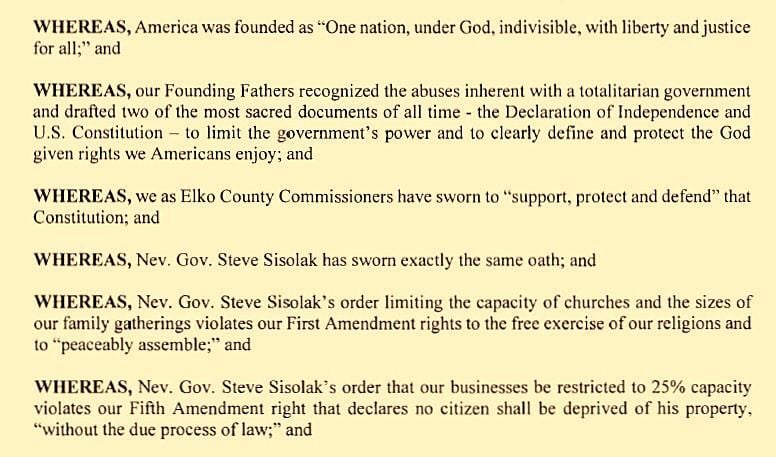 ELKO — Elko County Commissioners are telling Gov. Steve Sisolak that enough is enough over his COVID-19 restrictions that impact local businesses and the economy, and Elko City Council may be asked to look at similar action later this month.
Commissioners approved a resolution that bypasses the governor by stating that the county could help businesses that are fined for violating COVID-19 mandates, and demands the governor remove restrictions "before one more business is lost."
Since its passage last week, the resolution "has been sent to the governor and to all the counties," the county's executive assistant, Michele Petty, said on Jan. 13.
The proposal to boost businesses calls for the county to "consider opening and providing for the management of a fund to be supported by individual donations in support of businesses that have been or may be fined by state enforcement agencies."
Local businessman Caleb McAdoo asked commissioners, however, whether paying fines for businesses that do not play by the rules is fair to the businesses that follow all the rules.
Chairman Jon Karr said "I 100% understand what you are saying," but those businesses that have been in "la la land" will not be receiving help.
Federal CARES funds cannot be used to pay fines, but the resolution does say the county staff should "research the possibility of using unspent and recently extended CARES Act funding in support of businesses."
The resolution also demands that Sisolak "direct his OSHA inspectors to discontinue their abusive inspections and fines on our county businesses," and encourages legislative representatives to "aggressively support amendments to Nevada Revised Statutes that would limit any governor's authority to restrict our freedoms under the auspice of a declared emergency."
The resolution additionally asks the governor to treat small businesses the same as big-box stores that were allowed to remain open during the pandemic.
Commissioner Delmo Andreozzi said there was "great stuff" in the draft resolution, but he would like to add that "shutdowns caused irreparable economic and intellectual losses that most likely will be generational." That wording was added.
Commissioners also decided the resolution should not include concerns about the mask mandate.
"I don't think that is a battle worth fighting," Karr said.
Elko County Republican Party Chairman Lee Hoffman told commissioners the county GOP executive committee saw a draft of the resolution and strongly supports it.
Hoffman, who is a former city councilman, said in a phone interview Jan. 13 that he would be drafting a resolution that would be "patterned on the county's" and asking the city to place it on the council's Jan. 26 agenda.
He also spoke during public comment at the county's Jan. 6 meeting and the Elko City Council's Jan. 12 meeting about restrictions on freedoms because of the pandemic, stating that he doesn't deny the existence of COVID-19 but believes the pandemic restrictions are being used to "brainwash our society."
Hoffman said by phone that he was speaking out because "I see we are losing some of our basic freedoms," and "I am just trying to get people to be more thoughtful and not be sheeple."
Elko County Commissioner Rex Steninger authored the resolution adopted by commissioners, but he used the word "demand" for the governor, although the draft resolution used words like urge.
Hoffman said the word "demand" doesn't work when commissioners don't have authority over the governor, so he had suggested word changes.
Commissioners decided to go back to the word demand for the final resolution, however.
"Demand is OK with me," said Commissioner Cliff Eklund.
The lengthy resolution refers to constitutional freedoms that it claims Sisolak violates with his COVID-19 restrictions, such as restricting businesses to 25% capacity, and states that his efforts to "flatten the curve" have not slowed the virus.
The resolution also says that Sisolak singled out bars and restaurants for closures but only 1.4% of COVID-19 infections have been traced to those sources while nearly half of the COVID-19 deaths in the county have occurred at the skilled nursing facility that is under state authority.
The document also says that lockdowns have been proven ineffective and cites the Great Barrington Declaration issued by infectious disease epidemiologists and public health scientists and co-signed by more than 52,000 medical professionals that says keeping lockdown policies in place will "cause irreparable damage."
At the end of the resolution, the county states that it "recognizes its right, as stated in our Declaration of Independence, to confront the government when it has subjected its citizens to a 'long train of abuses and usurpations' and our solemn duty to 'throw off such government' if those abuses are not corrected."
"Elko County recognizes its right ... to confront the government when it has subjected its citizens to a "long train of abuses and usurpations"