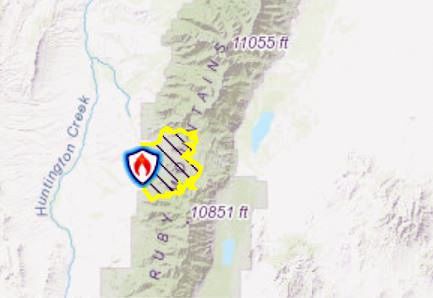 ELKO – Fire officials have reopened Harrison Pass Road to through traffic after it was closed for most of the week because of the Corta Fire.
The road, which leads to the Ruby Lake National Wildlife Refuge, was opened Saturday morning.
The public is still advised to avoid The Green Mountain Trailhead, which provides access to the Ruby Crest Trail from the south. The 35-mile trail leads to the top of Lamoille Canyon.
Fire traffic continues to be heavy along Harrison Pass Road. Firefighters and aircraft have secured line around the Corta Fire for the past several days. Recent heavy rains in the past 48 hours have significantly reduced fire activity.
You have free articles remaining.
The fire has burned 16,533 acres about 10 miles south of Jiggs, and is 60 percent contained.
The fire has been the most active along its south and southeast flanks in the Pearl Creek drainage. Hotshots and hand crews have been hiking into the steep terrain of Pearl Creek to connect hand-line in this section of the fire.
"Extreme fire weather warnings, severe winds and heavy rains have all been challenging in our daily operations of this fire," Vanessa Marquez, Corta Fire incident Commander Trainee, said. "Firefighters and support personnel have continued to deliver results on this incident. Their efforts on the ground and flexibility has allowed us to be successful in securing a perimeter around the fire."
On Saturday, firefighters will focus efforts on the southern edges of the fires to secure the hand-line in the Pearl Creek drainage.
Crews will continue to mop-up and monitor around the fire perimeter.