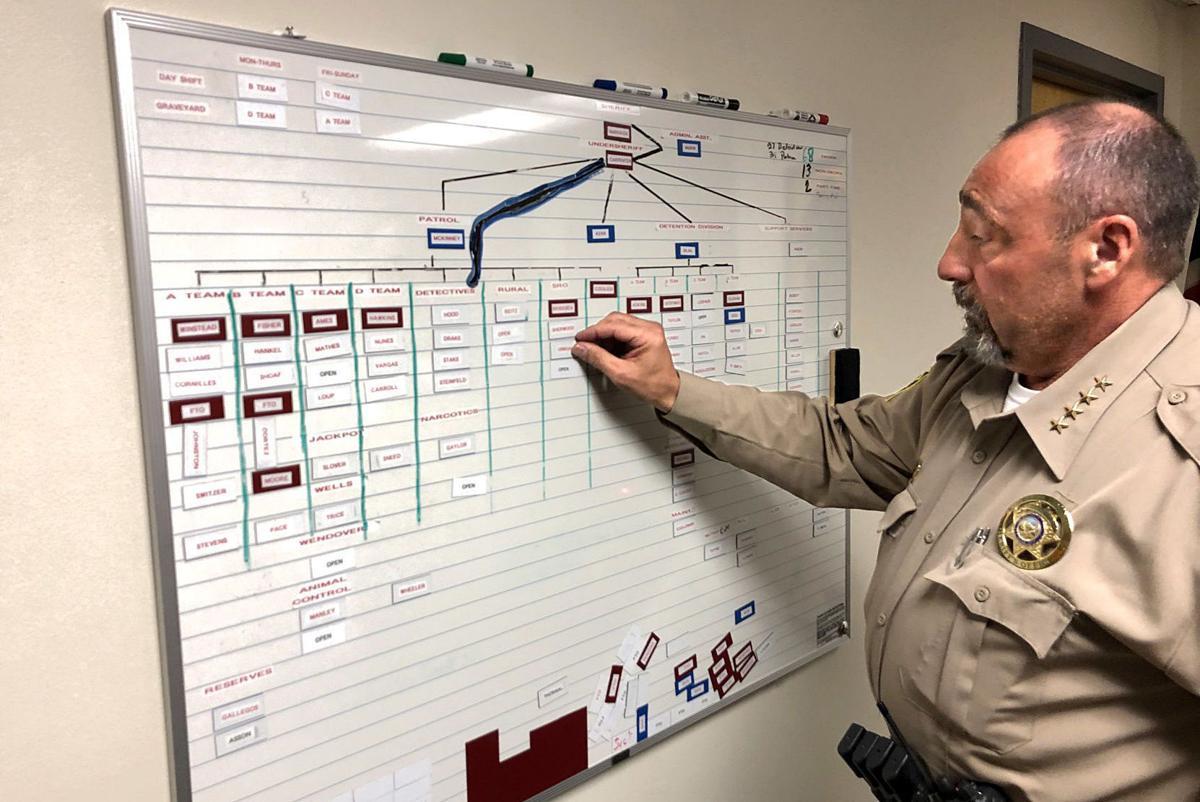 ELKO — Aitor Narvaiza, who was sworn in as the new sheriff of Elko County one year ago, said recently that he loves his career in law enforcement.
"You know what? I wouldn't trade it for anything. It's been great," Narvaiza said.
But one part of being sheriff that is sometimes not so great is standing in front of the big white board in his office and figuring out the best place to assign each of his deputies. The board is covered with tiles, with the name of a deputy written on each one.
"I call this the Ouija board," Narvaiza said. "We're constantly moving bodies around. Trying to figure out where they're going to go."
The problem is that, ideally, there would be more tiles to work with.
The sheriff's office is set up to have 68 sworn deputies. But recently Narvaiza was short 10 deputies, which means he had 58 deputies to cover the 68 potential positions for patrol and the jail, plus court security, the jail control room, narcotics, animal control, school resource officers, and the Jackpot, Wells and Wendover positions.
And of course, there are always some deputies who are off for various reasons. Recently, Narvaiza had six of the 58 tiles moved to the lower right corner of the Ouija board. One deputy was on military leave for 18 months, two were going on maternity leave, one was out on medical leave after his leg was broken in an altercation, and two were going to the police academy.
"We'll be down 16 people," Narvaiza said. "That's a lot of bodies."
There are also people taking vacation time.
The shortage of officers isn't an issue that only Narvaiza is dealing with. It is a problem for law enforcement agencies around this region, throughout Nevada and across the country.
"This is a nationwide deal," Narvaiza told the Elko County commissioners in December when they talked with him about the shortage of deputies in the Elko County Sheriff's Office. "Everybody's in the same boat."
Locally, Elko Police Chief Ty Trouten said the Elko Police Department is authorized to have 42 sworn officers, and the department was recently short five full-time people.
The Police Executive Research Forum held a national conference on "The Changing Dynamics of Policing and the Police Workforce" in Washington, D.C., in December 2018, and published an extensive report on "The Workforce Crisis, and What Police Agencies are Doing About It" in September 2019.
"It's not an exaggeration to say that the workforce crisis in policing is dire," the report says. "The workforce crisis is affecting law enforcement agencies of all sizes and types — large, medium, and small; local, state, and federal. And it is hitting departments in all parts of the country."
"There are ominous signs that the workforce crisis in policing may be getting worse," the report adds. The report also offers lots of ideas for improving the recruitment and retention of law enforcement officers.
The reports cites data from the U.S. Bureau of Justice Statistics. Between 2013 and 2016, the number of full-time sworn officers in the United States dropped 3.2 percent, from about 725,000 officers to 701,000. The number had steadily increased from 1997 to 2013, but not at the same rate as the overall population.
The number of full-time sworn officers per 1,000 U.S. residents has been declining almost continuously for two decades, from 2.42 officers per 1,000 residents in 1997 to 2.17 officers per 1,000 in 2016, a 10.3 percent reduction.
Law enforcement agencies around the country are actively seeking to hire more people. For example, the Los Angeles Sheriff's Department announced in May 2019 that it was looking to fill 1,000 vacancies.
Now hiringThere are a lot of factors which are contributing to the shortage of law enforcement officers, and there are a lot of steps which law enforcement agencies are taking to deal with the shortage.
The local law enforcement agencies emphasized that they are looking for people and that working in law enforcement in this area of Nevada is a good career for the right people who are interested in community service.
Nevada Highway Patrol Capt. James Simpson, whose area covers a large section of northern Nevada, said the NHP does not discuss trooper numbers, but that they are actively recruiting.
"We're looking for local people who want to serve their local communities," Simpson said. "If people want to serve, we want to work with them. It's a rewarding job."
"Anybody who wants to come talk to me about what we do, my door's open Monday through Friday," Simpson said. "I'm here, they can come talk to me directly. Or if they want to do a ride along to see what it's like out there, they can do that, too."
"The people in this county are very lucky to have the law enforcement they have," Simpson added. "I think any of the three agencies, the Nevada Highway Patrol, the sheriff's office or the police department, are great agencies. They all deeply care about the communities they serve. I've worked in other places, and I see it more here than in other places that I've worked. And I worked back east for eight years, too. It's just really nice to be in this area and raise a family knowing that we have the cops that we have here looking out for our best interests."
Simpson is in charge of NHP recruitment statewide, so he is involved in working on recruiting people from across the state and across the country.
"We're going to start trying to think outside the box on some recruiting," Simpson said. "We're going to try to get the best candidates we can, and maybe through nontraditional places, too. Maybe a school teacher, maybe a nurse. People who we might not have looked at in the past, we might look at and say, hey, we have a rewarding opportunity, this is your chance to serve a community in a different capacity than you used to do."
Simpson said in recent years the Highway Patrol has held some local recruiting and testing events so that people do not have to go to Carson City or Las Vegas for testing. He said they are planning to have a recruiting event in Elko on Sept. 12 this year, and they will probably have an additional local event before that, also.
There are a lot of factors which have contributed to today's shortage of law enforcement officers. "The Workforce Crisis" report reviews some of them.
"A robust economy and strong job growth are creating more options for people entering the labor market, so police agencies are facing more competition in hiring," the report says.
Also, especially in the past five years, there have been some changing attitudes about law enforcement. Police Chief Trouten called this the "Ferguson effect" – the spread of negative views of law enforcement since the fatal shooting of Michael Brown by a police officer in Ferguson, Missouri in 2014. That shooting was followed by protests and riots.
"I think it did diminish the overall reputation of law enforcement," Trouten said.
A December 2018 Washington Post story on the shortage of law enforcement officers quoted Seattle Deputy Police Chief Marc Garth Green's theory of why many people are not considering a career in policing.
"'Number one is validation,' he said. 'The validation that they're putting their life on the line. There's no respect for that.' He blamed the news media for undermining respect for police authority."
Another possible reason fewer people are applying for jobs in law enforcement is that with social media and everyone having cameras in their cellphones, there is the possibility of negative consequences from the increased scrutiny of law enforcement officers' behavior. However, the Washington Post story said that although this is a concern for older law enforcement officers, younger people considering going into law enforcement are so used to social media that the scrutiny is not much of an issue for them.
"The Workforce Crisis" report said another reason for the shortage of officers is that "traditional sources of job applicants – the military and family members of current officers – are diminishing."
Trouten said from around 2006 to 2012 "there was a pretty good number of veterans coming out from service, sometimes with multiple combat tours, who would go into law enforcement. They made great candidates, great officers. But with the troop withdrawals and reductions in the number being deployed, we're not seeing as many of those people."
Narvaiza said he is working on efforts to get the message out to more veterans.
"We should be having a deal in Reno where we can set up a table and meet all these vets coming out of the military," Narvaiza said. "This is what we have to offer. Feel free to come talk to us."
Trouten also mentioned that with the increased acceptance of marijuana and other drugs in our society, fewer applicants meet the drug use requirements.
"The Workforce Crisis" report said "In response to declining numbers, some agencies have relaxed their hiring standards, especially with respect to educational levels, prior drug use, tattoos, and facial hair."
The report also suggests several other possible reason for the declining number of people applying for law enforcement careers, such as, "the often-rigid, quasi-military organizational structure of most police agencies does not align with the preferences of many of today's job applicants."
You have free articles remaining.
Hiring and training new people
Narvaiza and Trouten said when they started in law enforcement, a lot of people were lining up to get into this career.
"When I first started we used to have hundreds of people," Narvaiza said to the Elko County commissioners. "I tested for the Highway Patrol one time in Las Vegas. We had 5,700 applicants."
Trouten said when he was trying to get into the Elko Police Department more than 20 years ago, "I was actually waiting to get hired, waiting for an opening, and I waited two years for that opportunity."
One day when he arrived for the testing, "there were 120 applicants out on the Elko High School field waiting to test. Definitely a great deal of competition. There were actually five people hired out of that group. Now, we might have 40, 50 applications come in and some of these applications come in from across the country, with the advent of using the internet for advertising and posting. We normally see around 10 people that will show up and test."
The people who do come out for the testing cannot be quickly hired and put out on patrol. There is a fairly long hiring process followed by a long training process. So it takes a long time to fill vacancies.
The people who proceed through the application process go through a series of tests – physical, written and oral. Then there is the background check.
"That's where we run into a pretty high failure rate," Trouten said. "We tend to have about 60 to 70 percent that wash out at background. … Some of it is based on drug use, past crimes, and quite a bit of it is actually based upon integrity issues. Failures in those areas, it's kind of the end of the road.
"If they are successful through the background check, we also do the truth verification, polygraph or CVSA (Computer Voice Stress Analyzer). Once a conditional offer of employment is given, we do the medical screening, drug screening, and the psychological evaluation."
Once a person is hired, then there is the training – the police academy and then field training, with the new officer riding with experienced officers.
"The Nevada POST (Police Officer Standard Training) only runs two sessions a year, due to financial constraints," Trouten said. "So that means if we get them hired, it's four months in the academy, and then they come back here and it's usually about four to four and a half months in the field training program."
Some people decide to drop out of the academy or drop out during the field training. For those who do carry on, "it's close to 10 months before they're actually on the street to do the job as an officer on their own," Trouten said.
In addition to all this training, Nevada Highway Patrol troopers also have an additional 10 weeks of advanced training, Simpson said.
"So it's not a short nor an easy process to be sure," Trouten said. "But it's very critical, obviously, because you're entrusting officers with a great deal of responsibility and latitude. The newest officer on their own on the street might be the guy that has to make a deadly force decision, so we have to make sure we have the right people and qualified people in those positions."
"At the end of the day, it's worth it," Simpson said. "It makes sure we have good quality candidates, and we put someone out there who's safe and who keeps themselves safe to go home to their families at the end of the day."
Narvaiza said it's important to make sure the sheriff's office gets quality people.
"I would rather work shorthanded than hire three people that pass but aren't really qualified," Narvaiza said. "I don't want them to get by, just to get a job, I'd rather work short staffed and grab the right person who's going to make a commitment to us and work hard. It's a tough world we live in here."
Technology and staffing changes
Some of the steps that law enforcement departments are taking to help cope with the shortage of officers include making use of new technology, and hiring people to take care of some tasks so that officers are freed up to focus on law enforcement.
Online reporting is one of the changes that is helping to free up officers' time. With online reporting, people can go online to report crimes such as a theft or destruction of property that happened a few days ago.
The Elko Police Department is in its fifth year of having online reporting available.
"We like it, and I believe because of the usage we're seeing that the public likes it as well," Trouten said.
Online reporting saves the time that the officers used to spend traveling to visit residences or businesses to get reports. With online reporting, the officers get the reports in their office and then use the reports in their investigations.
"That saves man hours out on the street," Trouten said.
A lot of the public likes the system because they can go to their computer and easily let law enforcement know what has happened, and then they can tell their insurance company that they have filed a report.
Narvaiza said the Elko Sheriff's Office is currently working on setting up online reporting.
"We're hoping to get that going pretty quickly. I think it will be a win-win for everybody," Narvaiza said. "It's another expensive gadget, but it will save us a lot of time."
A couple months ago, Narvaiza said, the sheriff's office hired a person to work on warrants. This frees up the time of the two deputies who had been working on warrants.
In December the Elko County commissioners approved hiring two security officers from Allied Universal to be stationed at the doors of the courtroom when court is in session. Prior to this, three sheriff's deputies had been stationed at the courtroom doors. Now, one sheriff's deputy and the two Allied Universal officers will cover the court sessions. This will allow the deputies who would have been working at courtroom to spend their time handling other roles at the sheriff's office.
County Manager Rob Stokes also said having the courtroom security covered by contracted security officers rather than hiring sheriff's deputies to cover these positions will save the county about $50,000 to $60,000 annually.
Narvaiza said sometime this year he wants to talk with the commissioners about the possibility of hiring one or two civilians to work in the jail's control room, so that some of the deputies who work in the control room will be able to spend their time on the jail floor or on patrol.
This year there will be a little alleviation to the officer shortage problem when Elko County gets two additional school resource officers.
"The school resource officer program started six years ago," Trouten said. "It started with a federal grant to put officers in schools."
The sheriff's office has had three school resource officers and the police department has had two. These officers are paid 80 percent by the school district and 20 percent by the law enforcement agencies. This year, the sheriff's office and the police department will each be getting one additional School Resource Officer, who will be paid 100 percent by state funding, Trouten said.
The School Resource Officers cover the 19 schools in the county. In the summers they do patrol work for the police department or sheriff's office and get training.
"The SROs are doing really well. They're busier than heck. I can see this program getting bigger," Narvaiza said. "It's the best job out there. And those guys love it, and they do a great job with the kids."
While the local law enforcement agencies work on looking for and hiring and training more officers, and as they hire some more people to fill non-law-enforcement roles and add new time-saving technology, all of the deputies and officers and troopers are taking care of all the work that needs to be done.
Trouten said overtime is fairly common.
"When we receive the subpoenas, of course that's not an option for us, we're required to appear in court, so that's a lot of overtime. And there is some overtime utilized in training … And right now, being down this many bodies, we'll have some shift overtime as well. Which is obviously less than ideal. It would be great if everything was straight time. But it doesn't always work that way."
Narvaiza said that recently "I spent all day in court transporting inmates back and forth, helping the jail staff. We all just have to bear down and help each other. … We do what we can. You just help. Everybody's working, let me tell you that for a fact."
"I got to give the guys kudos for working, and working hard," Narvaiza said. "Sometimes you'd rather spend time with your family. Sometimes they come in when they're asked at the last minute. It's very appreciated."