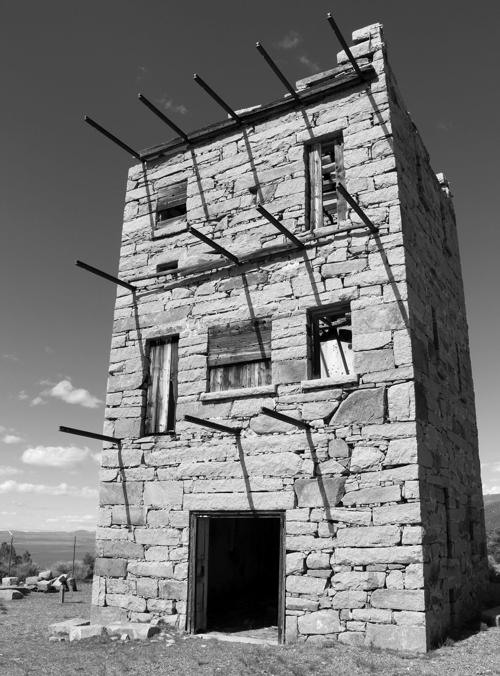 Prior to 1862, Central Nevada was a vast and unexplored area. Native American Indians, Pony Express riders and overland mail personnel were the only people who inhabited the area.
The first big silver strike occurred in 1862 by William Talcott, a former Pony Express rider and resident of the Reese River Pony Express Station. He was said to have been cutting wood at Pony Canyon when he discovered a promising quartz vein. Samples were sent to Virginia City for assay which came back with confirmation that the vein was rich in silver.
News of the discovery spread rapidly, and the Reese River mining district was organized in July. Hundreds of miners arrived in the district in 1862, but it was not until January of 1863 that the great Reece River silver rush attracted thousands of miners and prospectors.
Although Austin was in a remote part of Nevada, it's location on the established Pony Express Route made it one of the easier boom towns to reach at the time, which accelerated the pace at which the district was developed. Named for Austin, Texas, Austin became the County Seat of Lander County. The County Seat was changed to Battle Mountain in 1979.
The Nevada Central Railroad was built to connect Austin with the Transcontinental Railroad at Battle Mountain in 1880. Major silver production ended by 1887. There was a slight revival about 1910 and in the 1950s, there was interest in uranium deposits. High quality turquoise is mined with gold and silver production in small quantities.
Today, Austin is a living ghost town, and is perhaps the best preserved early Nevada mining town. It contains three historic churches, a Catholic, Methodist and Episcopal church. The International Hotel, originally built in Virginia City in 1859 and parts of it were moved to Austin in 1863. It still serves meals and drinks but does not rent out rooms.
A local landmark in Austin is Stokes Castle. This is a three-story stone tower built by Anson Phelps Stokes, a mine developer, railroad magnate, and banker. Intending the building as a summer home, Stokes began building the castle in 1896, completing it in 1897.
Bill Miles, of Miles Construction, was recently the first to correctly answer a Dayton Chamber of Commerce trivia question about the Loneliest Road in America. The correct answer was Stokes Castle, which is perched on a hilltop in Austin.
In 1996, Life Magazine dubbed US Highway 50 across Nevada as the Loneliest Road in America. Not only was this the route of the Overland Mail and the Pony Express, but it connected the towns in Nevada from Baker, Ely, Eureka, Austin, Fallon, Dayton and Carson City. The designation Loneliest Road in America has been used to promote the area for tourism, ghost towns and exploring the Great American Desert.
Dayton author and historian Dennis Cassinelli's books can be ordered at a discount on his blog at denniscassinelli.com.