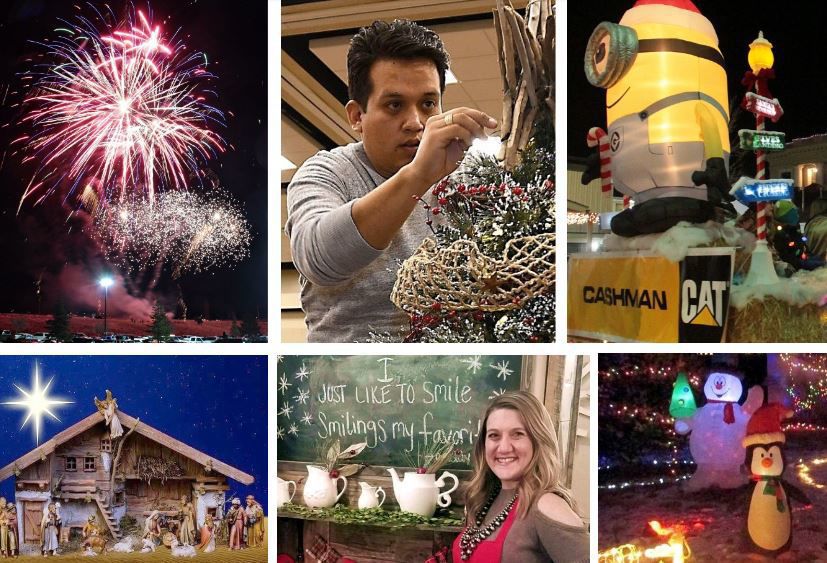 ELKO – With the late date of Thanksgiving this year, Christmas events will kick off before the turkey dinner leftovers are gone.
The action starts at 6 p.m. Monday when the Festival of Trees opens at the Elko Conference Center.
Here are more than a dozen activities that promise to be entertaining and inspiring on the countdown to Christmas:
Festival of Trees
Immerse yourself in the holiday spirit by visiting the Elko Conference Center Dec. 2-4. Behold an array of beautiful trees, wreaths, centerpieces and festive holiday décor, all of which are available for purchase through a silent auction. Proceeds go to local charities selected by the ECVA board of directors. There is no cost to submit an item for the auction or to attend. The 2019 Festival of Trees theme is "Explore Elko."
Lighting up Wells
Wells Family Resource Center hosts the 10th Annual Wells Tree Festival. The event takes place from 11 a.m. to 7 p.m. Dec. 2-5 at the Wells Swimming Pool Facility located at 715 First St. On Monday participants will be allowed to set up their trees. Final bidding on trees will occur at 6 p.m. Dec. 5. New this year is a "Buy it Now" option in which participants can purchase a tree before final bidding Thursday night. For more information on how to donate a tree or on the activities happening at the Wells Tree Festival please visit www.wellsfamilyresourcecenter.org.
Nativity exhibit
Celebrate the birth of Jesus Christ with hundreds of Nativities on display from the community and live musical performances. The Elko Christmas Creche Exhibit will be held from 11 a.m. to 8 p.m. Dec. 5-8 at 3001 N. Fifth Street in Elko. Visit facebook/elkocreche for details.
For the kids
Pioneer Christmas for Kids is an annual holiday celebration at the California Trail Center. Between 10 a.m. and 2 p.m. Dec. 7 children can create a reindeer ornament, design their own Christmas cards, and make other holiday arts and crafts. Southwind will play live holiday music from 11 a.m. to 1 p.m. Visitors are encouraged to bring nonperishable food items to benefit Friends in Service Helping and families of Elko County.
Cool fireworks
Kick off the Christmas season at the annual Winterfest from 4- 8 p.m. Dec. 7 at Khoury's Marketplace in Spring Creek. Enjoy a warm beverage, hot dogs and chili sold by the Spring Creek High School FBLA and Spring Creek Fire Department, and listen to Christmas music by the SCHS choir and band. Meet Santa and friends while tasting food samples, wine and cheese pairings and getting some holiday drink ideas. The evening concludes with fireworks at 8 p.m.
Join the Cattlewomen
The Holiday Tour of Homes hosted by the Elko County Cattlewomen's Association is set for Dec. 7. A tradition for 13 years, the event gives tours of Elko area homes beautifully decorated for the holidays while raising money to provide beef to senior citizens and fund agriculture education programs and scholarships. Tickets are $25 per couple or $15 per individual and are available at J.M. Capriola's, Evergreen Flower Shop & Events, The Buzz Salon and Ogi Deli.
Cocoa and cookies
Northeastern Nevada Regional Hospital will host "Cocoa & Cookies with the Clauses" from 10 a.m. to noon Dec. 7. The first half of this free event will be a sensory-sensitive visit with Santa, designed for those impacted by autism. The session is presented in collaboration with Rehab Services of Nevada. The second half will run from 1-3 p.m. and everyone is invited. Santa and Mrs. Claus will be in the main hospital dining room handing out goodies and taking photos. For more information, call Steve Burrows at 748-2007.
Parade of Lights
The 17th Annual Snowflake Festival starts at noon Dec. 14 in the heart of downtown Elko. Candyland Christmas kicks off along with the Snowflake Festival. Families can visit Santa's Workshop in Dalling Hall and stop by the Cookie Crawl at the corner of Fifth and Commercial streets. At 5:30 p.m. the Parade of Lights winds its way through downtown. For more information visit elkodowntown.org.
Jarbidge service
Enjoy a Jarbidge tradition with a potluck lunch starting at noon Dec. 14, followed by Cowboy Church services. The gathering will be held at the Jarbidge Community Hall. This event is dependent on the weather, so be sure to call 775-488-2311 ahead of time.
Photos with Santa
Have your photo made with Santa Claus at Dalling Hall. Brandi Betancourt, owner of Allusive Images, will be taking photographs between noon and 5 p.m. Dec. 14. Cost for a 4-by-6 inch print is $10. Half of the proceeds will be donated to the City of Elko Parks and Recreation Department.
Heavenly handbells
The Sunrise Ringers of the Elko Handbells will present their 2019 Christmas concert at 4 p.m. Dec. 15, at the First Presbyterian Church, 1559 Sewell Drive. The concert is free, but donations will be gratefully accepted.
Decorating contest
Find your inner Clark Griswold and enter Spring Creek Association's second annual Cheermeister House Decorating Contest. Winners will be announced Dec. 16, with first place homeowners receiving a $50 Home Depot gift card, and first, second and third place winners each receiving a decorative yard sign. Business owners will receive a pizza party for up to 10 people and a sign for their window. To enter, click the link to www.springcreeknv.org or visit the SCA office at 401 Fairway Blvd. For more information, call 753-6295.
Christmas party
The public is invited to the Elko Area Chamber's Christmas party, beginning at 5:30 p.m. Dec. 19 at Northeastern Nevada Museum. The event will include a casino night with table games, a silent auction and raffles. Refreshments will be served. For more information call 738-7135.
Winter solstice
Members of the United Methodist Church recognize that the Christmas season is hard on some people. This service is held on the winter solstice, which has the lengthiest nightfall in the year. The Dec. 21 service encourages people to "not" have a "Blue Christmas." The Methodist Church is located within St. Paul's Episcopal Church at 777 Sage St. Call 340-2724 for details.
Living Stones
Celebrate Christmas with Living Stones Church from 4-6 p.m. Dec. 22 at the Elko Convention Center. (Traduccion en Español va estar disponible en el servicio de las 6pm. Necesitan traer su cellular y audifonos.)
Get local news delivered to your inbox!
Subscribe to our Daily Headlines newsletter.