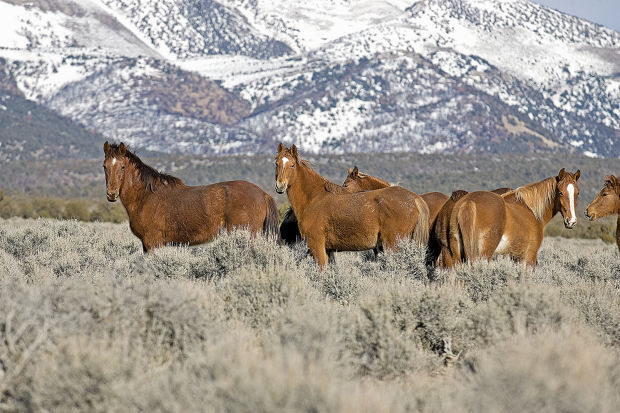 ELKO – Cattle grazing will likely be reduced on allotments south of Wells this summer because of an overpopulation of wild horses.
Elko County Commissioner Rex Steninger said he was told by Nevada State Director John Ruhs that the BLM planned to closed several of the allotments.
"Director Ruhs said his agency would be sending letters out Monday notifying the permittees that they needed to schedule meetings with their BLM representatives," Steninger said.
The Elko BLM office confirmed Monday that letters were being sent to 10 permittees regarding 14 allotments.
The letters are about "starting a conversation regarding utilization objectives on allotments, specifically in areas that are affected by excess wild horse use," said Greg Deimel, BLM public information officer.
The allotments are located in four herd management areas: Antelope Valley, Maverick-Medicine, Goshute, and Spruce-Pequop.
Elko County Commissioner Demar Dahl said Tim Smith of the state BLM office told him most of the allotments would be completely closed to grazing, but a few of them could be left open with 50 percent reductions in grazing levels.
Deimel said the BLM negotiated last year with ranchers in the area and they agreed to voluntarily reduce grazing by 10,000 AUMs (animal unit months), or about half their normal level.
Grazing conditions are expected to be better this year because of greater precipitation. Deimel said the BLM wants to meet with permittees on the ground in each allotment to evaluate range conditions.
He said there are no current applications in progress for horse gathers in that part of the state.
According to Steninger, Ruhs has submitted requests for horse gathers to ease the problems, but even if those requests were approved, it would be too late for this grazing season. The earliest a horse gather could be organized now would be this fall, he said.
"This is going to be really tough news for the affected ranchers," Steninger said. "Everyone is already getting ready to turn their cows out on these grazing allotments and to announce the closures now leaves no time to find alternatives."
Deimel said the agency would be discussing options with ranchers such as using alternative pastures.
He said the has BLM gathered 1,750 horses in the region since 2011 and it is still overpopulated by "thousands" of horses. Getting the numbers down to the minimum authorized level would involve removing approximately 1,000 horses from each of the four herd management areas, he said.
Other permittees might be affected beyond the current allotments now being evaluated, according to Deimel.
"They had to have known what the horse numbers were for months," said Steninger. "I don't understand why they waited until now to make the announcement."
"I've worked with Director Ruhs before and he has proven to be a good man. He was very helpful during the disputes over the closed allotments in Lander County. He was a welcome relief over his predecessor," Steninger added. "I suspect he is following orders from above. This doesn't sound like something he would do."
Julie Gleason, a member of the local Resource Advisory Council to the BLM, said the planned closures were news to her.
"We just met with the director last month and nothing was said then," Gleason said in a press release.
"The only solution is to remove horses from the ranges," she said, "but every time we get something going, the environmentalists stop us."
"It is an absolute disgrace that the misguided whims of environmentalists are given precedence over the livelihoods of our ranching families," Steninger said.
The BLM has had little success at controlling wild horse populations. The most common method has been to round up horses and burros exceeding the congressionally authorized limit of 26,715. Yet, there are now more than 58,000 still on the ranges, according to BLM estimates.
Deimel said their numbers "double every few years."
"Everyone is already getting ready to turn their cows out on these grazing allotments and to announce the closures now leaves no time to find alternatives." — County Commissioner Rex Steninger
"Everyone is already getting ready to turn their cows out on these grazing allotments and to announce the closures now leaves no time to find alternatives."

-- County Commissioner Rex Steninger