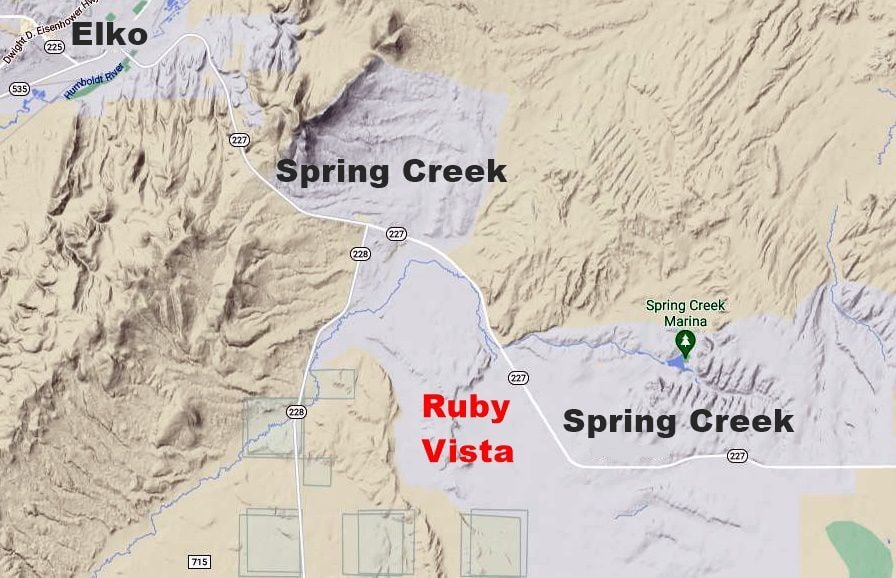 ELKO – Are Elko and Spring Creek in the middle of a housing crisis?
According to Ruby Vista Ranch LLC, a subdivision south of Elko is necessary to solve the problem and provide more homes to meet a growing market.
The developers will go before Elko County Commissioners on Wednesday, requesting the County sponsor an application for a congressional earmark of $18 million toward the first phase of the estimated $39 million project.
Phase 1 would add 420 single-family homes, 320 apartment units, and 25 acres for commercial development, according to the application.
"The primary goal of the Project, currently the only master-planned community in Elko County, is to bring much-needed housing supply and commercial services to an area of Nevada historically underserved in relation to its economic base and importance to domestic mining production," the application reads.
The developers estimate the remaining three phases of the subdivision would cost $144 million, adding more than 3,100 residences and 105 acres for commercial and light industrial use, including public parks and facilities "and hundreds of additional acres of open space."
"There is a housing shortage," said Cheryl Henning, president of the Elko County Association of Realtors.
A check of homes on the market in Elko and Spring Creek showed Elko has 17 site-built properties for sale ranging from $199,000 to $890,000. In addition, four brand-new homes are on the market, with 33 lots pending new construction and 69 homes under contract.
Spring Creek currently has 14 lots for sale, five of them site-built homes and the rest manufactured housing ranging from $218,000 to $240,000. One hundred more lots are under contract.
"There are 11 new constructions on hold in Spring Creek waiting for the contractor to catch up with the builds," Henning said.
Henning said the pandemic did not hurt the market. She was thankful that Realtors were able to remain open as an essential business thanks to the Nevada Association of Realtors, which "went to bat for us and got lobbyists to help us stay essential."
As I write this, I am aware that by the time it is published things will likely have changed, again and again, as they have daily for the past…
Realtors were allowed to show owner-occupied homes and used Zoom to conduct virtual showings but did not conduct open houses or show tenant-occupied properties.
Henning added the return to in-person showings would be discussed by a committee within the next few weeks.
Throughout Elko's history, there have been housing shortages due to surges in the gold mining industry. Still, the current situation will not prompt action by the Commissioners, according to Elko County Manager Amanda Osborne.