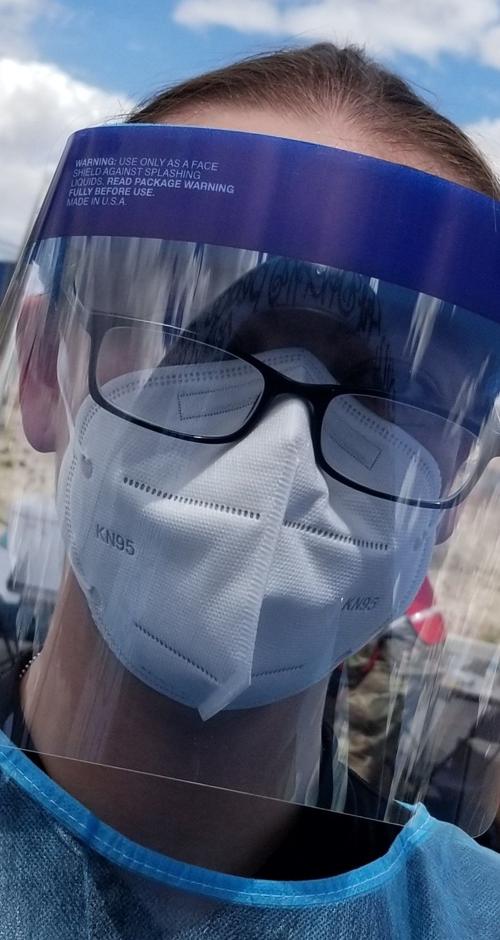 Luckily, there is more than one correct answer for those in need. A variety of locations offer coronavirus testing, though the requirements for each vary.
The vast majority of tests are performed through Medallus Urgent Care, at 1501 Lamoille Highway.
"We offer testing all day through appointments online or a walk-in," said medical receptionist Kryzna Sandoval. "Our office hours are 8 a.m. through 6 p.m. Monday through Friday and from 9 a.m. until 3 p.m. Saturday and Sunday."
Medallus offers multiple forms of testing, including both the rapid-test kits and the typical LabCorp version.
"The rapid-test results take 15 minutes. The cost is $150 and an additional $115 if the result is positive, because we then send the test off for PCR (Polymerase chain reaction) confirmation," Sandoval said. "The cost of the LabCorp test is $135, and those results generally take between two and three days."
Sandoval said "most insurance companies usually cover 100% for anything COVID, but we advise everyone to call their insurance and make sure beforehand."
Testing at Northeastern Nevada Regional Hospital is free of charge, according to Director of Community Relations Steve Burrows, but the testee must be preapproved through a physician's order.
"Most of the test setups are usually done over the phone and are handled through our emergency department," Burrows said. "We have some parking spots reserved, the person calls in ahead of time and a nurse will go to the parking lot and administer the test — a nasal swab — while they are still in their car."
Burrows said if someone suspects they may be positive or displays symptoms of COVID-19 they can also call their healthcare provider or the Northern Nevada COVID-19 Hotline at 777-2507.
The hotline may also be used to make an appointment for testing through Nevada Health Centers, which takes place 8 a.m. through 4 p.m. on Saturdays at Elko Family Medical & Dental, 762 14th St.
No out-of-pocket expense is required for the test, but everyone — if covered — is urged to bring a copy of their insurance, Medicare or Medicaid cards.
"We have some rapid tests at the hospital, but those are on a limited number," he said. "We have to ration those to keep up with the rising demand."
Elko County Manager Amanda Osborne noted several options for testing.
"We have a partnership with Medallus that was started early in the process, but there are a couple of clinics who test regularly," she said. "A+ Total Care, Aspen Quick Care and Pioneer Urgent Care all offer testing. A+ and Aspen are open seven days a week, and I know Pioneer is open at least six days a week."
Osborne noted A+ Total Care and Nevada Health Centers both offer the BinaxNOW rapid-antigen test.
A+ Total Care is open from 8 a.m. through 7:30 p.m. Monday, 8 a.m. through 5:30 p.m. Tuesday through Friday, 8 a.m. through 4 p.m. Saturday, and 8 a.m. until noon on Sunday. The office is located at 976 Mountain City Hwy.
For more information, call 777-7587.
Aspen Quick Care — with locations at 2511 Mountain City Highway in Elko and 250 Country Club Drive in Spring Creek — is open daily from 8 a.m. until 8 p.m. and offers the LabCorp test for $125 for those without insurance and also bills insurance for those with coverage, according to medical receptionist Angel Magana.
Those who visit Aspen Quick Care may also take the antibody test for $50.
For more information, call 993-2800 or 738-3000.
Pioneer Urgent Care — phone number 738-2034 — is located at 160 12th St.
Golden Health Family Medical Center — 1993 Errecart Blvd. — may be the best option for miners and their family members. Testing is done by appointment from 7 a.m. to 7 p.m. Monday through Friday and 9 a.m. until noon Saturday and Sunday.