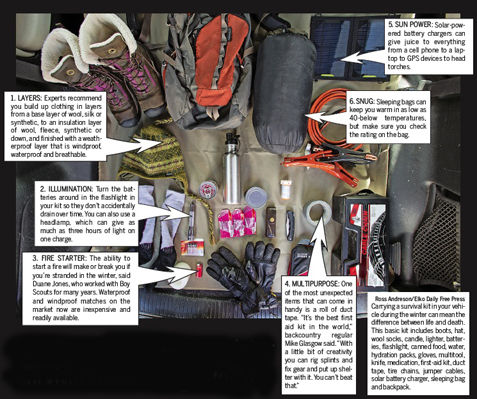 ELKO — Lodged face-first in a three-foot drift of snow Thursday morning, the green Subaru Outback wasn't budging.
The owner of the car, having made it from her house off Ruby Vista Drive down to Lamoille Highway, was using a broom to try to dig out her front tires from the ice and snow because that was all she had in her car. She was growing frustrated.
"I just wish I'd thought to bring a shovel," the woman, who preferred to not use her name for this story, said. "I thought four-wheel-drive would be enough."
The woman's story ended happily: a passerby towed her out of the drift and she vowed to buy a shovel on her way to work.
Her story is a reminder of why the Nevada Highway Patrol, AAA, the Elko County Sheriff's Office and other organizations recommend that people carry some kind of survival kit on any drive or outdoor adventure during the winter months.
For some people who only drive on major highways during not-so-stormy times, that may just mean a few key items you can pick up at the local hardware store.
But for other folks who tend toward the more adventurous (or the more tech-savvy), there are new goodies on the market that take a basic winter survival kit and turn it into the coolest thing this side of Silicon Valley.
Kit for the Compact Winter Warrior
Safety doesn't have to be complicated.
"Everyone should have a winter survival kit in their car, but you can fit most of the key items in a small box," said NHP Trooper Jim Stewart earlier this winter.
AAA recommends packing a small box in the car with a flashlight, cellphone, first-aid kit, flares or emergency triangles, window washer fluid, blanket, hat, gloves, towels, water, food, medication you may need, a shovel, tire chains and traction material such as sand, salt or cat litter.
NHP also recommends a windshield ice scraper and jumper cables.
It may take a small amount of effort to gather these items to put in the car, but once you have them you can leave them in there the entire winter and not have to think about it unless you need to, said AAA spokeswoman Cynthia Harris.
"By having a blanket or shovel you can save yourself from being stuck in the snow for days or even weeks," Harris said. "Winter represents more of a challenge for drivers."
Summary for basic kit: flashlight, cellphone, first-aid kit, flares or emergency triangles, window washer fluid, blanket, hats, gloves, towels, water, food, medication, shovel, chains, traction material, ice scraper and jumper cables.
Kit for the Winter Adventurer
For those who spend ample time enjoying the snow outdoors, a winter survival kit can mean the difference between an enjoyable afternoon on snowshoes and late-evening frostbite.
Duane Jones, owner of Cedar Creek Clothing on Idaho Street, says he carries a day pack with him at all times during the winter, in his car and on outdoor adventures.
"It all starts with how you dress," Jones said. "Even if you have a warm car when you start, that can change quickly if something goes wrong."
Jones, who has extensive experience with mountaineering and Scouting, recommends that winter adventurers build up clothing in layers from a base layer of wool, silk or synthetic, to an insulation layer of wool, fleece, synthetic or down, and finished with a weatherproof layer that is windproof, waterproof and breathable.
Jones recommends staying away from cotton clothing in the winter because it's a cooling fabric that holds moisture against the skin.
"If you have layers, you can always change as the weather changes," Jones said. "If you don't, you can be miserable."
Mike Glasgow, an avid outdoorsman and regular backcountry skier in the Ruby Mountains (who also happens to be an Elko firefighter), keeps an extra down jacket in the bottom of his pack in case he needs it.
He keeps a compact backcountry shovel as well. The smallest in the bunch at Cedar Creek compacts to about a square foot, but can move a whole lot more than a foot of snow in a short amount of time.
"I never go out without a shovel," Glasgow said, "and now they make them from aluminum alloy and other materials that are light and hold up to a ton of abuse."
Some backcountry compact shovels also come with saws built into the handle. If you need to pull down wood at night for a fire, a small saw may help you stay warm, Glasgow said.
Many people don't think about how difficult it can be to build a fire, change a tire or find your way at night without a headlamp, Jones said. There are dozens of brands of headlamps out now that allow people to get the light they need for up to three hours without recharging.
But the most important thing Jones can recommend after decades of working with Boy Scouts is to have the ability to start a fire.
"For every 100 scouts, I'd say two used scouting to save their life or someone else's life at some point, and in most cases that was with their ability to start a fire," Jones said. "That will make it or break it."
Waterproof and windproof matches on the market now are inexpensive and readily available.
You can also store tiny firestarting materials in your pack in a pill bottle. Just soak cotton balls in Vaseline, Jones said.
"It's an inexpensive way to start a fire if you don't have a lot of materials for kindling around," Jones said.
You can also pack a compact propane stove that will allow more than two hours of boiling time for food or water.
The newest stoves take up a fist-sized space and can work off many different fuels.
One brand Jones' store carries can even burn automobile fuel if you're really stuck, although the hottest fuel to burn in the winter is white gas, Jones said.
And to top it all off, a few small tools that don't take up much space can help in an emergency. Pack a whistle (for signaling help), a sleeping bag, a multi-tool (for cutting, prying, turning), a compass (if you don't know where you are in a blinding snowstorm), hand warmers, batteries and eye protection.
One of the most unexpected items that can come in handy, Glasgow said, is a roll of duct tape.
"It's the best first-aid kit in the world," Glasgow said. "With a little bit of creativity, you can rig splints and fix gear and put up shelter with it. You can't beat that."
Summary for adventure kit: All the items from the basic kit, plus outdoor clothing, tow rope, sleeping bag, backpack, whistle, multi-tool, compass, hand warmers, waterproof matches, duct tape, collapsible shovel, batteries, headlamp, eye protection and propane stove.
Ultimate Kit for the Tech Lover
There are basic items for the average traveler, and then there are high-tech toys that bridge the gap between military grade technology and consumer adventure.
"Manufacturers are making technology more portable now so it can fit in a lot of packs," Jones said.
One of those items is the new line of solar-powered battery chargers that can give juice to everything from a cellphone to a laptop to GPS devices to head torches.
Power Traveller and GoalZero make lines that are shockproof and waterproof. You can even jump-start a car or a boat with a few of the models.
Although law enforcement and AAA recommends that people always stay with their vehicles if they're stranded — there is a much higher chance of rescue and survival — solar battery chargers give an extra leg up if you need to walk a bit to get a signal.
"If you're stuck somewhere without cell service, you can hike up to a ridge or somewhere where you can call within sight of your car and maybe you have a chance of getting help," Jones said. "If you need to recharge to try again, this allows you to do that."
If you absolutely had to hike away from your car, the solar battery pack would allow you to continually charge a GPS device as well.
Or you could use it to recharge a heated body-warming vest.
The skin-tight material is powered by a rechargeable body pack or a car battery using an adapter.
One of the vests made by EXO2 can stay as hot as 120 degrees.
Military grade radios are also making leaps into the consumer market.
One version on sale through multiple manufacturers is both a receiver and transceiver that can be powered through the battery pack, solar power or hand cranking. It's a consumer version of the PRC, used for decades in military operations.
You can now also wear NASA-grade technology in your coats.
Columbia Sportswear makes jackets with the shiny tin-like material that reflects heat back toward your body.
"You can wear a much thinner coat and get just as much heat from it with this technology," Jones said.
Beacon locators have been on the market for decades, but new technology has added to their versatility with LED screens, bi-directional antennas, universal frequencies and other amenities, Glasgow said.
But the most notable addition to the ultimate survival kit seems to be a new military-grade laser locator.
A company called Laser Genetics made the first laser locator for civilian use. The high-powered laser beam casts a visible light that searchers can see for up to three miles in any direction, including from the air.
The laser can also cast light on objects nearly 400 yards away if you need the light at night.
It operates on two small lithium batteries.
While all this new technology can save lives and keep people comfortable during winter emergencies, backcountry regulars like Glasgow warn that it can't solve every problem.
Sometimes, a little common sense can be the best tool.
"The best thing you can take with you in the winter is your brain," Glasgow said. "Even if you have all the tools you could need, don't leave your brain at home."
Summary for ultimate kit: All the items from the basic and adventurer kits as well as solar-powered battery charger, body-warming vest, all-purpose military radio, space-grade outer wear and laser locator.