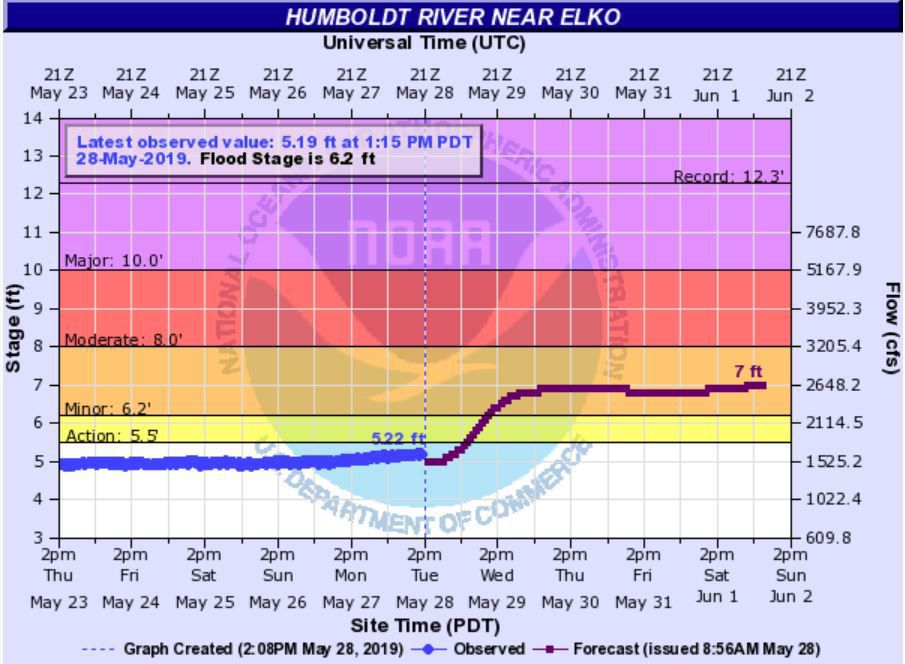 ELKO – Persistent rainfall is driving up water levels in northeastern Nevada, and flooding is expected this week along the Humboldt River near Elko.
The National Weather Service has issued a flood warning for the Humboldt and three other rivers in Elko County.
The warnings came Tuesday after 12 straight days of precipitation in Elko – which ties the record set in June 1963.
Minor flooding has been occurring along the Humboldt near Battle Mountain, but the flood forecast there has been upgraded from minor to moderate.
You have free articles remaining.
Minor flooding is expected near Elko and along the Marys River.
Minor flooding already is occurring along the Bruneau and Owyhee rivers in northern Elko County.
The Humboldt River in Elko was at 5.22 feet Tuesday afternoon, about a foot below the minor flood stage. The water level is expected to rise to about 7 feet before it levels off through the end of the week.
The National Weather Service is predicting a 60 percent chance of more rain on Wednesday, 70 percent on Thursday, and 60 percent on Friday. A chance of showers and thunderstorms continues through the weekend and into early next week.
Temperatures are expected to climb into the 70s by Thursday and near 80 by Monday, increasing the mountain snowmelt.
Elko's May precipitation was at 2.96 inches as of Tuesday morning. That's more than three times the average amount for May.