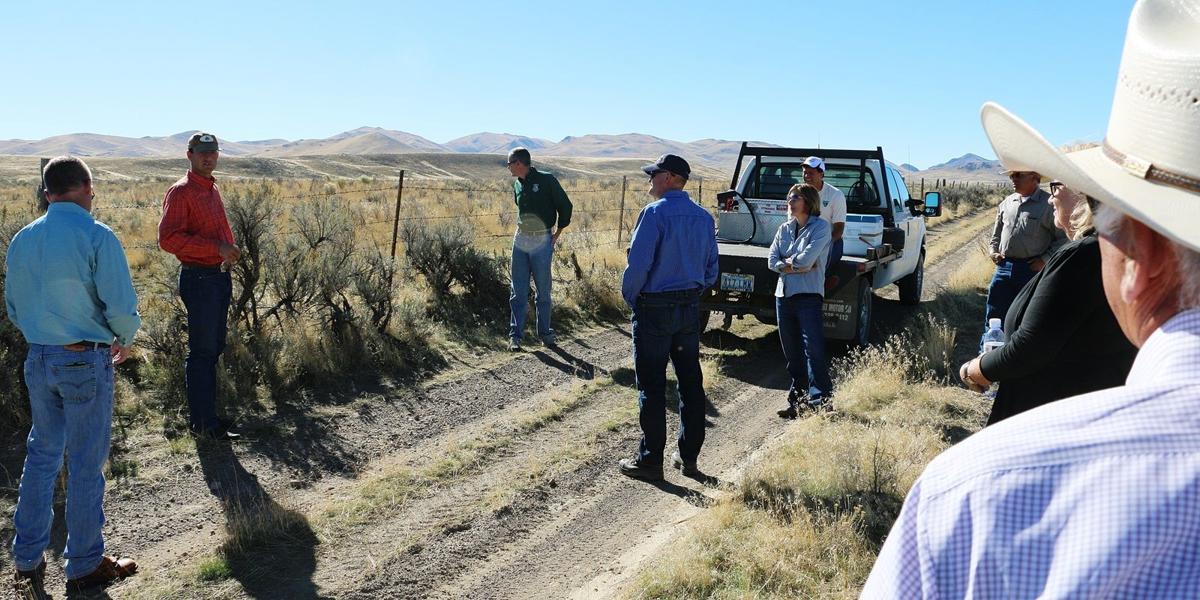 Nevada politicians across the political spectrum raised concerns Monday about a Department of Interior budget request that, if implemented by Congress, could affect how the federal public land agency operates and funds conservation projects.
Because the Interior Department oversees the Bureau of Land Management, which controls more than 60 percent of the state's land, agency officials play a key role in decisions about which activities should be permitted on public land. Federal land managers control ranching allotments; they oversee conservation; they permit oil wells; they protect endangered species.
The Interior's budget document asks Congress to authorize funding that would be used to reorganize the agency's land managers. It also wants authority to take proceeds from Southern Nevada's public lands buyback program and to end geothermal royalties to counties.
In many ways, the document is just a political statement, a reflection of what the White House sees as important. In practice, it's up to Congress to implement the spending requests. Congress controls the funding and both chambers have already reached a long-term spending deal. Still, the requests are important because they show where the administration will focus its priorities.
One big ask by the Interior Department is for $18 million to reorganize the agency based on geographic basins instead of boundaries that mirror state lines. The current boundaries vary among the agencies within the Interior Department (BLM and Bureau of Reclamation have different systems, for instance). But in many cases, they follow state boundaries.
The reorganization proposes to carve Interior operations into 13 regional boundaries based on watersheds and wildlife corridors. In a media briefing with reporters on Monday, Interior Secretary Ryan Zinke said the current system is inefficient because of how different agency functions overlap with each other. Under the new boundaries, all of the agencies within Interior would operate in the same regions.
According to the budget document, "this 'one-agency model' approach proposes to improve cross-bureau collaboration, reduce duplication, and move resources closer to land management units. [The department's] reform plan breaks silos among bureaus by creating a common regional structure, co-locating regional offices, and improving coordinated decision-making."
Local officials are less optimistic. Nevada would be split into three regions, and for weeks, local officials have raised questions about what the reorganization would look like. The change, which was announced publicly last month, came as a surprise to county commissioners and governors from Western states, where the Interior Department manages about 700,000 square miles.
"We have heard concerns," said Dagny Stapleton, executive director of the Nevada Association of Counties (NACO). "The question is: Will this proposed reorganization increase the effectiveness of the agency's decision-making and planning or will it hinder the counties' abilities to engage and participate?"
NACO has not taken an official position on the plan, but Stapleton said it would probably be addressed at the next meeting. Some rural county officials have expressed concerns that the move could add another layer of bureaucracy and make it more difficult to communicate with a department that had a regional focus than one that was more conscious of state boundaries.
Western governors have shared similar concerns with the plan. Earlier this month, a bipartisan group of Western governors wrote a letter to Zinke expressing "regret" that they were not consulted about the reorganization before it was announced. The Western Governors' Association, which includes Nevada Gov. Brian Sandoval, included 10 questions with the letter. One asked why the changes were necessary and another asked whether the department looked at how the proposal would affect coordination with the states.
"Western governors expect to be treated as the chief executives of a sovereign level of government, not as stakeholders," the association's executive director told the AP.
Another aspect of the agency's reorganization could prove more popular. Zinke has backed the idea of moving more land managers from Washington, D.C. and possibly re-locating the BLM headquarters to the West, something that counties and state officials have long supported.
Southern Nevada lands bill
The Interior Department's budget also calls for releasing the proceeds from Southern Nevada public land sales, funds that are intended to go toward state conservation projects. Under the Southern Nevada Public Lands Management Act, known as SNPLMA, the BLM is allowed to sell public land within Clark County. The funds from these sales provide funding for education, Southern Nevada's water authority, and sit in an account that can be tapped for conservation projects.
A request in the budget document calls to sweep $230 million from the account earned swift rebukes from Nevada Democrats and Republicans. Sen. Dean Heller said in a statement on Monday that the proposal was an attempt to "gut" the popular public lands bill.
"This program has invested over $3.4 billion in over 1,200 conservation projects across Nevada, including wildfire prevention, restoration efforts at Lake Tahoe, and the development of parks, trails, and other natural areas," Heller said. "That is why I will continue to defend this program from any attempt to rescind its funding, and I urge the administration to keep it intact."
Rep. Dina Titus went further.
"The Trump budget also attacks the heart of our community," Titus said in a statement. "The successful Southern Nevada Public Lands Management Act, which has paid for the restoration of Red Rock Canyon, bike trails and other parks, would be defunded in order to pay for the president's misplaced priorities, including his great wall along our southern border."
But there is a roughly $600 million balance in the account, Zinke told reporters Monday, and the budget proposal would not eliminate SNPLMA. In fact, he said Interior has been talking to the delegation, the governor and Las Vegas officials about demand for selling public land.
A small line item in the Interior budget could have an impact on how Nevada counties are reimbursed for energy projects in their territory. As the administration proposed in its budget request last year, the budget asks Congress to cancel geothermal royalties to counties.
Nevada officials have pushed to expand the state's geothermal industry in recent years.
As states in the West put an emphasis on clean energy, geothermal companies have seen an opening to provide a renewable resource that can operate 24/7, unlike wind and solar. Nevada sees itself as a natural home to geothermal companies. According to the U.S. Geologic Survey, Nevada has plentiful resources for geothermal, which taps energy from subsurface heat, and it is also home to Reno-based Ormat Technologies, one of the leading geothermal companies.